LG recently unveiled the G Flex smartphone and this being the world's first flexible smartphone, it has definitely peaked our curiosity. At Rs. 69,990, this is the most expensive phablet we have ever seen and has plenty on offer. The phone has a curved screen, in addition to a whole curved form factor and self-healing back. It has a lot on offer besides that too including a 6-inch display and a 13-megapixel-camera. Here is our full LG G Flex review.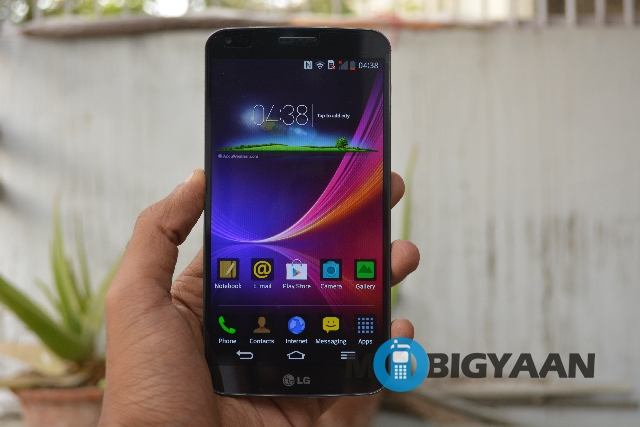 LG G Flex specs
6 inch display
1280 x 720 pixels resolution
2.26 GHz quad core Qualcomm Snapdragon 800 processor
Adreno 330 GPU
2 GB RAM
32 GB internal memory
13 MP primary camera
2.1 MP front facing camera
Google Android v4.2.2 Jelly Bean
3500 mAh battery
Introduction
The LG G Flex might fool you with the name, but it actually doesn't flex, the body doesn't fold or flex like the name suggests, neither is it too curved. Even at the middle of the screen where it is the curviest, the LG G Flex doesn't feel too curved. In fact, the most you can check out its flexibility is by applying a little pressure on the handset, but only for the time when you are holding the handset in that way.
This is because the entire handset, including the chassis is built to stand a little – mind you, only a little pressure and not too much. Because you still need to take care of it. Most of the credit for the flexibility of the G Flex goes to its plastic screen, which unlike glass fares better under pressure. The G Flex though will scare you a little bit while flexing since it makes a lot of creaky sounds while doing so and obviously if you do it in front of someone, it will leave them scared first and surprised afterwards.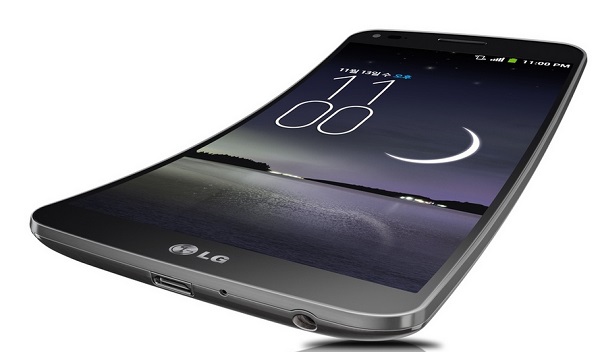 LG is facing huge competition from the likes of the Nokia Lumia 1520, the LG G2 and expected soon Samsung Galaxy S5 in the high-end arena, which means that it has to do exceptionally well to even compete.
Design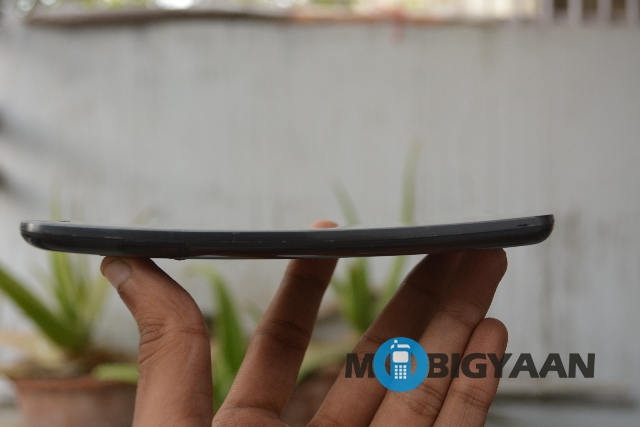 Design is the high point of the LG G Flex, undoubtedly. The most noticeable part of this device is that it is curved. It is a new thing at first to handle such a device, but you soon settle down with this  device and make it your own.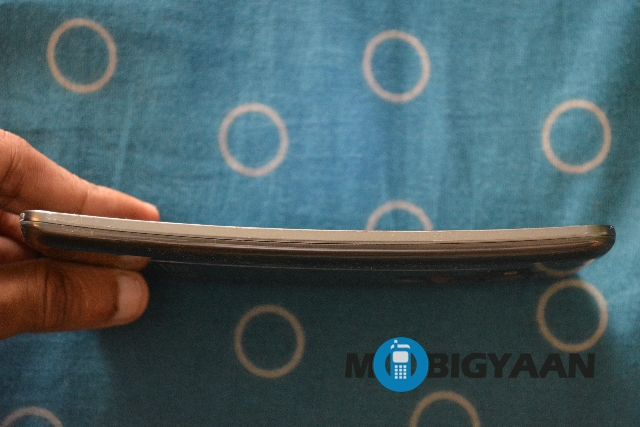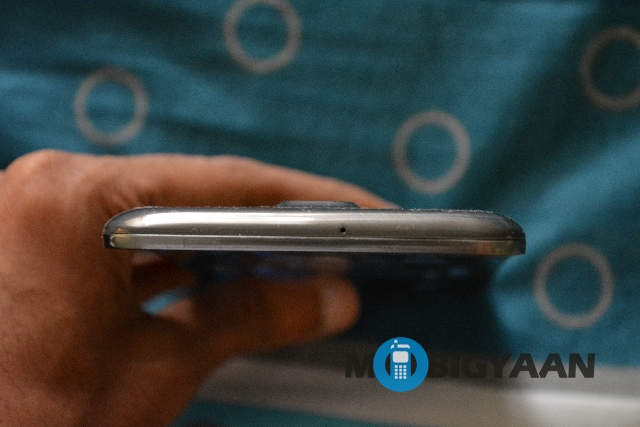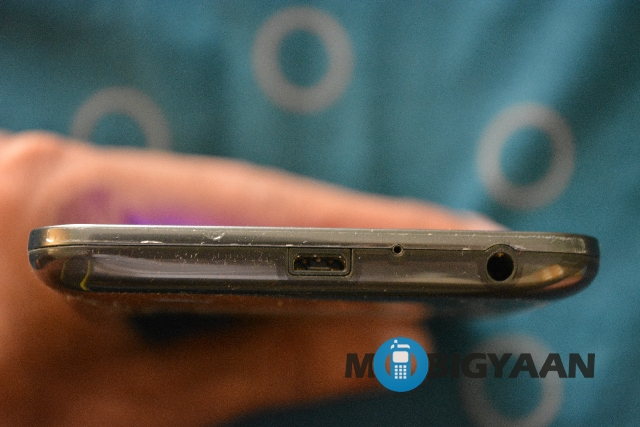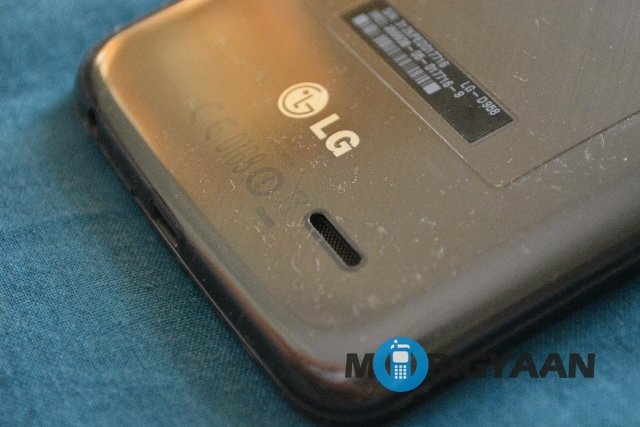 Despite being such a premium device, the LG G Flex is plastic all over with no glass or metal in the device. It has a 'self-healing' back but you wouldn't like to test that ability with such an expensive device, would you? Neither did I. What I did find though, was that the device, being a six incher, was also pretty wide and kind of a little wider than usual, which makes reaching certain buttons kind of stressful.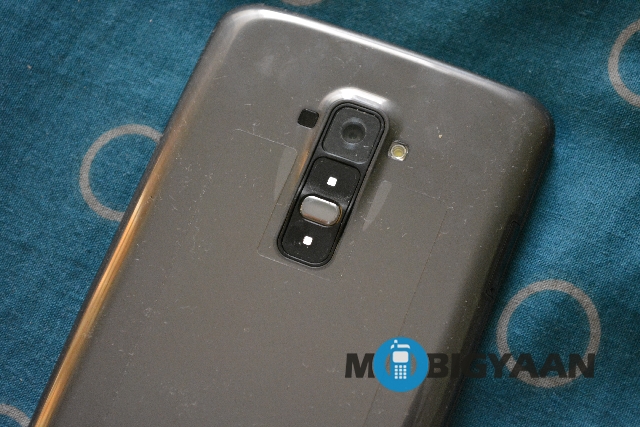 The LG G Flex comes continues the LG G2-esque form factor with no buttons on the sides – the power button and the volume rocker are located at the back and easily accessible. There is just a SIM slot on the side and that's all there is besides a MicroUSB slot at the bottom along with dual-microphones at top and bottom. I did take time to adapt to the arrangement, which proved a little inconvenient at first.
You can in fact, receive notifications, even when the phone is face down, making it ideal for a class or a meeting. Since this is a large handset, the placement of the camera is very important. The 13-megapixel at the back of the LG G Flex is suitably placed actually and could take many kinds of shots pretty easily.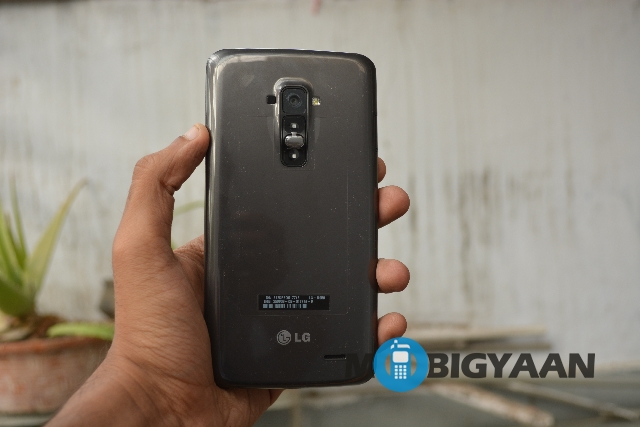 In totality, the build quality of the LG G Flex is kind of a let down, since for such an expensive handset, it doesn't usher in that premium feel that comes with a Nokia Lumia 1520 or a Samsung Galaxy Note 3.
Display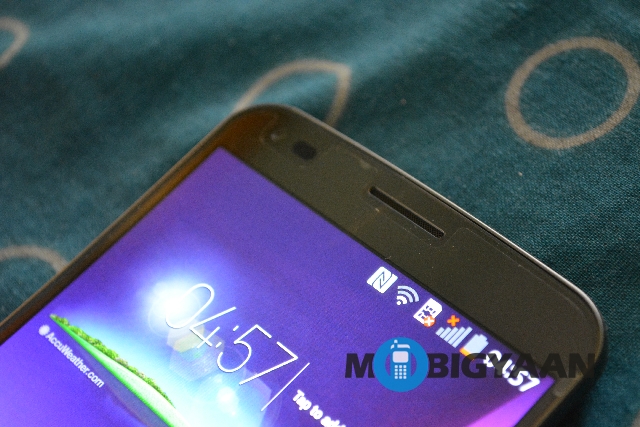 The LG G Flex surprisingly is not a full HD handset, despite its price tag. It's 720p 6-inch screen is well-engineered though even though the screen density is a paltry 245 ppi. In case, you have used a full HD display, you will surely be able to notice the difference, though we have to say, the screen is adequately sensitive and has good viewing angles.
Sunlight visibility is yet another issue with LG G Flex, make it an indoors handset, despite its mammoth frame.
Overall, the display isn't worth the top dollar you might be paying for this phone.
User Interface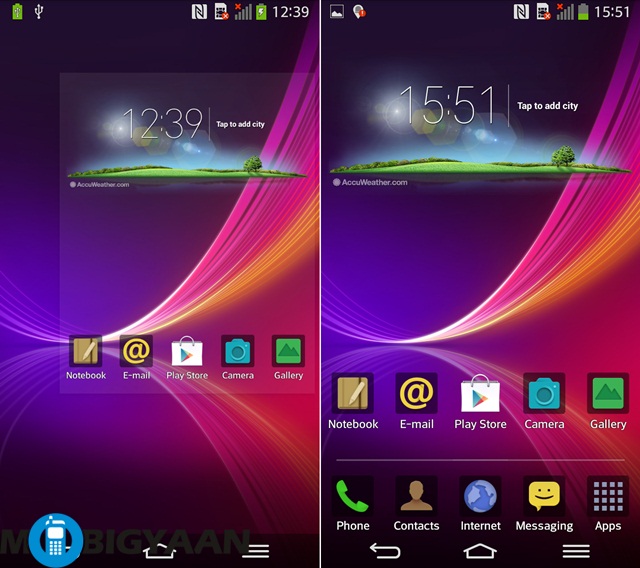 Despite its price tag, the LG G Flex doesn't come with Android 4.4 – KitKat OS out-of-the-box. Instead, it comes with Android 4.2.2. The handset comes with a lot of gestures though which make it pretty fun to use.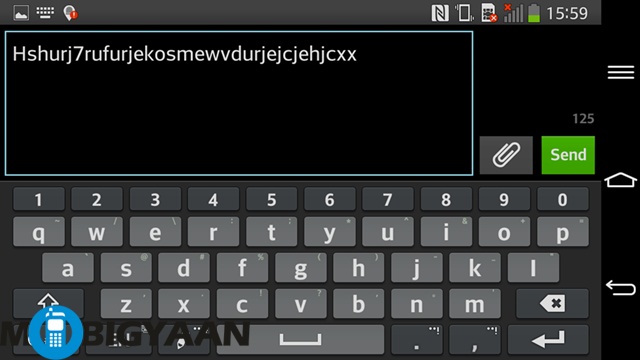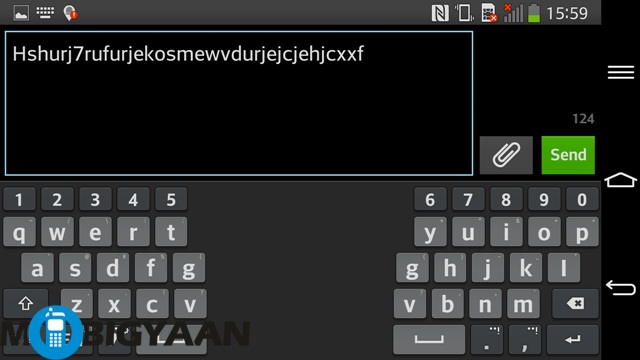 One of the best things about this handset was that it was that it was amazing to type on it. The touch keyboard actually splits into two small keyboard making typing truly amazing.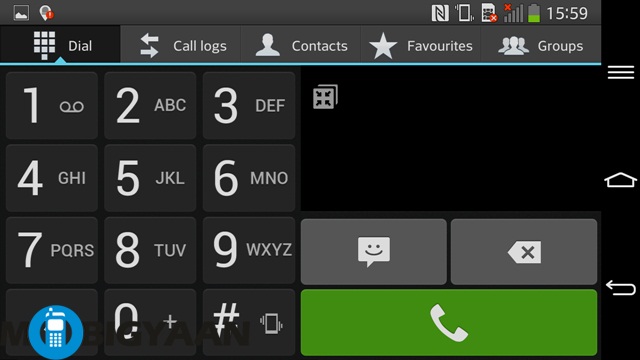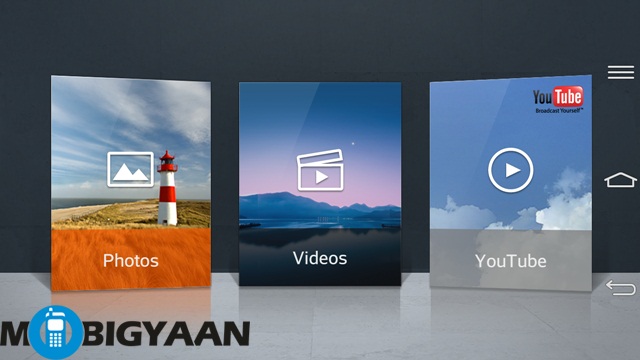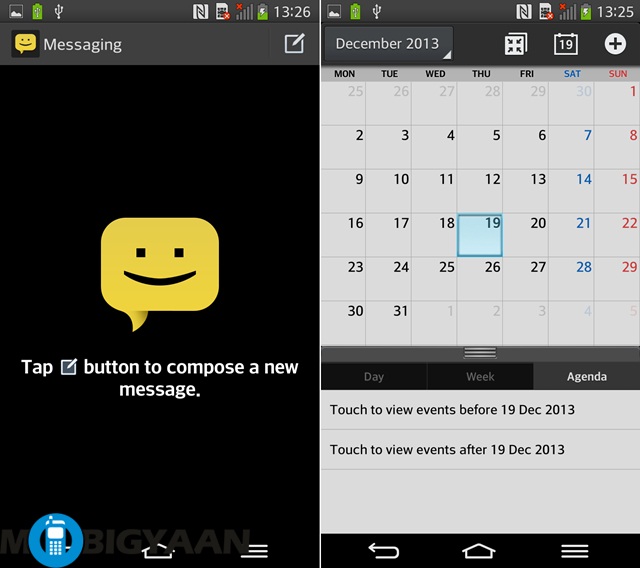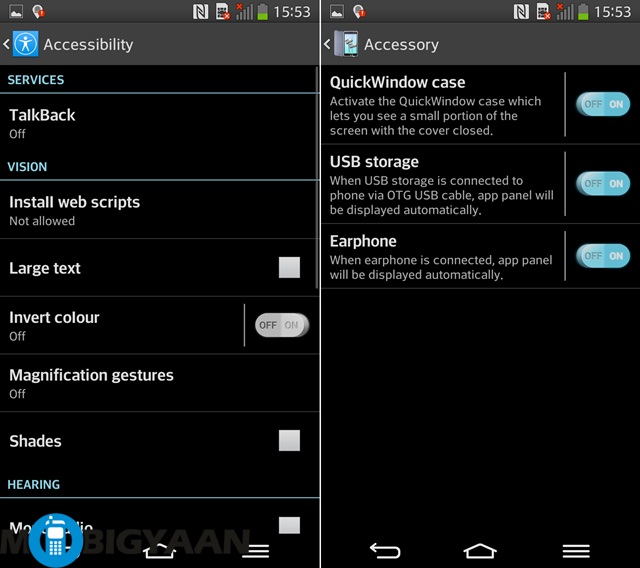 Like all high-end smartphones, the LG G Flex is compatible with accessories such as a QuickWindow smart case (needs to be purchased seperately), besides offering many different gestures which it differentiates according to vision, hearing etc.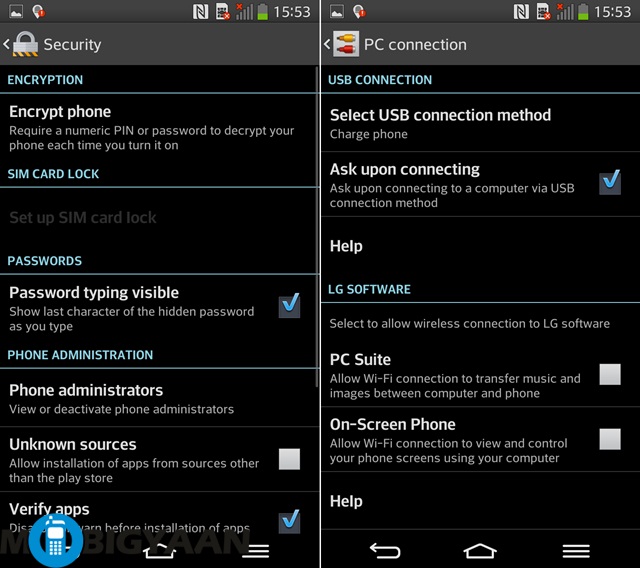 The G Flex also has the security part covered with allow you to encrypt every part of the phone.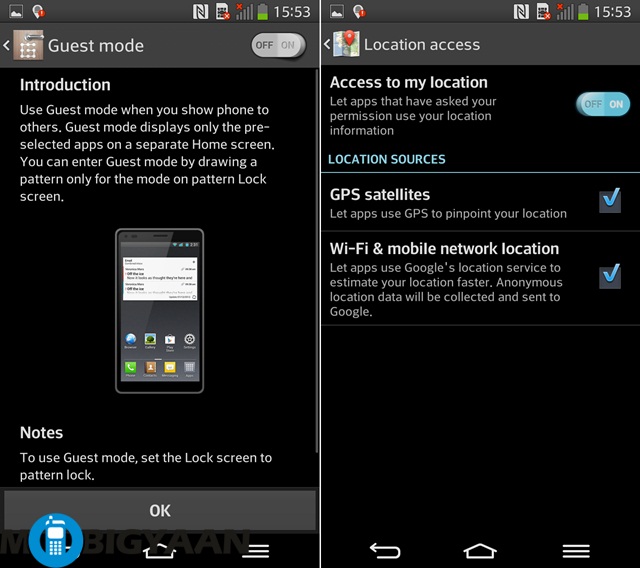 There is also a Guest Mode on board which allow the third-party to get access only the part of the phone you want them to have access to. Along with this it offers the usual location services.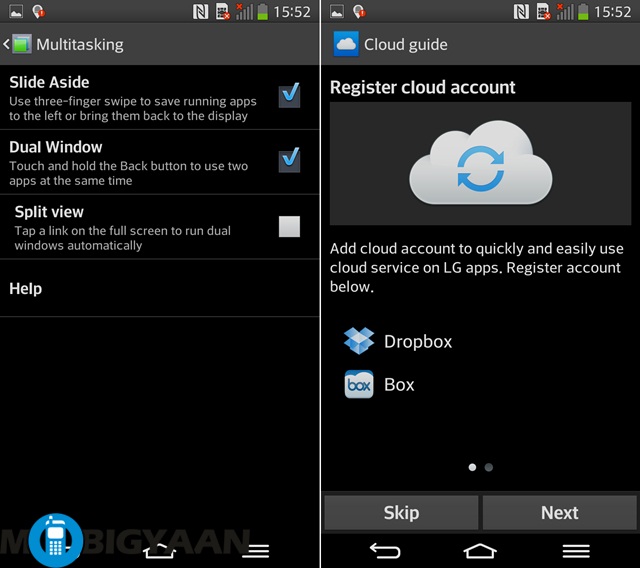 Besides this, it offers access to cloud services from the start along with multi-tasking.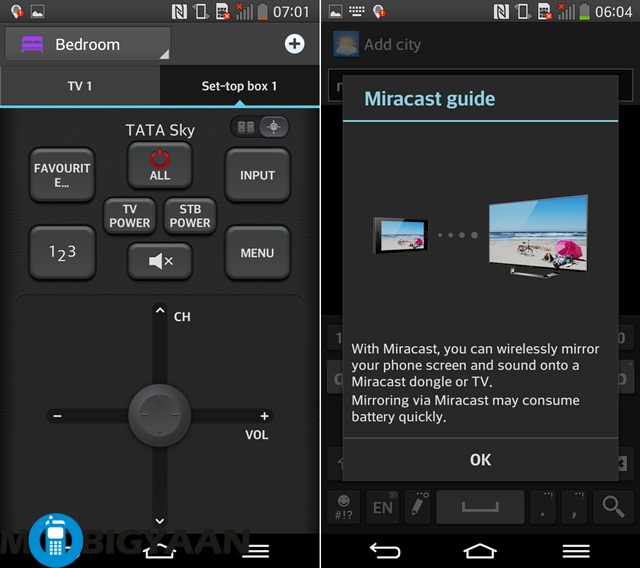 The amazing part though is actually the infra-red blaster that accompanies the camera and lets you control the TV right from the phone. We tried old TVs, new TVs and different set-top boxes. Although you have to place the LG G Flex straight to use, which is surprisingly more convenient than a traditional remote.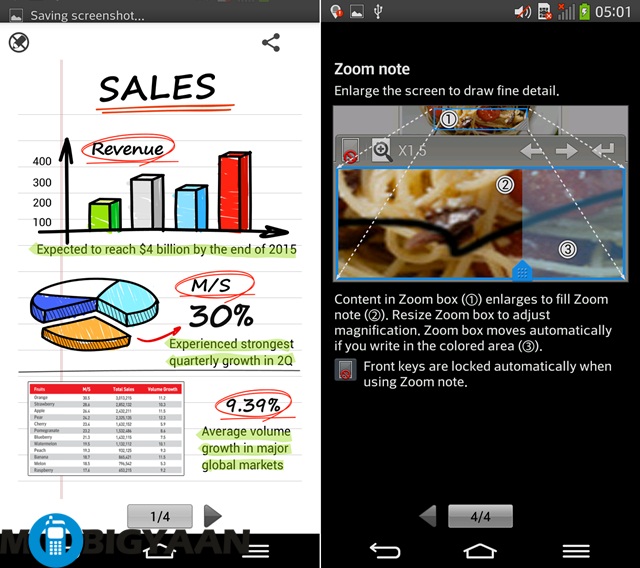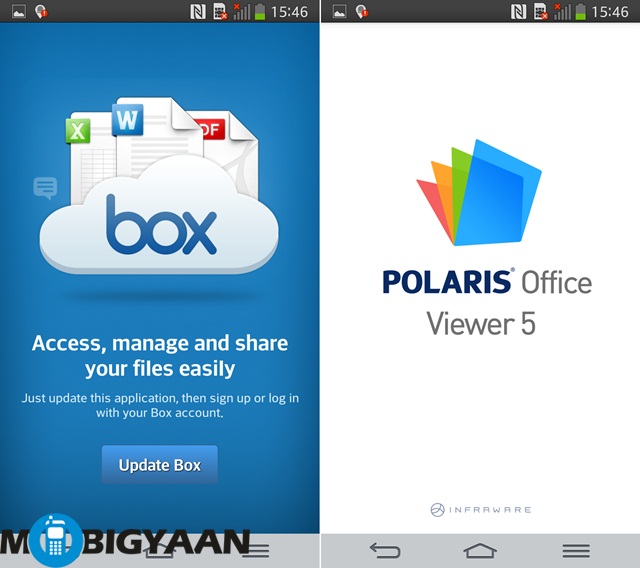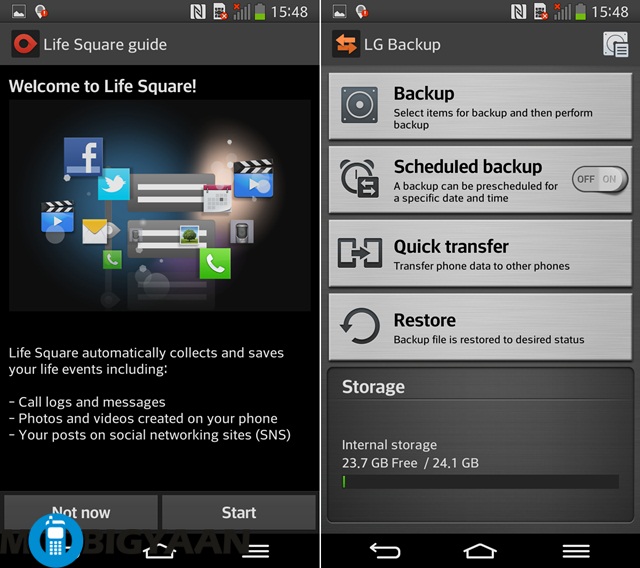 There are also many apps on the LG G Flex such as the social app – Life Square Guide along with a built-in backup feature. There are also the usual Google Apps such as Play Games, Hangouts, YouTube and Google Maps.
The apps that come pre-installed on the smartphone work pretty great, owing to a Snapdragon 800 processor inside along with 2 GB RAM. As far as the internals and the User Interface go, the handset does pretty well for itself.
Performance
The LG G Flex comes with a 2.26-GHz quad-core Qualcomm processor inside  along with 2 GB of RAM. It is actually more than adequate and the smartphone doesn't show any lags. Obviously if you are investing so much in a smartphone, it has to work smooth and fast.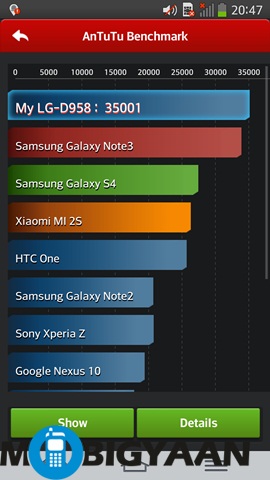 The benchmark tests we did on the the G Flex were actually a revelation –  the device came on top beating the likes of Samsung Galaxy Note 3 and Galaxy S4 with a benchmark score of 35001.
The basic tasks were good and multi-tasking was smooth as silk. Even games such as FIFA '14 worked pretty well.
Battery performance
The LG G Flex comes with a 3500 mAh battery, which is non-removable, as expected in a handset of this kind. The battery though lasts pretty long and also since the phone is smartly optimized, it charges pretty fast. I got all the juice out of the smartphone the I needed to. The battery life is actually pretty good.
Camera
The LG G Flex comes with a 13-megapixel camera at the back. Considering its price tag, it seems miles behind the ones on phones such as the Nokia Lumia 1520. But the camera is actually a bunch of surprises.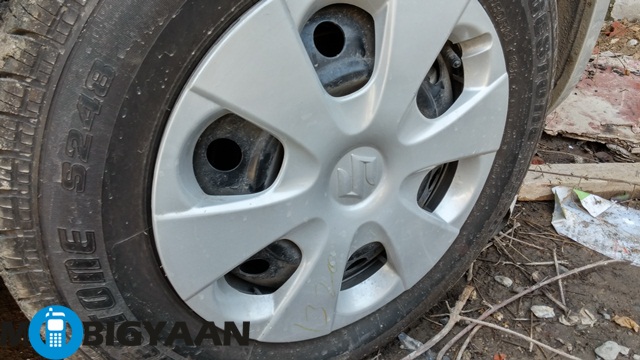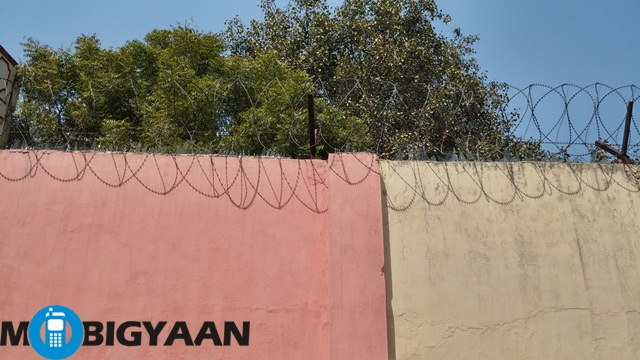 Normal Mode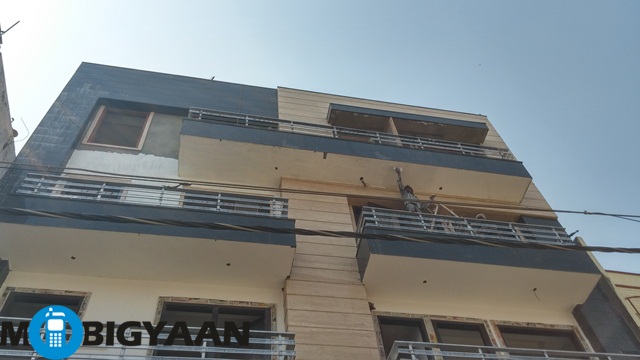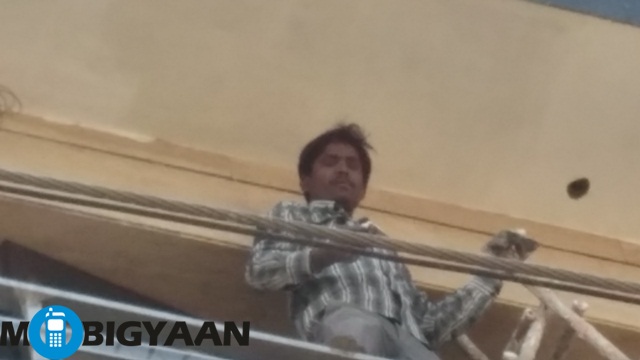 Camera zoom (x8.0)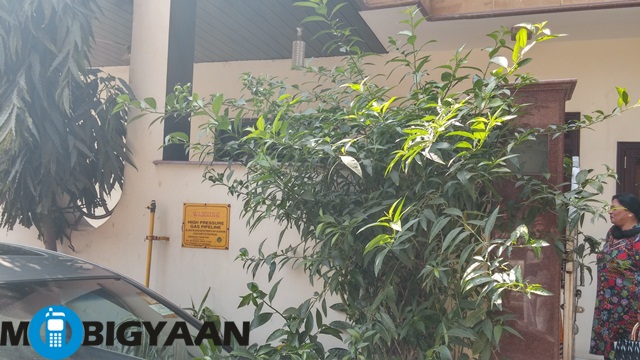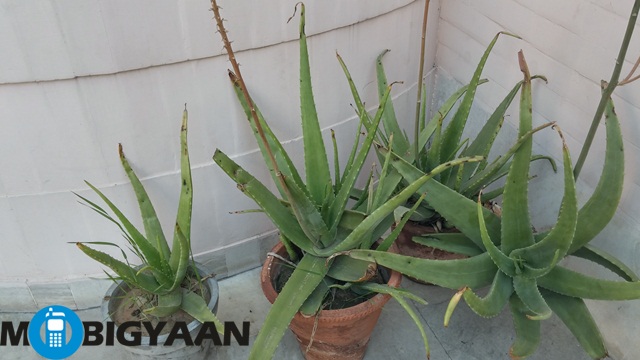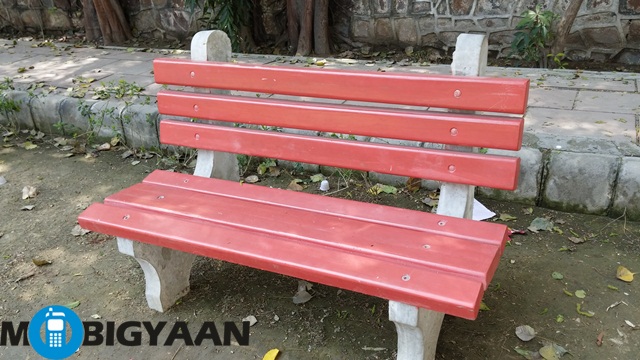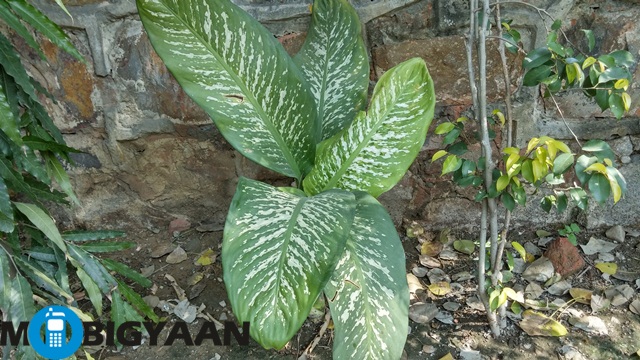 HDR Mode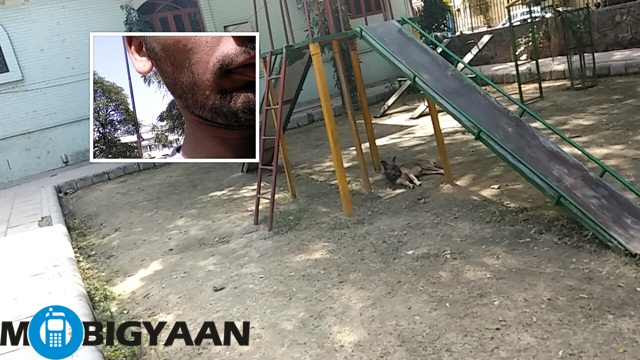 Dual Camera mode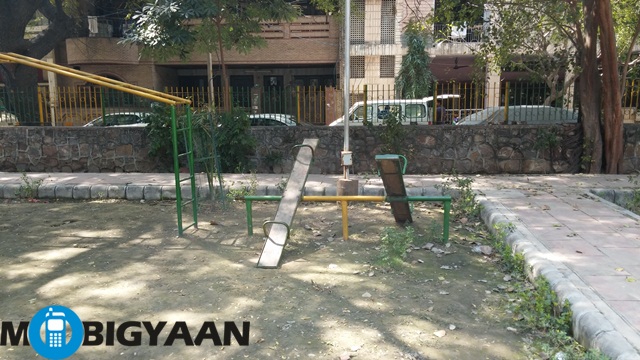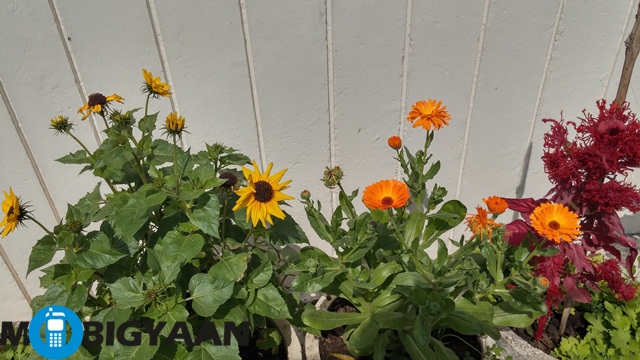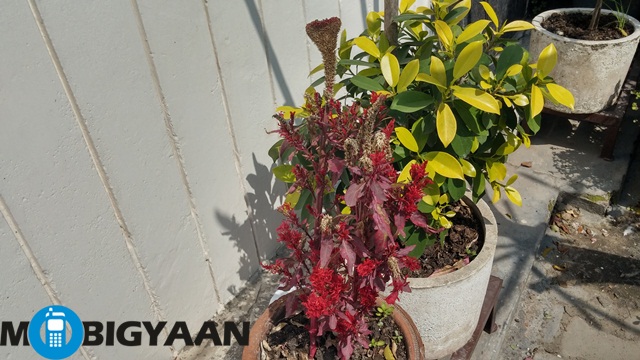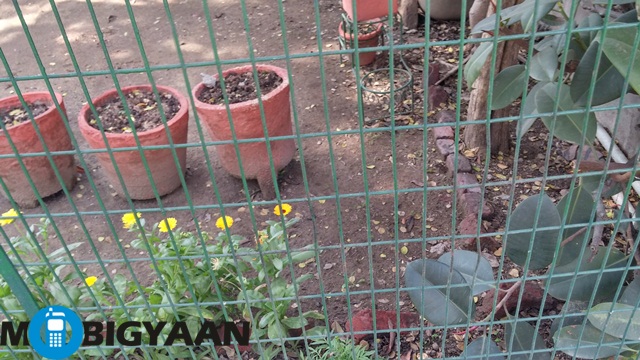 The hues of the camera pictures are pretty great and it is definitely a camera that has its act together.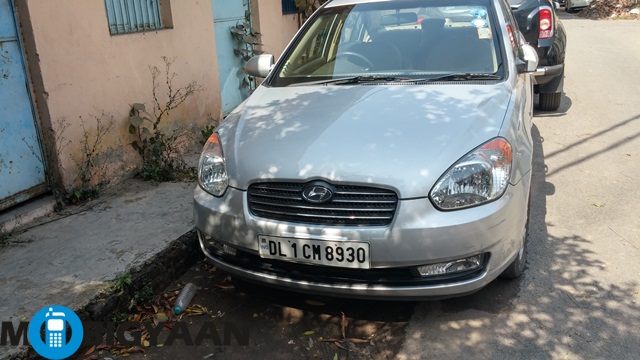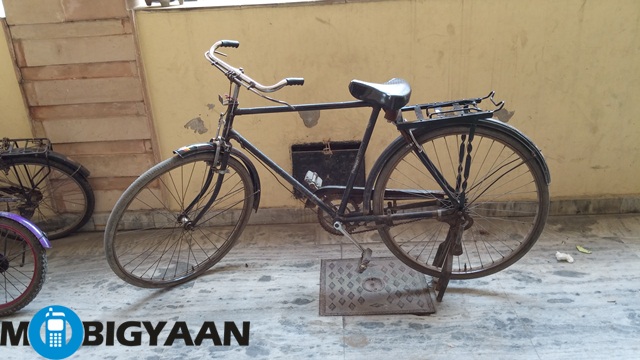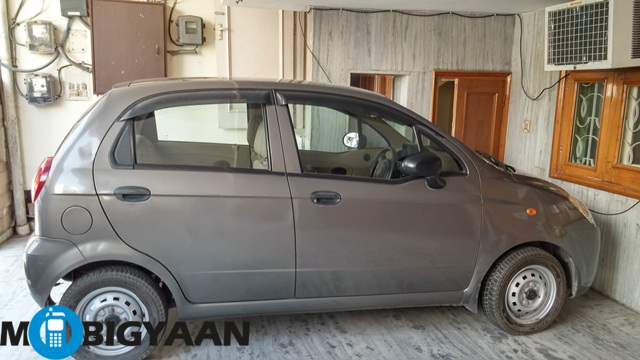 Intelligent auto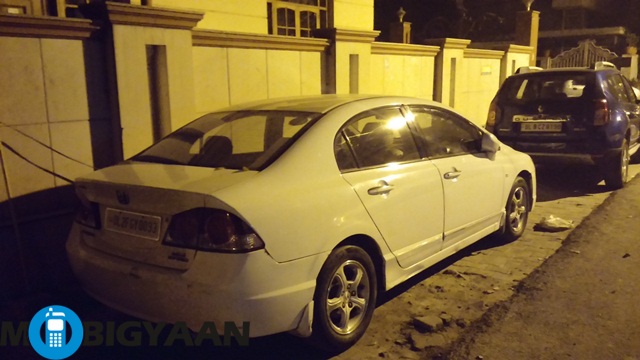 Night Mode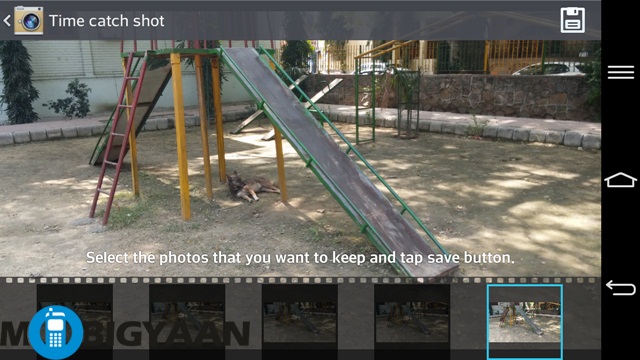 Time Catch Shot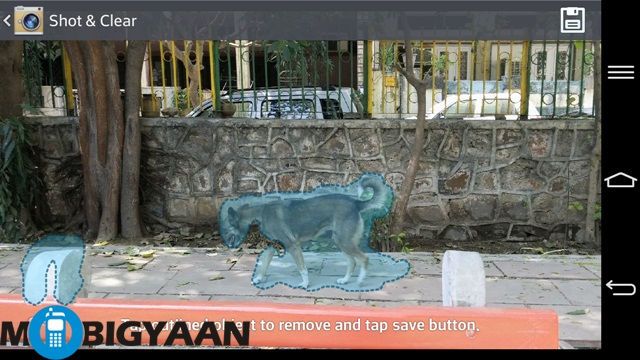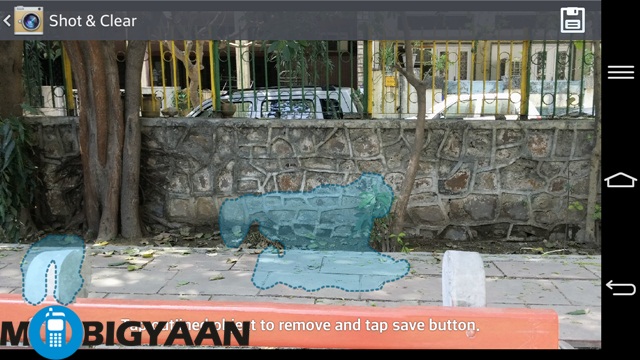 Shot and clear Mode
As  you can see, the camera has multiple modes on offer – normal, shot and clear, dynamic tone (HDR), Panorama, VR Panorama, Burst Shot, Beauty Shot, dual-camera, Time catch shot, intelligent auto, Sports and Night. The pictures are pretty clear, despite being a 13-megapixel camera, the LG G Flex rear camera performs exceptionally. The dual camera mode works pretty well and the Time Catch mode is pretty good, but what I found exceptionally amazing is the shot an clear mode, which lets you remove intruding objects in your picture, like I did to the dog here.
The night shots were just as good as the day ones.
The camera app is different than the usual ones, it is easy to use and offers you a lot of stuff and besides the modes it has on offer great controls such as a cheese shutter which clicks on smiling, brightness adjustment, auto focus, ISO, white balance, colour effects and geo-tagging.
Surprisingly, though the camera app does not let you take screenshots.
The device is pretty great at capturing videos but the handset will do far better, once it receives the Android 4.4 – KitKat OS update which brings along 4K video capabilities.
Connectivity
Network and connectivity were generally working pretty well. The G Flex comes with MicroSIM connectivity. It can connect to NFC, Wi-FI, 3G, GPS and Bluetooth. Connectivity never became a problem on the handset.
Conclusion
The LG G Flex is actually a pretty amazing handset, but you can only think about its qualities when you don't think about its price, unfortunately. The handset has a lot of its act right – the curve works pretty well, the self-healing back is a good feature but more importantly, when it comes to the OS, the UI and the camera, which are most important for any smartphone, they work amazingly well.
But the price is too big an aberration to this handset's success. At Rs. 69,999 price feels totally unrealistic. While this handset will still be worth its weight if compared to super luxury phones such as the Blackberry Porsche P'9982, It is just not something a regular Joe would even consider. An ideal price tag of around Rs. 35,000 – Rs. 40,000 would have done this phone a world of good. It currently seems like a one-time wonder, and we aren't sure that we will see any curved screens once the fad dies out.
The question with this phone isn't should you consider it, rather it is would you consider it. It is a fantasy phone alright. But even if you could afford the LG G Flex, some of its features just let it down – a 720p screen kills any value for money this phone could have had.
Pros
Amazing design
Great camera
Great battery life
Awesome performance
Cons
Creakiness
A 720p display
Unbelievably expensive price tag