LG has been teasing a mini version of its flagship LG G2 for a while now and just a few days ahead of MWC, they have gone ahead and made the LG G2 mini official.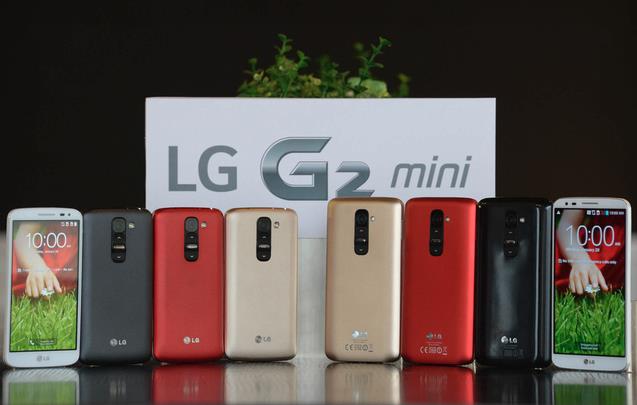 The LG G2 mini features an almost identical design to the LG G2 with the rear button placements we also saw in the recent LG G Pro 2. It measures 129.6 x 66 x 9.6 mm and weighs 121 grams. The device will come in Titan Black, Lunar White, Red, Gold colors.
The LG G2 mini comes with a 4.7-inch LCD display (which makes it hardly a mini) of qHD(540×960) resolution. There are a couple of variants of the device, one with the modest Snapdragon 400 processor and other with the Tegra 4i processor. The device will come with 1GB of RAM. There's 8GB of internal storage along with microSD expansion.
On the camera front, there's an 8MP rear camera with LED flash and a 1.3 MP front facing cam. The G2 mini will come with Android 4.4 KitKat and LG's customizations in tow. There's a 2440 mAh battery to keep things going. The connectivity is well covered, an LTE model of the device will reach some markets, while some markets will get a dual-SIM variant as well. We assume we Indians will receive a dual-SIM LG G2 mini but we'll have to wait till the official confirmation. The device will start rolling out to the markets in March.
We expected better specs as Sony has upped the ante with it's 'mini' phone, the Xperia Z1 Compact but the LG G2 mini is by no means a worthy 'mini', neither by its size nor its specs. LG hasn't announced the price as of yet but we hope they price it well to give the device any chance in the market. What do you have to say about the LG G2 mini? Does it make a worthy mini to much liked LG G2? Sound off in the comments below..
 LG G2 mini specs
4.7-inch LCD display
qHD (540×960) resolution
Snapdragon 400 or Tegra 4i processor
1GB RAM
8GB internal storage
microSD expansion
8MP rear camera with flash
1.3MP front facing camera
2440 mAh battery
Android 4.4 KitKat
Cat. 4 & VoLTE / Cat. 3(LATAM), HSPA+ 21Mbps (3G)
Connectivity: Bluetooth 4.0, WiFi (802.11 b/g/n), A-GPS, NFC (4G LTE version only)