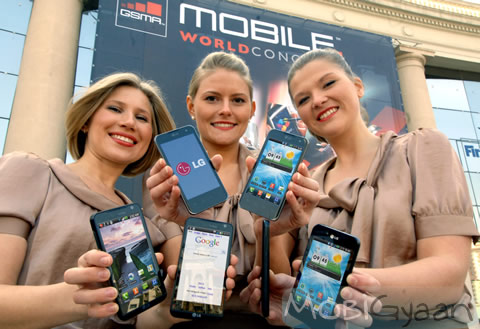 LG has finally returned to MWC 2011 in Barcelona after its successful journey in CES , Las Vegas where they showcased many innovative products. The company introduced the world's first dualcore phone (LG Optimus 2X), One of the thinnest and brightest smartphone (LG Optimus Black) and the company's first phone compatible with 4G LTE networks – LG Revolution. 
LG has announced that the saga will continues in MWC starting from today.  The company will unveil two new and flagship devices that aims at new revolution in the mobile industry. A completely new 3D Smartphone with unparalleled 3D performance and the LG Optimus Pad. In CES , people were quite amazed when they didn't find LG's tablet anywhere but no one knew that they planned to release it in MWC with some unbelievable features. LG Optimus Pad runs on Android's Honeycomb OS as previewed by google few months ago which is specially designed by keeping in mind the whole idea of a tablet UI for customers. You can even hold it in one hand. We are really excited about it and will discuss the tech specs.
LG Optimus 3D
It comes packed with some exceptional features like we have not seen on any other device before. As the name suggest , it's one of the best smartphone to experience 3D  content. It has dvanced dual-core, dual-channel and dual-memory architecture. It features 1GHz OMAP4 dual core processor and four time more video decoders than any other competitive designs. LG Optimus 3D doubles the graphics performance and thus utilizing the full screen spectrum in 3D. Whether you run applications , play games , surf the internet , share content , you can do everything in 3D. It also features a dual lens camera lens so that you can capture everything around you in true 3D which can be viewed immediately on a 4.3" inch WVGA glasses-free display. Viewing 3D content from the naked eye without any glasses is the key feature of the smartphone. Multiple connectivity options including HDMI (High Definition Multimedia Interface) and DLNA (Digital Living Network Alliance) also make it easy for users to transfer their recorded content to other devices. 

LG Optimus Pad
In CES 2011 , we saw Motorola Xoom tablet filled with incredibly unbelievable features and Android's HoneyComb Tablet. Today , LG will follow the same criteria in MWC by unveiling their most awaited tablet called as 'Optimus Pad'. The tech specs includes a 8.9 inch 1280 x 768 WXGA resolution widescreen display in a form factor that it can be used one handed with a 15:9 compact ratio and full HD video recording. This new device support Android's Honeycomb OS , Google`s latest platform optimized for tablet devices with an optimized and intuitive PC-like interface for running tablet software. It runs on 1GHZ NVIDIA Tegra 2 dual core processor for unmatched performance and power management. For the first time in the history of tablets , LG has come out with a 3D camera in tablet which will allow users to share the 3D video's wirelessly on a 3D TV or on Youtube 3D to double the user experience in a different way. 
LG Optimus 2X 
World's first smartphone with dual core processor made in partnership with NVIDIA. The Tegra 2 dual core processor in Optimus 2X runs at a clock speed of 1GHZ and  boasts low power consumption and high performance for playing video and audio. This processor make it more faster , a smooth web browsing and multiitasking with no screen lag. It also features HD video recording at 1080p and HDMI mirroring that expands the capability to external HD quality displays. It also has a DLNA feature that allows you stream the multimedia content to HD TV's wirelessly by taking the advantage of HDMI mirroring, accelerometer and gyro sensor. 
LG Optimus Black 
One of the thinnest Android smartphone that won the heart of millions of people in CES 2011. More than two millions people pre-ordered the handset. In MWC , the LG will unveil a new special edition of LG Optimus Black featuring designs courtesy of the Keith Haring Foundation. Beside the fact that it is one of the thinnest smartphone , it features 4-inch NOVA display for optimal brightness and readability under any lighting conditions. The crystal clear display provides a better experience to surf the internet  by displaying truer whites while simultaneously cutting energy consumption by 50 percent compared to conventional LCDs. It improves the user experience by some phenomenal features like gesture UI , Wifi direct and a front 2MP front facing camera for video conferencing.
Here are some more pics from LG at MWC 2011