South Korean smartphone manufacturer LG keeps revealing details of its upcoming flagship smartphone – the V30. Two weeks ago, the company shed some light on the software features of the V30. Now, the company has shared some details of V30's audio capabilities.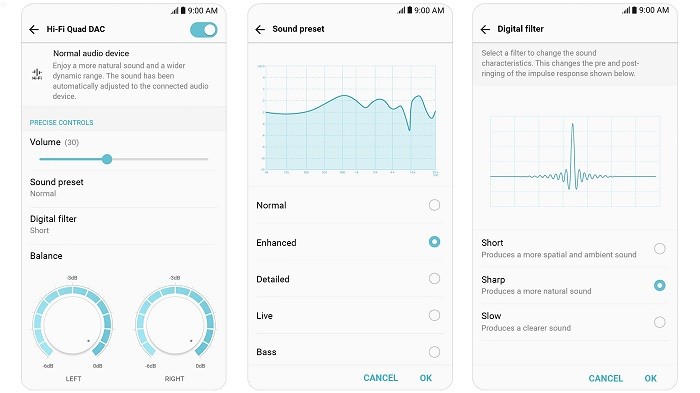 LG has said that the V30 will come with "next-generation audio functions unseen in a smartphone before". Last year's V20 and this year's G6 came with quad-DAC to offer better, more natural sound to the listeners. However, the V30 will come with a 32-bit Advanced Hi-Fi Quad DAC which is powered by ESS Technology's SABRE ES9218P.
This new DAC comes with features like digital filters and sound presets. With digital filters, users can change the pre and post-ringing of the impulse response to customize the audio output to their liking. Speaking of sound presets, users can choose from four different settings like enhanced, detailed, live and bass. LG says that this should offer a high-quality audio experience to the users even with ordinary equipment.
Moreover, this new Hi-Fi Quad DAC also controls the left and right audio signals separately which should make the listeners feel as if they are at the center of a concert hall. The V30 also comes with audio streaming technology from their partner MQA Ltd. so that users don't have to download music files only to get better quality audio on their smartphone.
Apart from all this, the LG V30 also comes with HD Audio Recorder which allows its audio receiver to be simultaneously used as a microphone. Lastly, the V30 will also come with some fine-tuning done by B&O PLAY for better overall sound experience. The V30 will also come bundled with B&O PLAY earphones.
"With the V30, LG and our partners are pushing the boundaries of smartphone audio to enable a more bespoke listening experiences. The combination of its advanced Hi-Fi audio technology and the superb images generated by its OLED FullVision display makes the LG V30 a true multimedia powerhouse." said Juno Cho, President of LG Electronics Mobile Communications Company.
The LG V30 is going to be launched on August 31 in Berlin, Germany where we will know more about the smartphone along with its price and availability.