There's 3 more days to go before we know everything about the much awaited Windows Phone 8.1 update but leaks are not stopping anytime soon. We have come across a couple of new videos, which show a Lumia 630 running Windows Phone 8.1.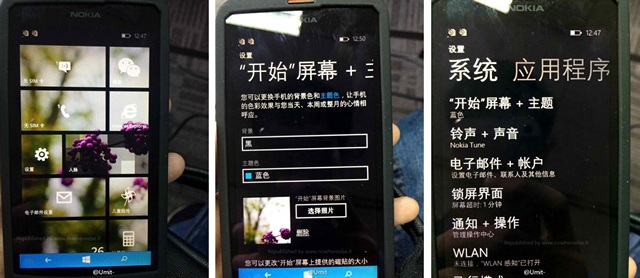 The new videos show us the Start Screen customizations, Windows Phone 8.1 will bring. It seems Microsoft has gone ahead and settled on the idea of an image behind the tiles. The Start Screen truly looks prettier, if we can put it that way. There's also a cool parallax effect, which makes things look quite cool. In one of the videos, we also see the Action Center in action.
We get to see Windows Phone 8.1 in action on the Lumia 630, which Nokia will unveil this coming Wednesday, the same day when Windows Phone 8.1 will be detailed. Nokia should also unveil their latest flagship, dubbed Lumia 930.
We have told you quite a few times that Windows Phone 8.1 is a huge update and well, we surely can't wait to know more. We hope there are some features Microsoft surprises us with. We all like surprises, don't we? Anyways, we have had video leaks for the all the major features that are going to part of Windows Phone such as the Action Center, the Cortana voice assistant and more. Which Windows Phone 8.1 feature excites you the most?
Nokia Lumia 630/635 Specs [Expected]
4.5-inch display
WVGA (800x480p) resolution
Quad-core Snapdragon 400 processor
1GB RAM
8GB internal storage
microSD expansion
5MP rear camera
2000 mAh battery
Windows Phone 8.1
dual-SIM (Lumia 635)