Last month, Android Marshmallow stood with a share of more than 2% in Android Distribution. And now, Marshmallow has doubled its share in Android Distribution as compared to last month.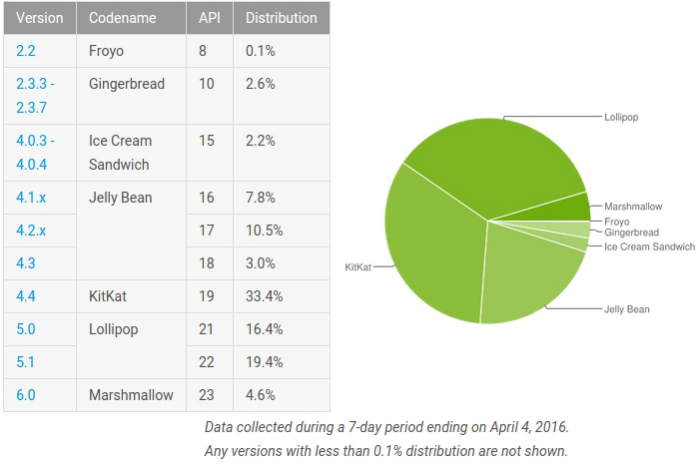 Back in February this year, Marshmallow only stood with 1.2% share in Android Distribution, which was then increased to 2.3% last month. Now, this month, Marshmallow has doubled its share in Android Distribution with 4.6%.
It's really good to see that Marshmallow has doubled up its share in Android Distribution in a month. More and more devices are either receiving the Marshmallow update or a being launched with Android Marshmallow running out of the box. Add to that the flagship devices which are being shipped with Android Marshmallow.
However, Marshmallow doubling up on its Android Distribution share in a month is a good thing. I really think that the number should have been a little higher than what it is right now as Marshmallow was released in the form on developer preview way back in May last year during the Google I/O event and was later on unveiled in September during the launch of Nexus 5X, Nexus 6P and the Pixel C tablet.
At this moment, Android Lollipop is leading the chart with a total share of 35.8% which is then followed by KitKat with 33.4%, Jelly Bean with 21.3%, Marshmallow with 4.6%, Gingerbread with 2.6%, Ice Cream Sandwich with 2.2% and lastly Froyo with 0.1%.
We expect Marshmallow's share to increase by the end of next month. Head on to the Android Developer blog for more details. By the way, which version of Android is your smartphone running on?