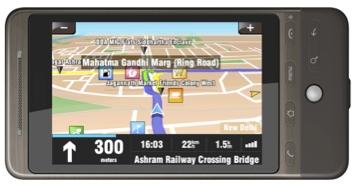 Its a great pleasure to announce the second Giveaway on MobiGyaan to celebrate 1st Anniversary. We are giving away one GPS Navigation Software for mobile phones worth Rs. 2183.

Participation in Giveaway is open till 21st January 2010 (inclusive of 21st January 2010). To get a chance to win this all you need to do is :

1. Subscribe to MobiGyaan Newsletter. Click here to subscribe. (Once you subscribe you will receive a verification mail, Click the link in the mail to confirm your subscription)

2. Once you subscribe to MobiGyaan Newsletter fill a simple form. Click here to fill the form.
SatGuide is India's 1st Navigation software developed by SatNav Technologies with detailed maps of 412 cities along with ONE INDIA map. SatGuide uses Global Positioning System (GPS) with smart sensors to achieve the accuracy needed for turn-by-turn directions. It works on GPS technology so there is no need of GPRS. With SatGuide you will be able to plan your trip and you can store your favorite destinations. In addition to having a list of your favorite destinations, it will show you the last 10 destinations in the History feature.
To know whether your mobile is compatible with SatGuide click here.
Benefits of SatGuide

SatGuide Saves your Time
Makes your trip productive. You don't have to stop when you are confused about a turn to ask for directions.

All you have to do is enter the street name that is located closest to where you would like to go. SatGuide will calculate the best route for you. All you have to do is to follow the voice and visual prompts given by your device.

No more driving around to look for a restaurant or ATM machine. SatGuide lists several of them. All you have to do is pick one and follow the direction prompts towards it.
SatGuide helps you Drive with Confidence
SatGuide gives you turn-by-turn directions making you confident at the wheels.

It is totally Hassle Free. Now you can enjoy those long drives with your loved ones without worry.
SatGuide is Simple to Use
State of the art GPS technology and digital mapping will keep you on the move with easy-to-follow directions.

Simple and clear voice prompt and visual directions.
If you can't wait for results of Giveaway and want to buy this device as soon as possible then read this. You can get 10% discount on purchase of any SatGuide product  online.

This Giveaway is sponsored by SatNav Technologies. SatNav Technologies, one of India's early starters in the IT Products space, offers a wide array of Products both Off-the-shelf as well as customizable, for both the B2B and the B2C markets. These products were developed when the management team of SatNav Technologies working together since the year 2000 was a part of a large Indian IT company. It was spun off as a separate entity in the year 2004. SatNav aims to grow exponentially and be a Billion Dollar entity by 2012. SatNav has strategic alliances with the experts in the Industry and is consistently developing its market intelligence and approach. This has led it to become a Market Leader from a Pioneer in the field of GPS Maps and Navigation.
Terms and Conditions :

By participating in MobiGyaan Giveaway you agree to Accept the Terms and Conditions.

Giveaway is Open only for Indian residents.

Participation in Giveaway is open till 21st January 2010.

Name of winner will be announced on 25th January.
PS : I had to change the the terms of paricipation in the Giveaway as I got lots of queries on "Exactly how to participate"? Those people who need already participated in the Giveaway need not participate again. Your participation is confirmed.