We don't expect many leaks on a weekend but it seems that the Samsung Galaxy S III rumour mill is not going to stop. Just today we saw a 'probable' leaked PR slide of the S III and now we see a picture of the S III in action. This again comes from Reddit, where Samsungthrowaway has posted a picture saying that it is the S III and was sent to them by a friend who "works at Samsung, in a respectable position."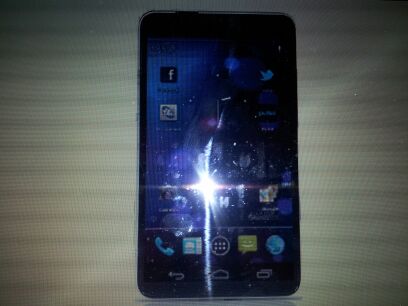 From the picture the device in it looks decent but a little contradicting with the earlier PR leak. May be it is just me who is feeling awkward about it but it may not be so. He also went on to reveal more details about the S III which his friend sent him adding up to the existing rumours.

According to the leak and I quote him below,

"He said that it will possibly have two optional launchers, ICS with touchwiz overlay and vanilla ICS. They aren't 100 percent sure if they will stick with touchwiz or have the dual launcher option. If they go dual, you will have the option of picking which one to use at startup, and you can change any time. He said it has a 4.7 inch screen that nearly takes up the whole phone, but some bezel space was needed for the camera, speakers, mic, and so cases would fit on it. He said it WILL be HD and have a ceramic "micro arc oxidation" back."

So that tells us that we could see the S III with dual boot if the Korean giant is finally able to decide on it. And yes, a 4.7 inch screen, HD and Ceramic Micro Arc Oxidation back. When many other users asked for more details Samsungthrowaway asked his friend for them and went on to reveal a little more on the specs front which are as below,

"He said the processor is a quad core exynos (spelling?) 4412. The screen is Super Amoled Plus with HD. The camera is a 12 megapixel with flash. 2 gigs of ram. And it is exactly 8 millimeters thick, and no bump this time around, just "smooth". 2250 milla-amp/hour battery, but no wireless charging."

So the S III may go on to have a Super AMOLED Plus HD display (Sweet), quad-core Exynos 4412 processor with 2GB RAM (WOW), a 12MP camera with flash (Nice) and will be just 8mm thick. And hey it'll have a 2250mAh battery which is decent enough given the high consumption by the processor and HD display.

All in all this leak is pretty impressive on the specs front and if the S III does arrive with all of those mentioned above, then it will surely go on to rule the Android world as the S II is currently doing. Time will tell, so hold on to your seats.