Last year, Google rolled out Android 7.1.1 Nougat update for the Nexus 6 that was launched back in 2014. However, Google soon downgraded the Nexus 6 to Android 7.0 Nougat because of problems with Android Pay. But now, more than a year later, Google has again started rolling out Android 7.1.1 Nougat update for the Nexus 6.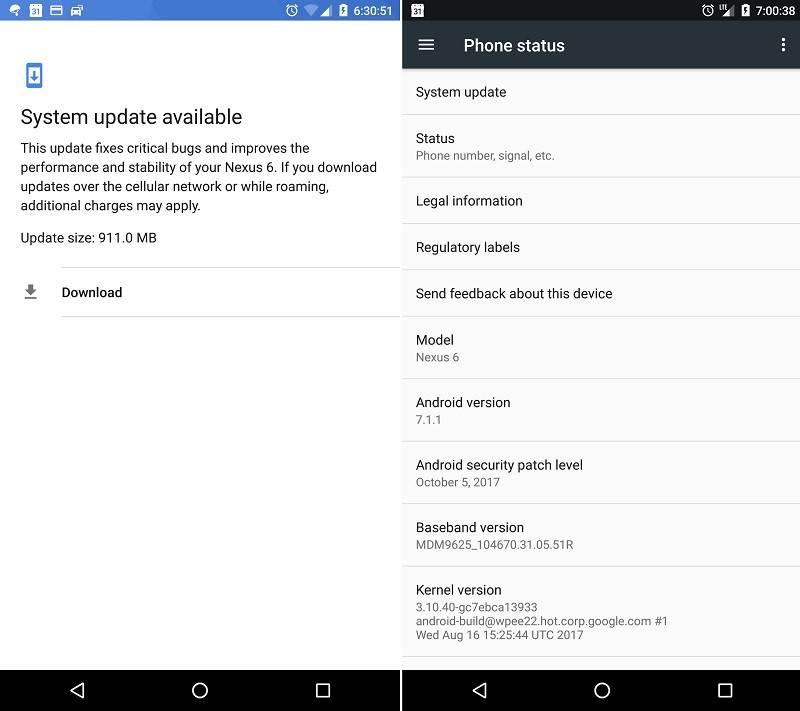 The update weighs between 344 and 911 MB in size and "fixes critical bugs and improves the performance and stability of your Nexus 6". However, there aren't any other notable changes that are brought in by the 7.1.1 update to Nexus 6. Even the Android security patch level is still on October 5, 2017.
Having said that, those Nexus 6 units that are already on 7.1.1 Nougat are also receiving this update, and, this update changes the baseband version from MDM9625_104670.31.05.45R to MDM9625_104670.31.05.51R.
With that being said, this update is rolling out to Nexus 6 units on T-Mobile, but, users on other carriers are also reporting to have received this update on their Nexus 6.
Anyways though, those who already had their Nexus 6 on 7.1.1 Nougat should expect some bugs to be squashed, and those who had their Nexus 6 stuck on Android 7.0 Nougat should be happy that Google – after more than a year – has finally upgraded their device to 7.1.1 Nougat.
However, this is very well the last update for Nexus 6, hence, if you want a smartphone that's up-to-date on the software front, now is the time to buy a new one.