We have had many close encounters with the Nokia 9 in the near past. And the phone has been popping up in many places with different model numbers. We have had a peak at its design, and different models have passed the Geekbench too like an 8 GB model. But the TA-1004 which is the 4 GB model was certified by the FCC.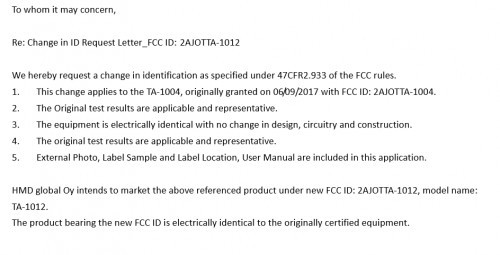 Now we have a new leaked request letter, that wants the certification of the Nokia TA-1004 to be transferred to a 6 GB variant that is TA-1012. This piece of info came to us via NokiaMob.net. Obviously, HMD Global wants to compete better with flagship killers so it wants the 6 GB model out. The leaked doc says the company wants TA-1012 to take the place of TA-1004. Apart from increasing RAM to 6 GB, no other spec has changed, insisted HMD Global.
So now that we can chalk out the 4 GB version, we have a little but less confusion. We will definitely see a 6 GB version now if this leak here is correct. And as we said earlier we also have seen an 8 GB variant of the device. Apart from this we also know some more specs leaked by AnTuTu and Geekbench. The Nokia 9 will flaunt a Snapdragon 835 chip, as well as a dual camera with two 13 MP sensors. The phone will have a 5.5-inch screen with QHD display. Not much is known about the battery capacity but we can expect to see a 3000 mAh cell at least. The phone might feature two storage options to go with the two RAM models. The 6 GB model will likely have the 64 GB storage while the 8 GB model will have the 128 GB storage option. We can also expect Android Nougat to be on board when the device arrives.