Nokia had announced two phablets at the Nokia World event last year but only the elder and the more powerful sibling which is the Lumia 1520 made its way to India while the Lumia 1320 was dubbed to be 'coming soon'. Well wait no more as the Lumia 1320 has arrived in India along with a device that is sure to sell like hot cakes which is the Lumia 525.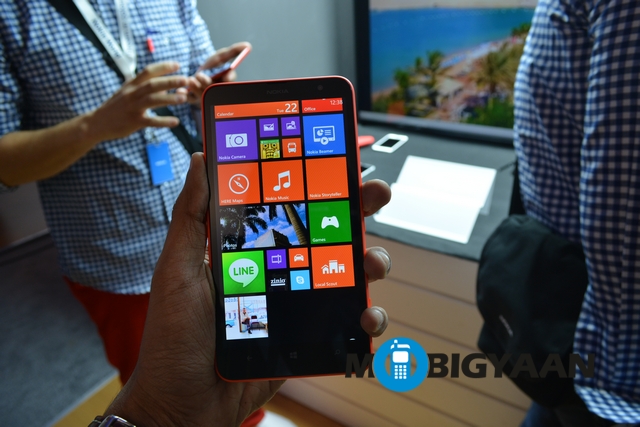 The Lumia 1320 is here to compete with the plethora of Android phablets in the Indian market and the specs suggest it should compete quite well against the likes of the recently announced Galaxy Grand 2. The Lumia 1320 features a 6-inch 720p display. It comes with the Qualcomm's 1.7 GHz Snapdragon 400 processor along with 1 GB of RAM. There's 8 GB internal storage along with microSD expansion. A 5 MP camera with flash on the rear along with a VGA front facing camera. The Lumia 1320 comes with a quite beefy 3400 mAh battery. You can also check out our hands on of the Lumia 1320. The Lumia 1320 is priced at Rs. 23,999 which is the right pricing by Nokia.
Then there's the Lumia 525, the successor to the insanely popular Lumia 520 which is the best selling Windows device ever. It is almost identical in terms of specs to the Lumia 520 but for the 1 GB RAM that Lumia 525 comes with. Apart from the RAM its the same 4 inch IPS LCD display of WVGA (800×480) resolution. It is powered by the same 1 GHz dual core Snapdragon S4 processor along with 1 GB of RAM and it has 8 GB of internal storage with microSD expansion. There's the same 5 MP rear camera while there is still no front facing camera. It has the same 1430 mAh battery. The Nokia Lumia 525 is priced at Rs. 10,399 which is great considering i know people who were waiting for the device and hoping that its priced below Rs. 12,000. Both the devices come with the latest Windows Phone GDR3 update along with Nokia's Lumia Black customizations.
These two devices are the ones which should make Windows Phone even more popular  (even though Lumia 1520 seems to be selling quite well in India)because the Lumia 1320 is the first budget priced Windows Phone phablet while the Lumia 525 is a great device and with the updated RAM, there will be no waiting for apps and games.
So anyone planning to buy a Lumia 1320 or the Lumia 525?