Update: One of our readers just updated that the screenshot of SamsungMobileUS is fake. PhoneArena cited our story and Samsung Mobile USA contacted them and clarified that no such tweet was ever tweeted. We got the screenshots via a tip and we sincerely apologize to our readers and Samsung Mobile USA for not verifying the authenticity. We will try to make sure that such errors won't occur in the future.
An online trolling campaign of Nokia against global leader Samsung took an ugly turn, with Samsung abusing Nokia openly on Twitter.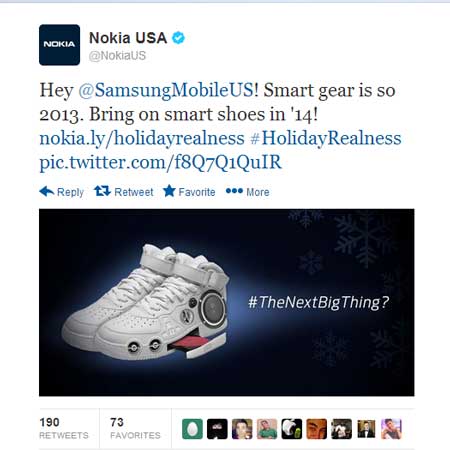 Nokia's official US Twitter account posted an image trolling Samsung about the Next Big Thing. The tweet pushed Samsung's buttons by claiming that its Smart Gear smart watches are so 2013 and suggested that the company now look into smart shoes in 2014. This seems to have infuriated Samsung and resulted in an abusive tweet from the official account of Samsung Mobile US.

Owing to the abusive nature of the tweet, Samsung US immediately deleted the tweet but not before it was seen by the 490000 odd followers who were enjoying the tussle. Nokia however still has kept its tweet. Online trolling of this manner has been quite common amongst big corporates and Samsung is not a new player in this game.
Thanks Devarshi for the tip!