While OEM's like Sony, LG and HTC have announced their Android 4.4 KitKat update plans for their high-end devices, Samsung has been mum about their plans although we have been getting some info from the leaks recently which shed light on Samsung's update plans for its higher end devices and now we have another leak suggesting Samsung's plans to bring the much awaited update to its mid range devices.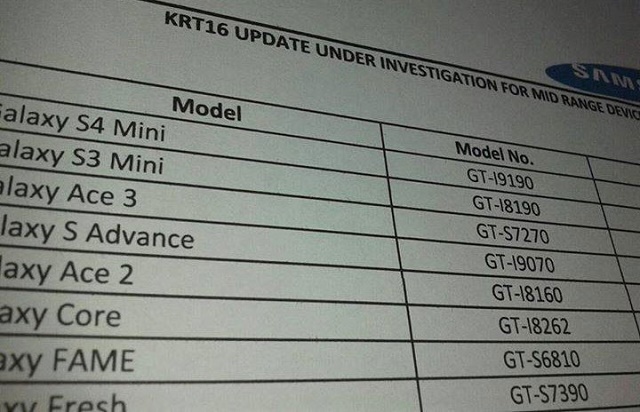 The leaked picture gives us the names of the devices Samsung is considering for the Android 4.4 KitKat update. There is no ETA nor any surety that the update will come but at least Samsung is considering the mid-range devices and with Android 4.4 KitKat well optimized for lower end devices, it should run well enough on these devices (but TouchWiz maybe a problem).
From what names we can see, there is the Galaxy S4 Mini, S3 Mini, Ace 2 and Ace 3, Galaxy S Advance, Galaxy Core, Galaxy FAME, Galaxy Fresh and we think there might be more names in the list down below so we hope we get a full picture of the leaked document quite soon. In case Samsung do plans to update these devices, we shouldn't expect the update before Q2 2014 or so and with Android 4.4.1 already rolling out to the Nexus 5 we hope Samsung starts updating its devices soon enough. Anyways stay tuned as we'll bring any news we get about the Android 4.4 KitKat update for your devices.