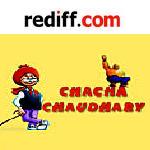 You can enjoy reading Diamond Comics on your GPRS enabled mobile handsets, courtesy Rediff India.

Diamond Comics has created magic over the decades, with its beautifully woven stories and classic characters, adding quality fuel to the comic industry. Chacha Chaudhary, Billoo, Pinky, Sabu, Raaka are names that have become legends in the history of print entertainment. And now all of Diamond Comics' titles are provided for users on their mobile phone by Rediff.com.

To read the Diamond Comics on your mobile :

Access http://mobile.rediff.com/comic, select your favorite title and read the comics for which you will be charged Rs 10/- by your respective telecom operator for a 24 hrs session for unlimited access to all the comics from the library.