Earlier, we saw OnePlus launch date leaked which is supposed to be releasing on 15th June, now the company has officially shared OnePlus 5 camera sample on their Twitter account. OnePlus has begun teasing one of its features which indicate that the launch is near and OnePlus 5 could be unveiled soon in the coming days.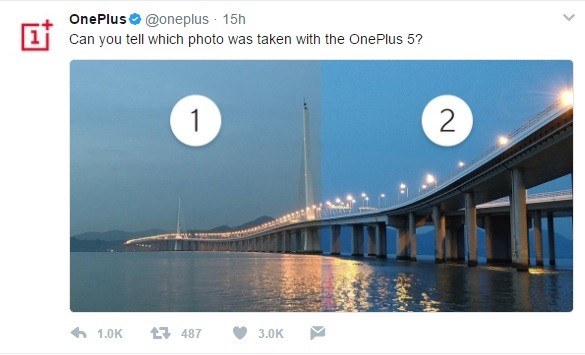 OnePlus official Twitter account tweet "Can you tell which photo was taken with the OnePlus 5?" along with a camera sample snapped by OnePlus 5. If you look the picture carefully, the left side of the image seems to be dull while the right side of the image looks realistic and stunning. The picture is captured in the low light scene and OnePlus is comparing the image quality in this tweet. Perhaps, by looking at the image, we believe the right one is shot from the OnePlus 5 Camera.
Based on several leaks and rumors, the OnePlus 5 will sport a dual camera on board. As far as the camera specification is concerned, OnePlus 5 is likely going to fit a 23 MP camera sensor at the back. Since the launch is near, we expect more details and leaks to surface soon. OnePlus and Qualcomm has already confirmed that OnePlus 5 will ship with the fastest chip Qualcomm Snapdragon 835.
A few days ago, OnePlus tweeted that they will be working with the DxO to improve the photography experience of the OnePlus5. The OnePlus community has also told smartphone photography is made better by OnePlus and DxO. Having said that, OnePlus has teamed up with DxO to enhance the photography experience with the upcoming flagship, OnePlus 5.
Do you think OnePlus 5 can be able to overcome the best smartphone cameras currently on the market?