After creating a lot of hype, OnePlus finally unveiled the OnePlus 5 last week on June 20. During the unveiling which was live streamed, OnePlus talked about all of the aspects, right from hardware to software, telling us how good it is. However, one thing that OnePlus didn't reveal was the fact that OnePlus 5 is water-resistant.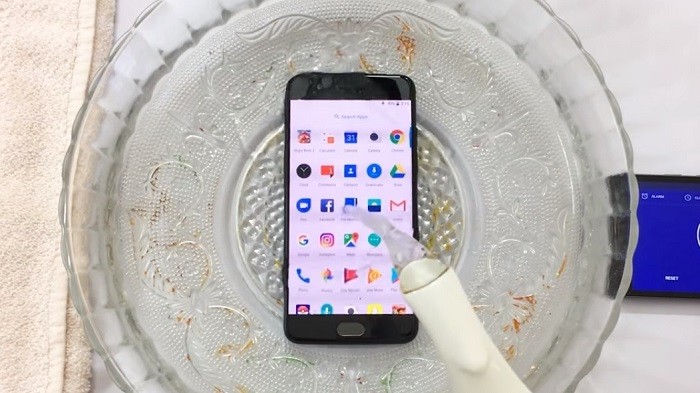 Yes, the OnePlus 5 is water-resistant. Rather, according to a French blog, the OnePlus 5 would easily pass a test to get IP67 certification. Besides, a YouTuber also shared a video showing the OnePlus 5 kept in a bowl of water. It was submerged in the bowl for one minute.
The smartphone didn't respond to the touches under water, however, it didn't turn off either. After taken out of the water, the OnePlus 5 worked fine. The buttons and screen responded to the touches and the speakers and the camera didn't malfunction either. But hey, that doesn't qualify the OnePlus 5 for IP67 rating. Does it?
Well, for those unaware, IP67 rating means that a device is resistant to water up to a depth of 1 meter for the duration of 30 minutes. Moreover, a teardown video of the OnePlus 5 by JerryRigEverything revealed that the smartphone has no adhesive between its glass and the frame, and, neither is there any sealing around the SIM tray. Well, this only points towards the fact that the OnePlus 5 might be able to withstand some occasional spills and splashes, but don't expect it to work while you take it for a swim.
Having said that, in a recent interview, OnePlus CEO Pete Lau did confirm that the OnePlus 5 comes with "certain degree of water resistance", but, the company didn't want to advertise it. So yes, like we said, the OnePlus 5 should do just fine in rains and against some splashes, but don't take it with you for a swim, unless you are ready to pay for the repairs.
Also, if you want to check out, we are attaching the video below which shows the OnePlus 5 being submerged in a bowl of water for a minute.
By the way, what are your thoughts on OnePlus 5 being water-resistant, even to a certain extent?