The OnePlus 5T which was announced last week comes with a feature called Face Unlock, which as the name suggests, unlocks the smartphone using face recognition. While there has been some discussion on whether the OnePlus 5 would get this feature or not, a leaked build of Android Oreo beta update for the OnePlus 5 suggests that this 2017 OnePlus flagship might get the Face Unlock feature after all.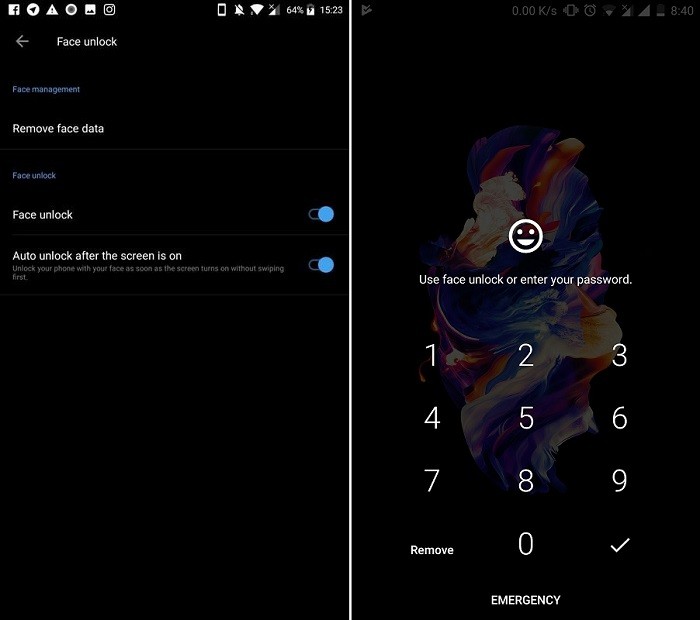 OnePlus has already said that the Face Unlock on the 5T isn't much secure, however, it's certainly very fast, and, it's also been talked about a lot since the launch of the 5T. With Face Unlock enabled, a user simply has to look at the phone's camera to unlock the phone.
The user can choose whether he wants to unlock the smartphone directly when he looks at the camera, or, can also choose whether to unlock it using face unlock by swiping on the screen first. The second option seems more convenient if you are only looking at the lockscreen of the phone to check notifications and don't actually want to unlock the phone.
The Android Oreo beta update for the OnePlus 5 is slated to roll out by the end of this month, hence, we will know more whether Face Unlock feature actually made it to OnePlus 5 or not through the beta update. However, having said that, the inclusion of Face Unlock in beta update for OnePlus 5 doesn't guarantee that it will be included in the final OTA as well. Things can always change, but, we would certainly love to see this feature making its way to OnePlus 5 with official Oreo update that will roll out next year.
OnePlus 5 users, would you like to see the Face Unlock feature on your smartphone? Or do you prefer the fingerprint scanner more to unlock your smartphone?