Late last month, OnePlus at its first Open Ears Forum in Goa, India promised to bring OnePlus 6's Selfie Portrait Mode to last year's OnePlus 5 and 5T. Well, staying true to its promise, OnePlus has finally brought the Selfie Portrait Mode from OnePlus 6 to OnePlus 5 and 5T with the latest OxygenOS Open Beta updates.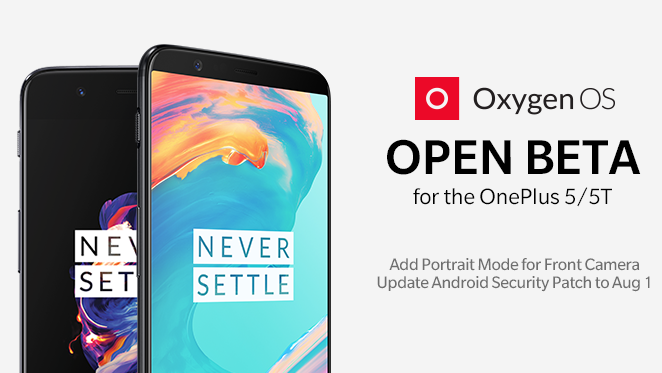 OnePlus has released OxygenOS Open Beta updates 17 and 15 for OnePlus 5 and 5T respectively that bring in Portrait Mode to these phone's front camera. With Portrait Mode enabled for front camera, users of OnePlus 5 and 5T can now take selfies having blurred background.
In addition to bringing Portrait Mode to front camera, these Open Beta updates also bring in Gaming Mode 3.0 that comes with call suspension notification and text notification mode. Furthermore, the updates also come with "New OxygenOS UI". While the company didn't reveal what exactly is new with the UI, going by changelog, it seems the Notes app has got a design overhaul.
Here's the entire changelog of OxygenOS Open Beta update 17 and 15 for OnePlus 5 and 5T:
System – Added Toast message source for Toast messages sent by background apps
System – Added description about sleep standby optimization when the function is turned on for the first time
System – Optimized background power consumption control
System – Fixed call recording issue in India
System – Updated Android security patch to 2018.8
Camera – Added portrait mode for the front camera
Gaming Mode 3.0 – Added call suspension notification
Gaming Mode 3.0 – Added text notification mode
Gaming Mode 3.0 – UI and interaction optimization
Weather – Hourly weather forecast
Weather – 8 units of meteorological data including precipitation probability and Perceived temperature
Weather – Improved weather data accuracy
Note – New OxygenOS UI
Note – Optimized process for sharing notes as an image
OnePlus Switch – UI optimization
As always, these Open Beta updates are only rolled out to those units that have already been flashed with a previous Open Beta build. Those who are on the stable build will not receive these updates. Speaking of stable build, it now remains to be seen how quickly do these aforementioned features make their way from beta to stable build on OnePlus 5 and 5T.