Qualcomm announces Snapdragon 660 and Snapdragon 630 mobile platforms, featuring 14nm FinFET, faster LTE, and better camera
Qualcomm has introduced Snapdragon 630 and Snapdragon 660, the two new line of mobile platforms with loaded features such as advanced photography, enhanced gaming, faster LTE connectivity and quick charge functions. They are globally launched today at an event held in Singapore showcasing the features and functionalities which can be useful in the smartphone market.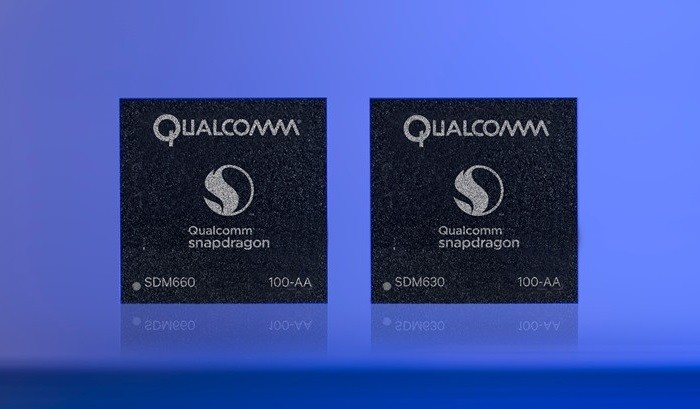 Not so long ago we have seen its flagship grade Snapdragon 835 chip utilized by the Samsung Galaxy S8 followed by Xiaomi Mi 6. While the Snapdragon 660 is a little less powerful variant of the flagship-grade Snapdragon 835, the Snapdragon 630 will be only a small upgrade to its predecessor Snapdragon 625. The new mobile platforms ensure a considerable gain in performance at the same time maintaining the optimum energy efficiency.
The Qualcomm Snapdragon 660 chip is upgraded from the 28nm HPm to the newer 14 nm FinFET. The performance of the Snapdragon 660 should be 20% higher than its predecessor Snapdragon 653. As far as the specifications go, the upper variant Snapdragon 660 equips 8x Kyro 260 cores (ARMv8) clocked at 2.2 GHz with 2 MB of L2 cache. The GPU is upgraded to Adreno 512 which adds 30% more power to the graphics processing. On the other hand, the Snapdragon 630 is equipped with 8x Cortex-A53 cores clocked at 2.2 GHz paired with Adreno 508 GPU.
Qualcomm has put more advance modem into these chips. The new Qualcomm X12 LTE modem consists of Cat. 12 and Cat. 13 supporting up to 600 Mbps download speeds and 150 Mbps upload speeds. It supports major bands with dual SIM, VoLTE, and VoWiFi features. Furthermore, there's a new Qualcomm Spectra 160 Camera ISP in both the chips, a little below as compared to the Spectra 180 IPS found on the Snapdragon 835. The Spectra 160 ISP supports several features including the dual pixel and hybrid focus, Bokeh effects, EIS, smooth optical zoom and enhanced low light photography.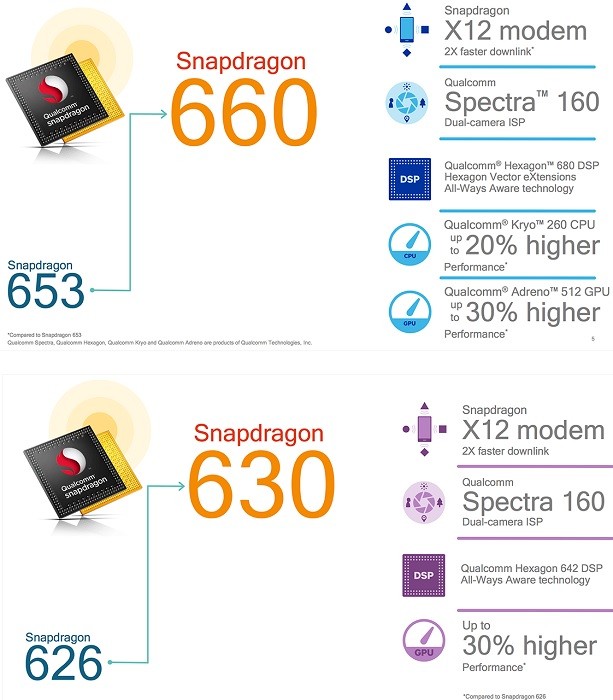 The Snapdragon 660 and 630 mobile platforms focus on seven categories of features:
Camera (Qualcomm Spectra 160)
Audio & Visual Processing (Qualcomm Hexagon 680 DSP & Hexagon 642 DSP)
Connectivity (Qualcomm X12 LTE Modem)
Improved CPU and GPU (Kyro 260 Cores & Adreno 512, Cortex-A53 Cores & Adreno 508)
Qualcomm Quick Charge 4 (50% battery in 5 minutes)
Security (Hardware-based protection)
Machine Learning
Kedar Kondap, VP and product management of Qualcomm Technologies Inc. says,
"With the introduction of the Snapdragon 660 and 630 Mobile Platforms, we are thrilled that features such as improved image quality and fast LTE speeds will now be available in a wide array of devices without sacrificing performance or quality. This ensures that a greater number of consumers will be able to take advantage of higher quality user experiences in camera, audio and visual processing, connectivity, improved CPU and GPU performance, fast charging, security and machine learning."
The Snapdragon 660 Mobile Platform is now shipping and the Snapdragon 630 Mobile Platform will begin shipping towards the end of this month. We will soon be seeing smartphones with these chips in the upcoming months.
Qualcomm Snapdragon 660 Specifications
CPU: Up to 2.2 GHz octa-core 64-bit Kyro 260, Qualcomm Snapdragon 660 SoC, 14nm FinFET
GPU: Adreno 512
DSP Technology: Qualcomm Hexagon 680 DSP, Qualcomm Hexagon Vector eXtensions (HVX), Qualcomm All-Ways Aware technology
Display Support: Up to Quad HD, WQXGA (2560 x 1600 Max) On-Device | Up to 4K on External
Memory Support: 8 GB LPDDR4 RAM (1866 MHz | 29.9 GB/s Bandwidth)
Camera: Up to 24 MP & 16 MP (dual ISP), 14-bit Qualcomm Spectra 160 image sensor, 4K video @30fps, 1080p video @120fps
Connectivity: USB 3.1, Bluetooth 5.0, Wi-Fi 802.11 a/b/g/n/ac (2.4 GHz & 5 GHz | 867 Mbps), NFC, GPS (GLONASS, Beidou, Galileo, QZSS, SBAS)
Cellular: X12 LTE modem – Cat. 12 (downlink 600 Mbps), Cat. 13 (uplink 150 Mbps), VoLTE, VoWiFi, EVS, TruSignal antenna
Audio: 4W output, Qualcomm aptX, Qualcomm Aqstic
Charging: Qualcomm Quick Charge 4 fast charging, up to 5 hours of talk time in 5 minutes charge, up to 50% battery in 15 minutes charge
Security Support: Hardware Token, Smart Camera, App Protect, Qualcomm Processor Security
Qualcomm Snapdragon 630 Specifications
CPU: Up to 2.2 GHz octa-core 64-bit Cortex-A53, Qualcomm Snapdragon 630 SoC, 14nm FinFET
GPU: Adreno 512
DSP Technology: Qualcomm® Hexagon 642 DSP, Qualcomm All-Ways Aware technology
Display Support: Up to HD, QXGA (to 1920 x 1200) On-Device | Up to 1920 x 1200 on External
Memory Support: 8 GB LPDDR4 RAM (1333 MHz | 10.66 GB/s Bandwidth)
Camera: Up to 24 MP & 16 MP (dual ISP), 14-bit Qualcomm Spectra 160 image sensor, 4K video @30fps, 1080p video @120fps
Connectivity: USB 3.1, Bluetooth 5.0, Wi-Fi 802.11 a/b/g/n/ac (2.4 GHz & 5 GHz | 433 Mbps), NFC, GPS (GLONASS, Beidou, Galileo, QZSS, SBAS)
Cellular: X12 LTE modem – Cat. 12 (downlink 600 Mbps), Cat. 13 (uplink 150 Mbps), VoLTE, VoWiFi, EVS, TruSignal antenna
Audio: 4W output, Qualcomm aptX, Qualcomm Aqstic
Charging: Qualcomm Quick Charge 4 fast charging, up to 5 hours of talk time in 5 minutes charge, up to 50% battery in 15 minutes charge
Security Support: Smart Camera, App Protect, Qualcomm Processor Security