Reliance Jio has brought more offers for the upcoming Republic Day. The company has even reduced the plans making it the top service provider with lowest tariff rates. Starting off the new year 2018, Jio revised its prepaid plans offering 50% more data, now it's revised even further with additional 50% data.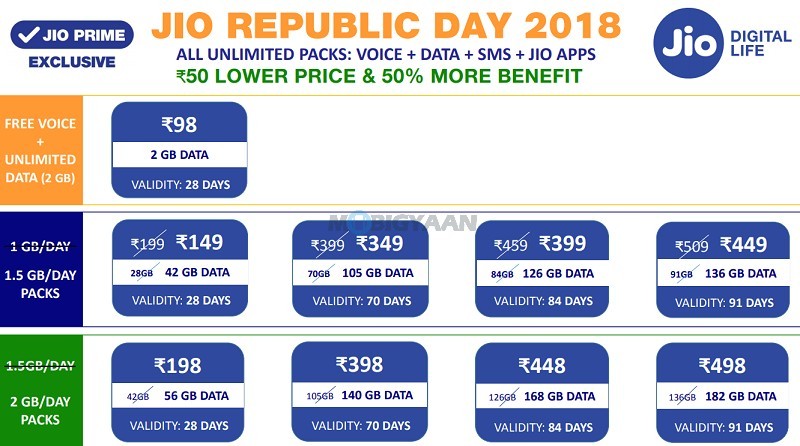 Previously, Jio introduced two offers one of which gives 50% mode data or ₹50 off on the existing tariff. The same offer will be carried out again on this Republic Day. That means the old 1 GB data per day packs now offers 1.5 GB data whereas the 1.5 GB data per day plans now offers 2 GB data per day. This translates to 50% hike on the existing data offered at the same price and 100% hike if combined with the old offer.
The user also gets ₹50 discount on the existing plans which was a part of the previous offer. The existing tariff plans after the revised pricing include ₹149, ₹349, ₹399, and ₹449 and offers 1.5 GB 4G data valid for 28 days, 70 days, 84 days and 91 days respectively. The other four plans with 1.5 GB data perday priced at ₹198, ₹398, ₹448, and ₹498 will offer 50% mode data totaling 2 GB data per day.
The ₹98 plan also revised, now offers doubled the validity (14 days vs. 28 days) as part of the Republic Day offer. However, the data remains the same i.e. 2 GB for the entire 28 days period. Users can buy the revised plans starting from 26th January 2018.
What's the best plan according to you among these? Share it below.