A couple of days back, the Court of Appeal of England and Wales went on to say that it was not happy with the statement posted by Apple over its website as it did not comply with the orders of the court.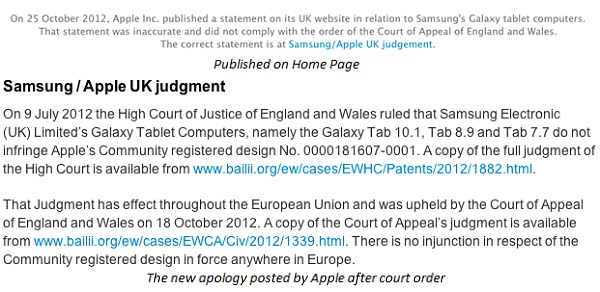 And then the court ordered the Cupertino based giant to 're-write' the apology and post it on the homepage of the website instead of linking it in a font no-less than 11 points within 48 hours of the orders.

And today Apple has gone ahead and made the changes to its apology and posted it on its website. On the homepage, Apple went on to say that the previous statement didn't comply with the court order and so it has posted a revised apology and has provided a link to the new "Samsung didn't copy the iPad" statement.
 
Apple mentions that Samsung's Galaxy Tab 10.1, Tab 8.9 and Tab 7.7 didn't infringe on its patent and there is no injunction in respect to the registered design anywhere in Europe.
 
For now, it will be interesting to see if the Court is satisfied by the revised apology from Apple or not. Apple has to comply with the order until December 14th 2012.