Samsung: 5 million units of Galaxy Note II sold worldwide
At the beginning of November, Samsung had announced that its 5.5 -inch phablet, the Galaxy Note II had surpassed the milestone of 3 million units sold.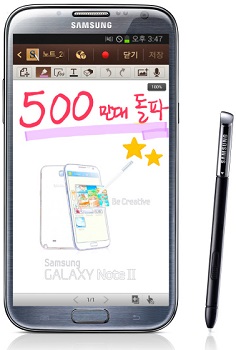 And today the company has announced that it has sold 5 million units of the Galaxy Note II worldwide in a matter of just 2 months.

The Galaxy Note II went on sale just back in September and the demand for the phablet has indeed been great. It is to be noted that the original Note took 5 months to achieve this feat.

To refresh the Galaxy Note II arrive with a 5.5-inch HD Super AMOLED display, is powered by a 1.6 GHz quad-core processor coupled with a 2 GB RAM, there is an 8 MP shooter at the rear and the smartphone gets all its juice from the 3100 mAh battery. Android 4.1 Jelly Bean is the OS it runs on and find detailed specifications of the phablet, over here.

Do you like the Galaxy Note II?