South Korean tech giant Samsung is all set to unveil its latest and greatest flagship smartphones of 2018 – the Galaxy S9 and S9+ – at MWC later this month on 25th. However, apart from unveiling the Galaxy S9 and S9+ on February 25, Samsung is also expected to unveil DeX Pad, images of which have surfaced online.
These images of the Samsung DeX Pad (pictured above) have been leaked by reliable and highly popular leakster Evan Blass. In terms of functionality, the DeX Pad will be similar to the Samsung DeX (pictured below) that was unveiled last year along with the Galaxy S8 and S8+.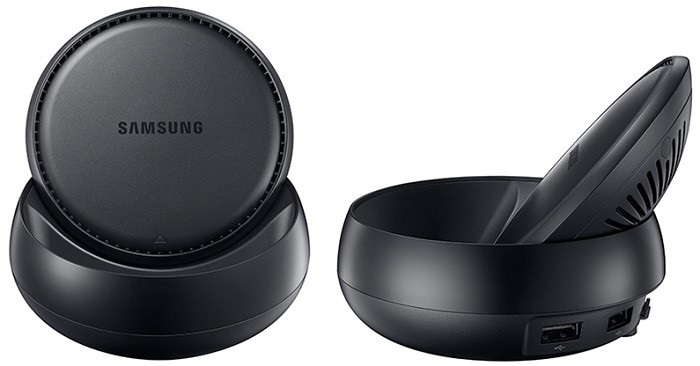 For those unaware, the Samsung DeX is a docking station that turns the Galaxy S8/S8+ into portable workstations. All you have to do is put your S8/S8+ into the DeX, connect the keyboard, mouse and external monitor to it, and you get Android-based desktop experience.
Well, the DeX Pad does the same thing, however, there are some design differences between the two. As you can see, last year's DeX kept the smartphone in an upright position, but, the DeX Pad keeps the smartphone laying flat. As a result, the smartphone's screen can be used either as a touchpad or a virtual keyboard.
That said, you can also notice two full-size USB ports, one HDMI port, and, one USB Type-C port on the DeX Pad. Furthermore, the leaked image also shows the bottom of the Galaxy S9 which confirms the existence of the 3.5 mm headphone jack on the smartphone.
Also, it's needless to say that the DeX Pad will be compatible with Samsung Galaxy S9 and S9+, but, it's reported to be backward-compatible, and hence, should work with older Samsung smartphones as well — including the Galaxy S8, S8+ and Note8.
We are still over two weeks away from the unveiling of Galaxy S9 and S9+, hence, expect more information to pour in over the coming days.