As we are nearing the Mobile World Congress (MWC) 2013 which is scheduled for the end of February, more leaks of devices which will be unveiled at the event are popping up. One of them is the Samsung Galaxy Note 8.0 which is said to be an iPad Mini competitor.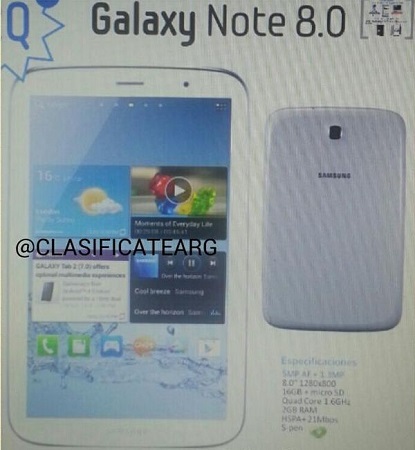 While we have already seen the alleged specifications of the tablet leak and have also got a confirmation that it will surely make an appearance at the event, an alleged image of the Galaxy Note 8.0 has appeared on Twitter.
The image above is said to be that of the Galaxy Note 8.0 and does on to seem legit enough but there are a few things which go on to question the authenticity of the image. Like, what is the mention of an year old Galaxy Tab 2 doing on the screen. Also the black Android system tray on the bottom of the screen is oddly missing.
 
The rear of the Galaxy Note 8.0 houses the 5 MP camera minus the LED Flash and has the Samsung logo underneath it. Below the smaller image is the mention of the specifications that the Note 8.0 is expected to pack and matches the one which leaked and are as below: 
8-inch TFT Super Clear LCD display

Display resolution of 1280 x 800 pixels

1.6 GHz quad-core Exynos 4412 processor

2 GB RAM

16GB/32GB internal memory

Expandable via microSD up to 32GB

Android 4.2 Jelly Bean OS

5 MP rear camera

1.3 MP front facing camera

211.3 x 136.3 x 7.95 mm

330 grams

Bluetooth 4.0, USB 2.0, Wi-Fi 802.11 a/b/g/n, A-GPS

4600 mAh battery
For now, it is a very dicey situation when it comes to trusting the image of not and we would like you to take this leak with a little grain of salt. But what are your thoughts on this leak?