Samsung's upcoming Galaxy Note7 has been making headlines almost every day. Yesterday we saw some leaked images of the Black Onyx variant of Note7. We also learnt that the Note7 might be water resistant. Now today, some more images have leaked online, this time showing how the iris scanning feature will work on the Note7.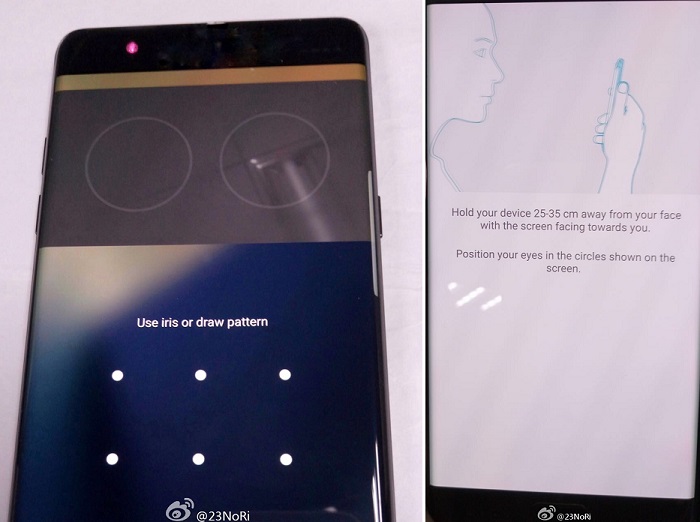 The leaked images show a lock screen on the Note7 giving an option to either unlock the device using the registered iris or by using the pattern. The screen also shows two circles in one half of the screen with the other half showing dots used to draw pattern. Users will have to hold the device in such a way that their eyes are positioned in the circles.
Another screen provides instructions on how to unlock the device using the Iris Scanner. The user will have to hold the device around 25-35 cm away from his face with the screen facing towards himself. And, as we said, the user will have to position his eyes in the circles shown on the screen.
However, we are quite unsure about how useful this feature will be. This feature might only work properly in well lit conditions. We don't know if this will work properly at night. The reason for saying so is that the scanner will need to scan and detect your eyes and iris, and for that, you will need to be in well lit surroundings.
At this point, Fingerprint Scanner looks a better option as compared to the Iris Scanner. All you have to do is place your registered finger on the scanner to unlock your device, it doesn't matter whether you are in a dark room or a room with sufficient lighting. Having said that, we also think that it's too early too comment about the efficiency and usability of the Iris Scanner as the Note7 is yet to be made official.
Samsung has confirmed that it will be unveiling the Galaxy Note7 on 2nd August, which is just a little more than two weeks away. By the way, what do you think about the iris scanning feature on the Galaxy Note7? Will it really be useful or will it turn out to be just another marketing gimmick? Do share your thoughts with us in the comments below.