South Korean tech giant Samsung is all set to launch the Galaxy Note9 next month on August 9, which is exactly four weeks from today. And, as expected, we keep coming across more and more information about the Note9 at regular interval. Now we already have a pretty fair idea of what the Galaxy Note9 will look like, however, a leaked promo material of the Note9 that has surfaced online corroborates previously leaked renders. But, it also does give us a look at the S Pen of the Note9.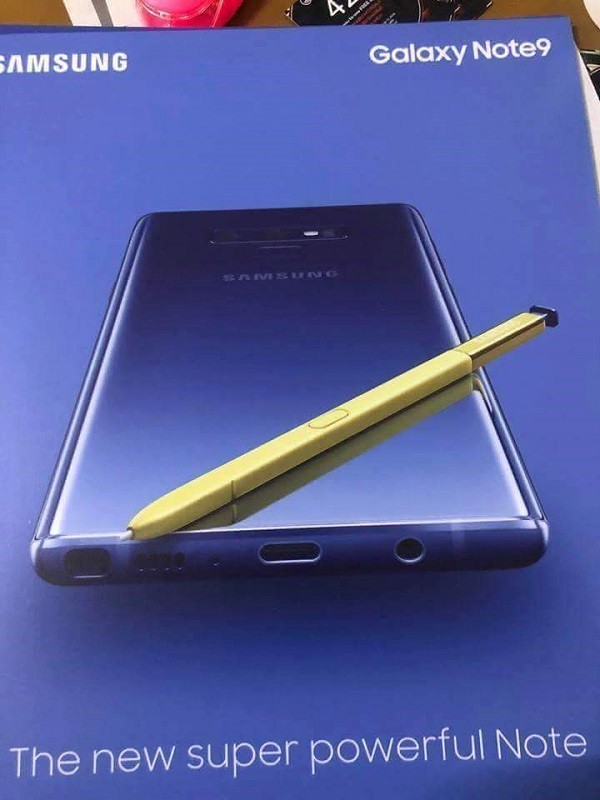 This image of the promo material (attached above) has been leaked by leakster Ice universe on Twitter. The image shows off the bottom and rear portion of the Galaxy Note9 which is in blue color. You can see that the bottom of the Note9 houses a USB Type-C port which is flanked by 3.5 mm headphone hack, primary microphone, speaker grille, and, a housing for the S Pen. Well, the bottom of the Note9 actually remains unchanged from last year's Galaxy Note8.
That said, the image also shows off the S Pen in gold color. Well, the design of the S Pen for Note9 seems to have largely remained unchanged from last year's S Pen for Note8. However, this S Pen is said to come with Bluetooth support that expands its use case, like using it to control music playback on the Note9, amongst doing other things.
The image of the promo material also shows the glass back of the Galaxy Note9 which shows dual cameras placed in the center in horizontal orientation, below which is the fingerprint scanner. Well, we are glad Samsung has finally placed the fingerprint scanner in a more natural position.
Lastly, it looks like "The new super powerful Note" will be one of the taglines Samsung will use in marketing the Galaxy Note9, because that's what we can see written on the leaked image of the promo material.
We will definitely come across more details about the Galaxy Note9 as we inch closer to the August 9 launch of this phablet.