Yesterday we reported that the Samsung Galaxy Note9 – successor to last year's Galaxy Note8 – had appeared on Geekbench that revealed some of its key specifications. The Galaxy Note9 was expected to be announced sometime in August with the release set for September. However, if the latest report coming out of South Korea is anything to go by, then we are looking at an early release of this year's Galaxy Note phablet.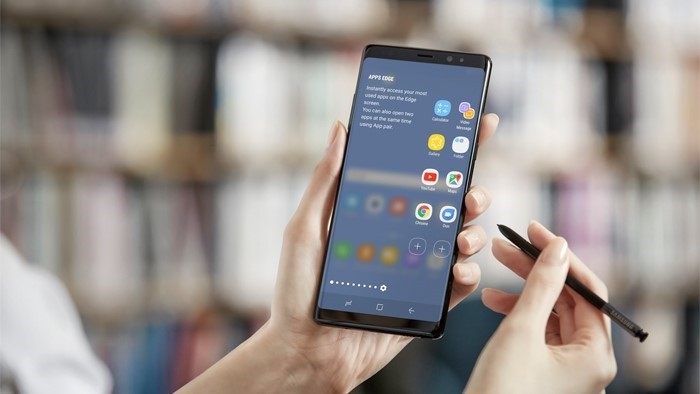 According to a report by South Korean publication The Investor, Samsung Display (a Samsung subsidiary) will start the production of the OLED panels for the Galaxy Note9 in April, which is two months earlier.
Well, as the production of display will be starting two months earlier, Samsung could launch the Galaxy Note9 two months earlier, which in turn means that this 2018 Galaxy Note will be released two months earlier – in July – than last year's Galaxy Note8 which was launched in August and released in September.
Furthermore, The Investor also states that the Galaxy Note9 will feature a 6.38-inch display which is 0.06-inch larger than the 6.32-inch display on the Galaxy Note8. Apart from that, the report also states that the Note9 may not come with an in-display fingerprint scanner – something that many had high hopes for.
Why early release?
Having said that, the reason for Samsung releasing the Galaxy Note9 earlier than last year's Galaxy Note8 is the poor sales performance of the Galaxy S9. After all, it's understandable that those who already own last year's Galaxy S8/S8+ wouldn't want to spend their money buying the Galaxy S9, unless they are a stickler for camera performance.
That said, another reason for Samsung going for the early release of Galaxy Note9 is Apple's upcoming iPhones. This Cupertino-based tech giant is expected to release three new iPhones later in September, and, an early release of the Galaxy Note9 should give Samsung some profitable sales figures until the iPhones hit the shelves.
At this point of time, there's no word from Samsung on when it intends to launch and release the Galaxy Note9, but, you can be rest assured that there will be several reports surfacing online in the coming weeks that will reveal more about this 2018 Samsung flagship.