While it hasn't even been a week since Samsung launched the fourth gen Galaxy S device, the Indian fans of the company can pre-order the device on an Indian online retail store, but for a price. While we had earlier reported that the device would be priced at around Rs. 44000, the seller seems to be selling the phone at way higher price.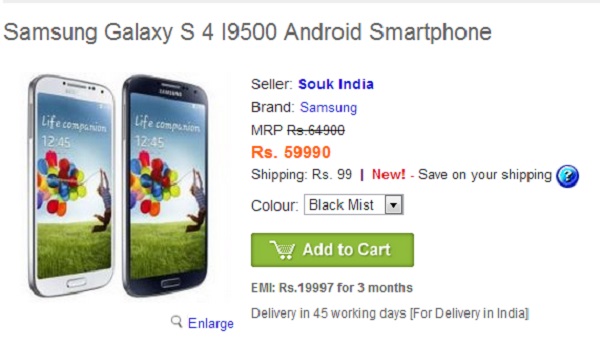 As per a new listing on the Rediff Shopping portal, the Samsung Galaxy S4 can be pre-ordered from the Indian seller. While the quoted price is Rs. 64900 (really?), the seller has priced the phone at Rs. 59990 thus appearing to be generously offering a discount of nearly Rs. 5000.
Interestingly the phone would be shipped in 45 working days, which is more or less the time the Galaxy S4 is predicted to release in India. If that's not enough, the model up for sale is a 16 GB version, thus making us wonder if the 64 GB model might touch Rs 1 lac with the seller. So are you going to fall for this in an attempt to be the first to own a Galaxy S4 in India?