The year is just started and Samsung has now launched its Tizen-based Gear S3 smartwatch in India in two variants – Classic and Frontier. We got its Classic version while the Frontier is the sports edition focused on a different look. The Gear S3 is the third generation of its Gear S smartwatch lineup which is primarily an alternative to its competitor Apple Watch. Priced at ₹28,500, take a look at our hands-on with Samsung Gear S3 Classic.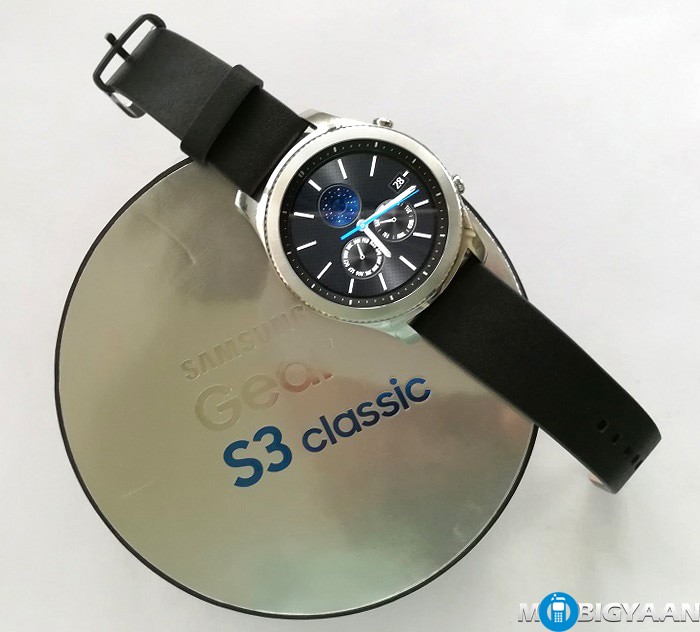 Samsung Gear S3 Classic Specifications
Model: SM-R770
Display: 1.3-inch (33 mm) Fullcolor Always On Display (360 x 360 pixels resolution) protected by Corning Gorilla Glass SR+
Operating System: Tizen OS (ver. 2.3.2.1) | Software ver. R770XXU1APK6
CPU: 1 GHz dual-core Cortex-A35, Exynos 7270 SoC, 14nm FinFET
Memory: 768 MB RAM
Storage: 4 GB onboard (1.5 GB usable)
Battery: 380 mAh
Sensors: Accelerometer, Gyro, Barometer, HRM, Ambient light
Protection: Corning Gorilla Glass SR+, IP68 ratings – Dust proof and Water resistant (1.5 meters, 30 minutes) – [Only on Frontier variant]
Connectivity: Wi-Fi, GPS, Bluetooth, NFC, Microphone, Loudspeaker
Compatibility: Android, iOS
Dimensions: 46 mm x 49 mm x 12.9 mm
Weight: 57 grams
Price: ₹28,500
The new generation smartwatch looks stylish and sophisticated focusing more on its classic design whereas the Frontier looks sporty. It is made up of brushed stainless steel coupled with a dazzling round rotating bezel. The watch itself boasts a high-quality premium build redefined from its predecessors. Since we have its Classic variant, it doesn't hold IP68 ratings.
It is 12.9 mm thick, noticeably thicker than average watch and 57 grams in weight. The Classic variant has leather straps while its sportier version Frontier uses strong rubberized straps. The watch is comfortable to wear, it uses a classic buckle design to secure it.
If we talk about the Frontier version, the IP68 ratings make it dust proof and water resistant (1.5 meters deep for 30 minutes) giving an edge over the Apple Watch 2. The Samsung Gear S3 Classic and Frontier are essentially the same smartwatches with minor differences. After Apple, there are other major smartwatch manufacturers – LG, Motorola, and HUAWEI that come in this category.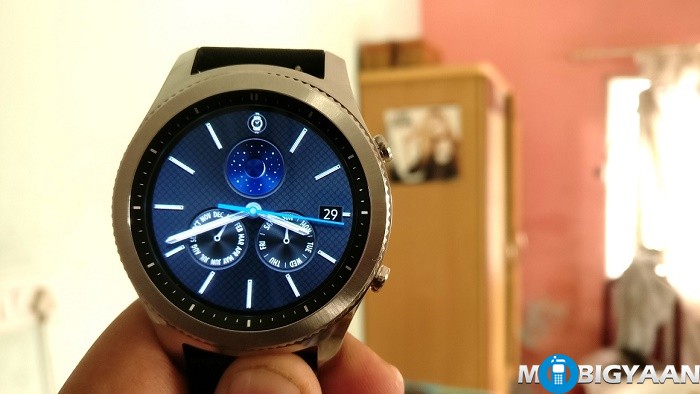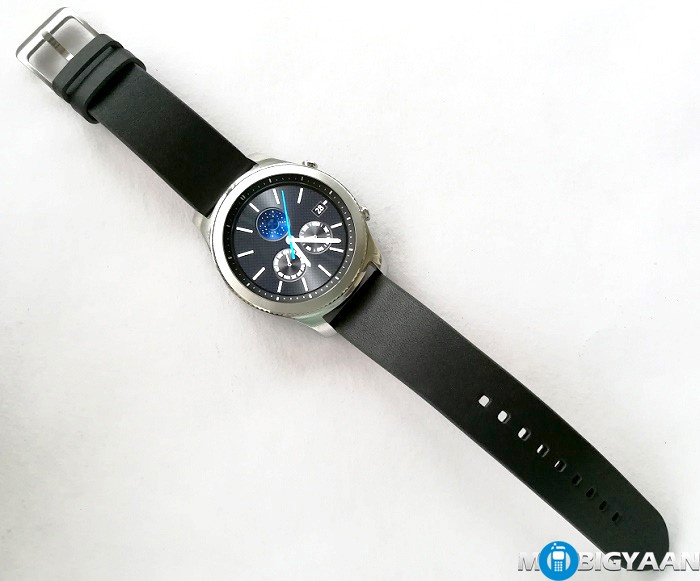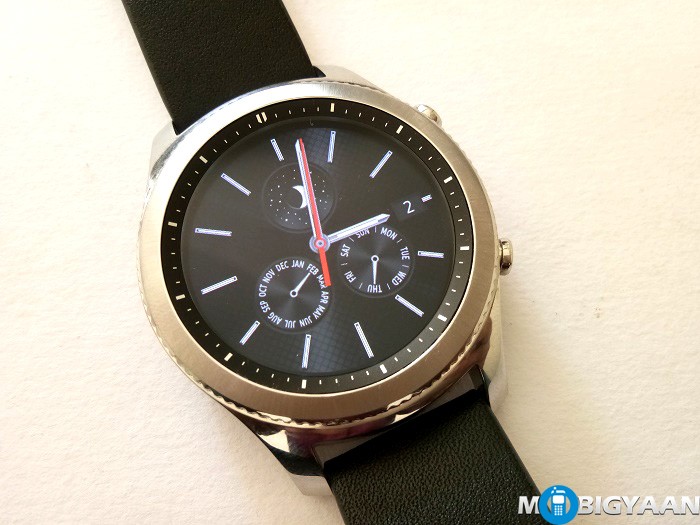 Moving to its specs, it features a 1.3-inch (33 mm) circular display (360 x 360 pixels resolution) featuring Super AMOLED with AOD (Always On Display) protected by Corning Gorilla Glass SR+. After being featured on their flagships – Samsung Galaxy S7 and S7 Edge, the Always On Display now reaches to its smartwatches as well.
Gear S3 is powered by a dual-core 1.0 GHz processor (Cortex-A35) paired with 768 MB RAM and 4 GB onboard storage. What keeps the watch running is a small 380 mAh battery that charges by a provided wireless charger. Samsung claims that the battery life should run up to 3-4 days for most users on a single charge.
The watch continues to use the Tizen operating system which was also found on its previous generations and their Gear Fit series smart bands. Apps such as S Health Samsung Gear can be used to connect it to your smartphone. It supports Android and iOS both platforms.
The Samsung Gear S3 holds various sensors that monitor your heart rate, footsteps, and other stuff. It comes with Accelerometer, Gyro, Barometer, HRM, and Ambient light sensor. Other than sensors, it has built-in Wi-Fi, GPS, Bluetooth, NFC as well as a microphone and a loudspeaker.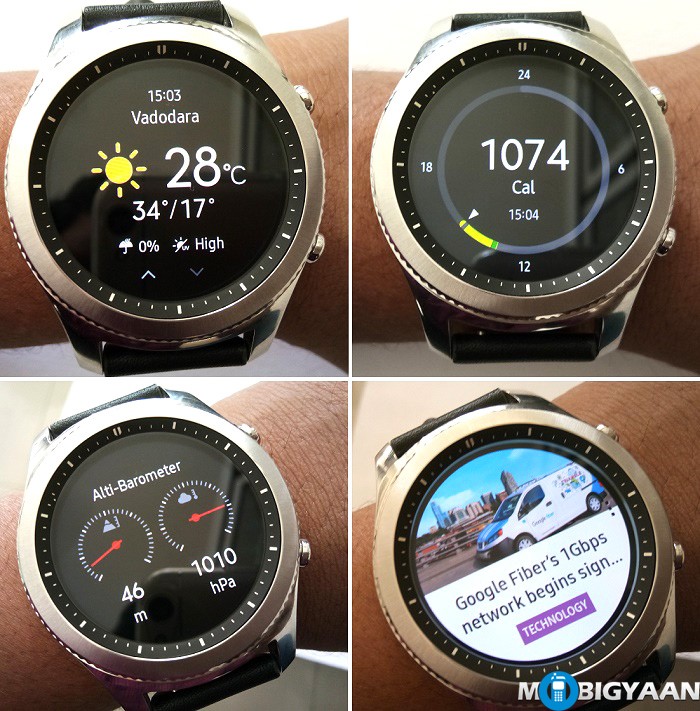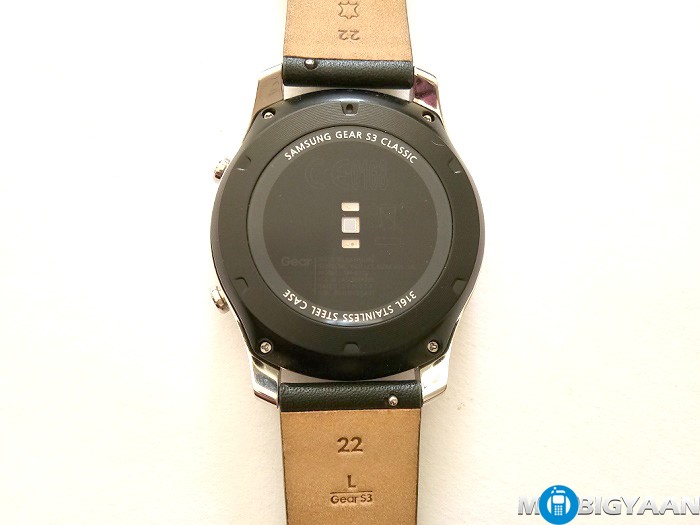 Gear S3 uses two buttons, the top one is the back button and the bottom is the Home button which can be used to trigger Samsung's S-Voice (voice command control) when you double press it. There are no other buttons other than these two and the rotating bezel being the solely physical controls.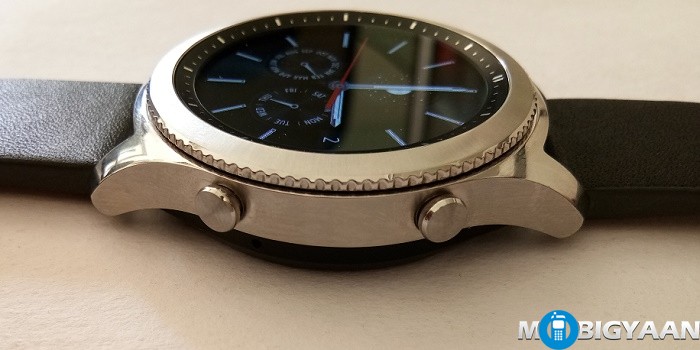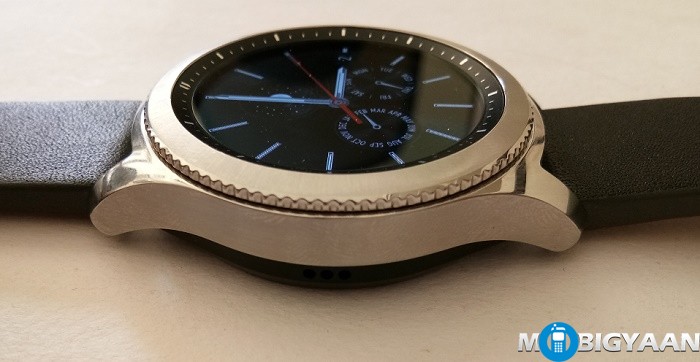 Samsung Gear S3 Classic uses two different size belts – Small (110 mm) and Large (130 mm). The price of Gear S3 Classic is ₹28,500 while its Frontier version also holds the same price. It is up to the people who wants to choose a classic style or a sporty style.
Samsung Gear S3 Full Review