As if venturing into TVs, smartphones, tablets, smartwatches, PCs and a lot of other stuff wasn't enough, Samsung is daring to venture into another category – SD and MicroSD cards. The company has launched a range of colorful and durable SD and MicroSD cards. These come in three varieties – Standard, Pro and Evo. Pro and Evo will sport Ultra High Speed Class 1 (UHS-1) reading at 90 MBPS and 48 MBPS respectively. These MicroSD and SD Cards will be available in different capacities ranging from 4 GB to 64 GB.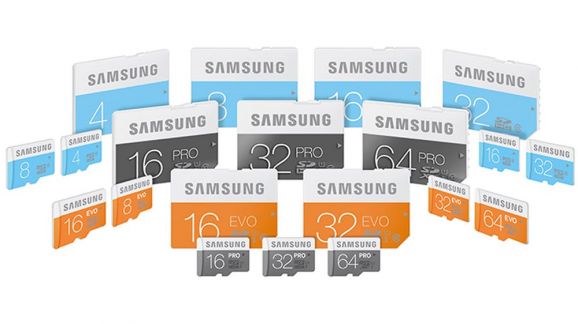 Durability
Samsung has made some great claims regarding the durability of its MicroSD and SD cards – it credits them with a lot. The company claims that 'even a 1.9 Ton truck won't be able to crush them' and that they can actually survive a full day in seawater. They can also withstand temperatures ranging from -25 degrees to 85 degrees and besides withstanding 15000 Gauss of magnetic force and going through X-Ray machines.
We would rather called these 'Super SD cards' if all these claims are true.
Colors
Samsung has continued its recent fervor of color, which it indulged in with products like the Note 3 Neo and Gear Fit, with the MicroSD cards – the Pro range comes in silver, Evo in orange and Standard in Blue.
Samsung's new range of devices starting with the Samsung Galaxy S5, will be boost of up to 128 GB MicroSD support. But it will take Samsung a little time to bring those out.