While we have all the information from the looks, to the specs to even the user manual of the LG Nexus 4, a couple of pictures have popped up over Picasa which has become a nice source of information for unannounced

smartphones

being revealed.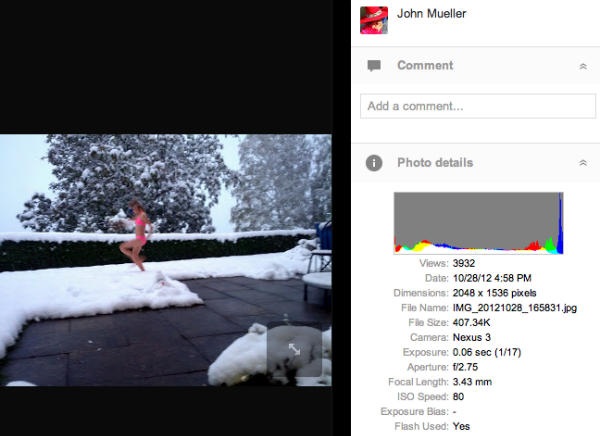 The EXIF data of the picture in question (above) tell us that it was taken from one "Samsung Nexus 3"and was uploaded over to Picasa.
Well, we do know that the EXIF data can be faked very easily, the source points out that the image was uploaded by John Mueller, who happens to be a Google Switzerland employee.
 
So the authenticity of the picture should not be doubted much but we would advice all over readers to still take this with a grain of salt. The photo's resolution is

of

2048 x 1536 which is about 3.15-megapixels. It has an F/2.75 aperture and a 3mm focal length which is similar to that on the Galaxy Nexus.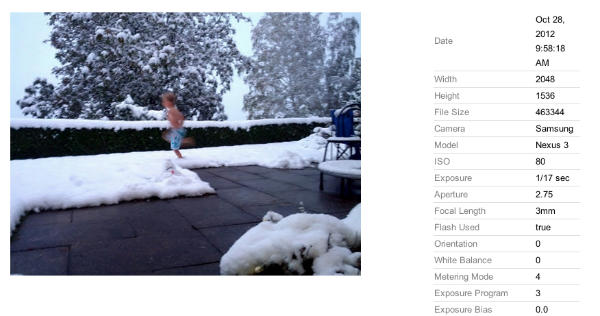 Until a few days back we were expecting the Samsung GT-i9260 to arrive as the Nexus 2 but it is being said to be the Galaxy Premier instead and now the Nexus 3 has appeared. For now it is a bit confusing. And if there is a Nexus coming in from Samsung too, then Google's plans to launch Nexus devices with about five 5 OEMS could somewhat turn true.
 
The suspense could have ended today but Google had to cancel its Android event, thanks to Hurricane Sandy and has still not announced a rescheduled date and venue for it.

For now we have posted this only on the basis of speculation and we'll have to wait for a little longer for the things to get official.