When it comes to digital payment platform, the three popular names that come to mind are Apple Pay, Android Pay and Samsung Pay. Apple Pay is restricted to Apple's iPhones, Android Pay is available on Android smartphones, and, Samsung Pay is currently only available on high-end Galaxy smartphones. Well, this might just change as Samsung is reportedly said to bring its payment service to non-Samsung phones as well.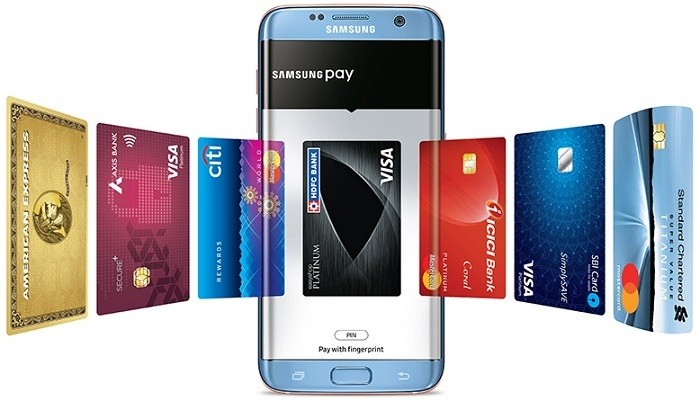 According to a report by Gadgets360, Samsung is planning to bring Samsung Pay to high-end non-Samsung phones as well, and, the South Korean giant also had talks within the company and with other OEMs regarding the same.
The motive behind bringing its payment service to non-Samsung phones is to increase the platforms reach. According to marketing research firm Juniper, Samsung Pay already has 34 Million customers which is second to Apple Pay's 80 Million. Speaking of Android Pay, it trails behind both these payment services with 24 Million customers.
Samsung has been slowly expanding the reach of Samsung Pay by launching it in different markets of the world. It launched Samsung Pay in India as well back in March this year with UPI integration and support for Paytm. Besides, the company also launched mid-range smartphones like Galaxy J7 Max and Galaxy J7 Pro in India which come with this payment service.
Having said that, while the J7 Pro comes with Samsung Pay, the J7 Max comes with Samsung Pay Mini which is a stripped down version of Samsung Pay. The difference between the both is that while Samsung Pay supports offline tap-and-pay method using MST (Magnetic Secure Transmission) that mimics the swipe of a card and allows it to be used at any card swipe terminal, the Samsung Pay Mini only supports digital wallet apps while letting you store and use credit/debit card information.
However, any smartphone requires MST capable chips to be able to support Samsung Pay, and therefore, Samsung is rolling out Samsung Pay Mini instead to those smartphones that don't have such chips. Hence, either way, whether it's a Samsung phone or not, high-end or mid-range, it will require special hardware like MST capable chips to support Samsung Pay.
According to the report, Samsung has held initial talks with OEMs in various markets to add this chip in their smartphones so as to provide full-fledged support for Samsung Pay, and, we should expect to see something more by mid-2018.
We would love to see Samsung Pay making its way to non-Samsung phones as well. What about you?