Back in December 2011, Samsung surprised us all by announcing the SCH-W999, a dual-screen Android 2.3 Gingerbread running flip phone in China.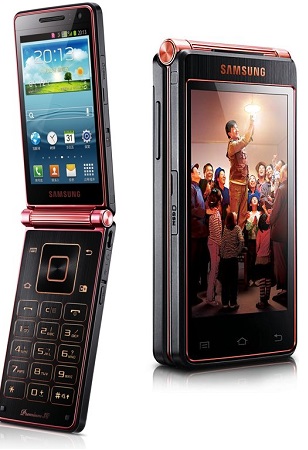 And now, almost a year later, Samsung has announced the SCH-W2013 which is again expected to be a ridiculously expensive smartphone with dual-screen.

The SCH-W2013 is arriving with the following specifications:
 
Dual-3.7-inch Super AMOLED touchscreen

Display resolution of 800 x 480 pixels

1.4 GHz quad-core processor (likely Exynos 4412)

2 GB RAM

16 GB Internal memory

Expandabe to 64 GB

8 MP rear facing camera

1.9 MP front camera camera

Android 4.0 Ice Cream Sandwich OS

Dual-SIM support with CDMA2000 800/1900 and GSM 900/1800/1900 frequency

1850 mAH battery
Going by the specs on the interior, the Samsung SCH-W2013 is indeed a beast on-par with the Galaxy Note II and is indeed a unique but the display resolution is a setback but going by the screen size it is good enough too.
 
While the SCH-W2013 is a good smartphone, one bad thing about it is the price tag that the smartphone arrives with. While it is not official, Engadget expects the smartphone to be available for about $3000. We also do not expect the SCH-W2013 to be launched in other markets except China.