The research firm Strategy Analytics has just reported the smartphone market share numbers at the end of Q1 2014 and the two giants have taken a fall. Samsung and Apple both have had a dip in global market share. Samsung now has 31.2% market share in the global smartphone market, down from 32.4% in the last year. Apple also saw a drop in the market share, the Cupertino giant now has 15.3% market share, down from 17.5% last year.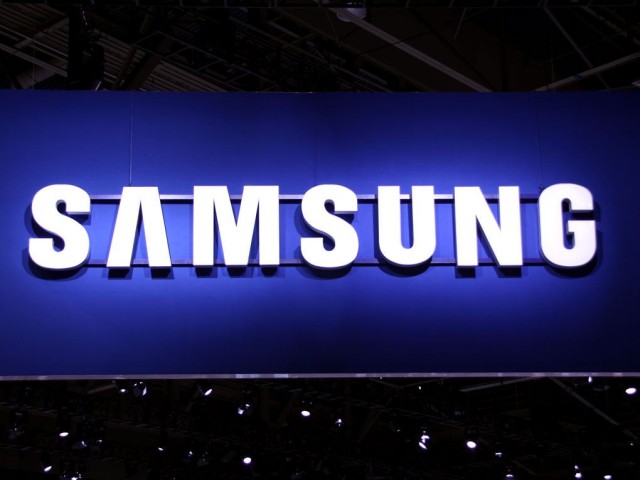 According to the Analytics, Samsung shipped 89 million smartphones in the first quarter of the year compared to Apple's 43.7 million iPhones sold, a rise of 28% from the last quarter. Samsung revealed its quarterly earnings last Tuesday and it reported that their profit margins remained the same at 19.8% but analysts say that this profit margin may face some pressure in the future.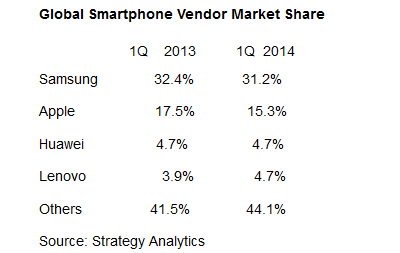 Neil Mawston, executive director at Strategy Analytics, said in the report, "Samsung continues to face tough competition from Apple at the higher-end of the smartphone market and from Chinese brands like Huawei at the lower-end".
Two smartphone makers gained some market share, thanks to the drop of Samsung and Apple. Huawei and Lenovo, the Chinese manufacturers gained some market share at the expense of Apple and Samsung. Lenovo saw its first quarter shipments rise 58% to see it market share rise from 3.9% to 4.7%. Huawei also now has 4.7% market share with its smartphones sales for the quarter at 13.4 million, a rise from 10 million units last year.
Linda Sui, senior analyst at Strategy Analytics, said, "Huawei is expanding swiftly in Europe, while Lenovo continues to grow aggressively outside China into new regions such as Russia."
Samsung is bound to face even more competition with Apple rumored to be launching a larger iPhone later in the year. Lenovo's Motorola acquisition should also be completed in the future resulting in more Moto G like smartphones. Samsung has some great smartphones in the high end but it seriously lacks a great device at the entry level and low-end to compete with the likes of Moto G and Lumia 520.