Sony's latest smartphone Xperia XZ1 comes with a unique 3D scanning feature while being at a flagship level. The Motion Eye camera, super slow motion, 3D creator, HDR display, its highly compact design, and Android Oreo out-of-the-box are some of the features Sony Xperia XZ1 brings to the table. But the question is it the best phone for the price? We reviewed the Sony Xperia XZ1 to find it out.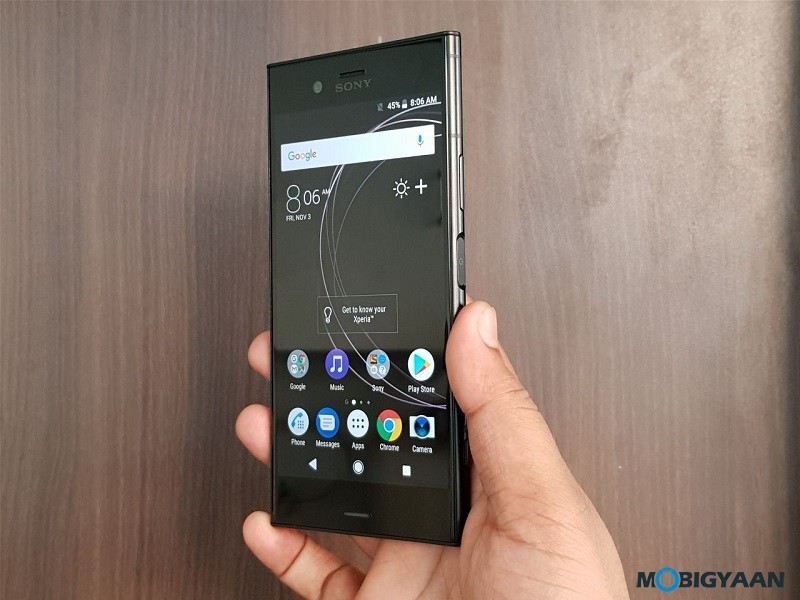 What's in the Box
Sony Xperia XZ1
USB Cable (Type-C)
Charger (5V, 2.7A | 9V, 1.8A | 12V, 1.35A)
User Manuals and Warranty Information
Sony Xperia XZ1 Specifications
Display: 5.2-inch Full-HD (1920 x 1080 pixels) HDR TRILUMINOS display with X-Reality for mobile picture engine and Gorilla Glass 5
Software: Android 8.0 Oreo
Protection: IP68 Certified, dust and water resistant
Fingerprint Scanner: Yes, side-mounted on Power key
CPU: Up to 2.45 GHz octa-core Kyro 280 processor, Qualcomm Snapdragon 835 (MSM8998) SoC
GPU: Adreno 540
Memory: 4 GB RAM, LPDDR4X
Storage: 64 GB internal, expandable up to 256 GB via microSD card
Main Camera: 19 MP Motion Eye with 1/ 2.3″  Exmor RS memory stacked image sensor, 960 FPS Super Slow-Mo, Predictive Capture, Predictive Hybrid Autofocus, SteadyShot and LED flash
Selfie Camera: 13 MP with 1/3.06″ Exmor RS for mobile image sensor, 22 mm wide-angle lens and f/2.0 aperture
Cellular: 4G LTE, 2x nano SIM (GSM), microSD on SIM2
Connectivity: USB type-C, 3.5 mm headphones jack, Wi-Fi, Bluetooth 5.0, NFC, GPS
Other: Stereo Speaker S-Force Surround Sound, Qualcomm aptX HD audio, High-Resolution Audio (LPCM, FLAC, ALAC, DSD), DSEE HX, LDAC, Digital Noise Cancelling, Clear Audio+
Colors: Moonlit Blue, Venus Pink, Warm Silver
Battery: 2,700 mAh with Qnovo Adaptive Charging, Quick Charge 3.0 and Smart STAMINA Mode
Price: ₹44,990
Design, Built, & Ergonomics
Sony Xperia XZ1 still falls short on the design keeping the same old big-bezel design especially when phones are going bezel-less today. No more plastics and frosted glass, the Xperia XZ1 has an all-metal design with a matte finish sleek aluminum body.
The back panel is matte so apparently, less fingerprints will appear as compared to the glass the current smartphones are using. The Xperia XZ1 is slim, light-weight, much more refined and pleasing than before. It feels compact and fits in hand perfectly. The design is also IP68 water and dust resistant. The resistance is up to 1.5 meters deep for 30 minutes.
The top and bottom bezels hold the stereo speakers and as they are front-facing, you will enjoy videos and games without blocking the sound. The rear side has a 19 MP f/2.0 Motion Eye camera with LED flash and a 13 MP selfie camera with wide-angle. NFC sits right beside the main camera.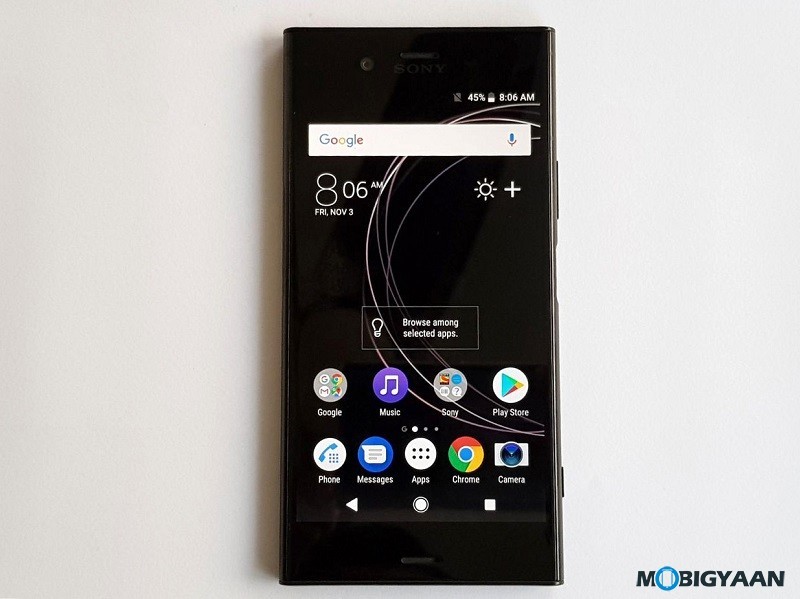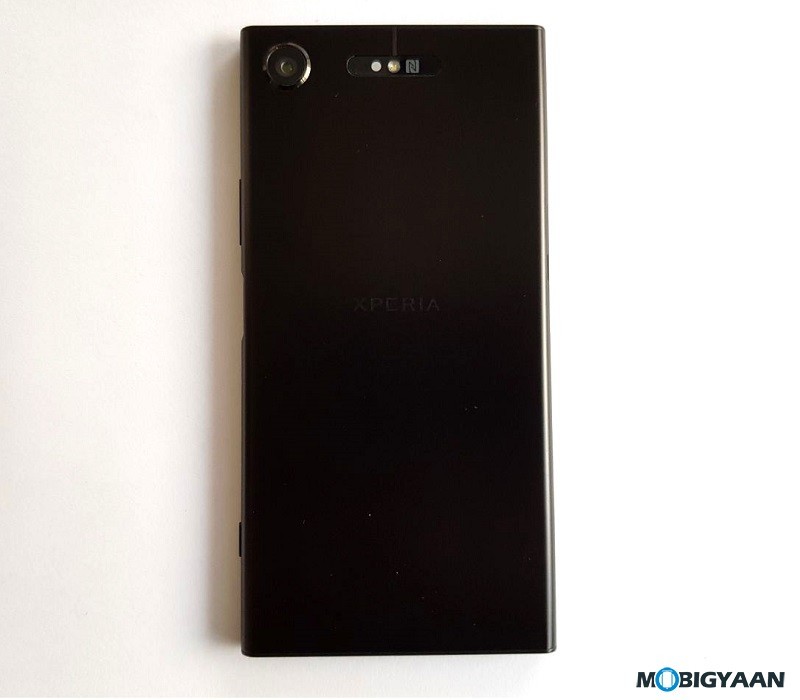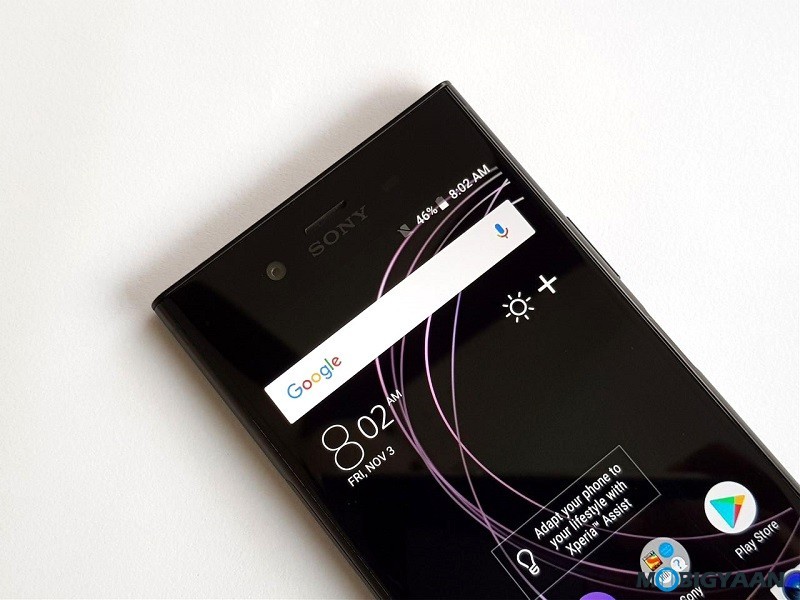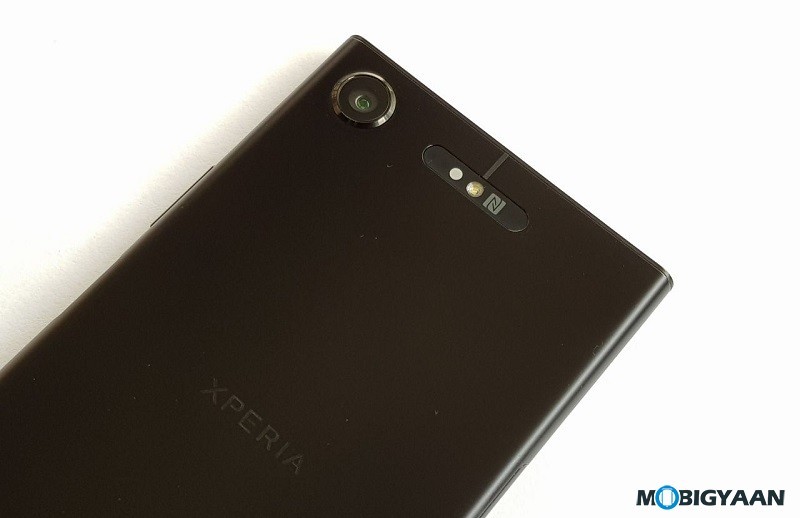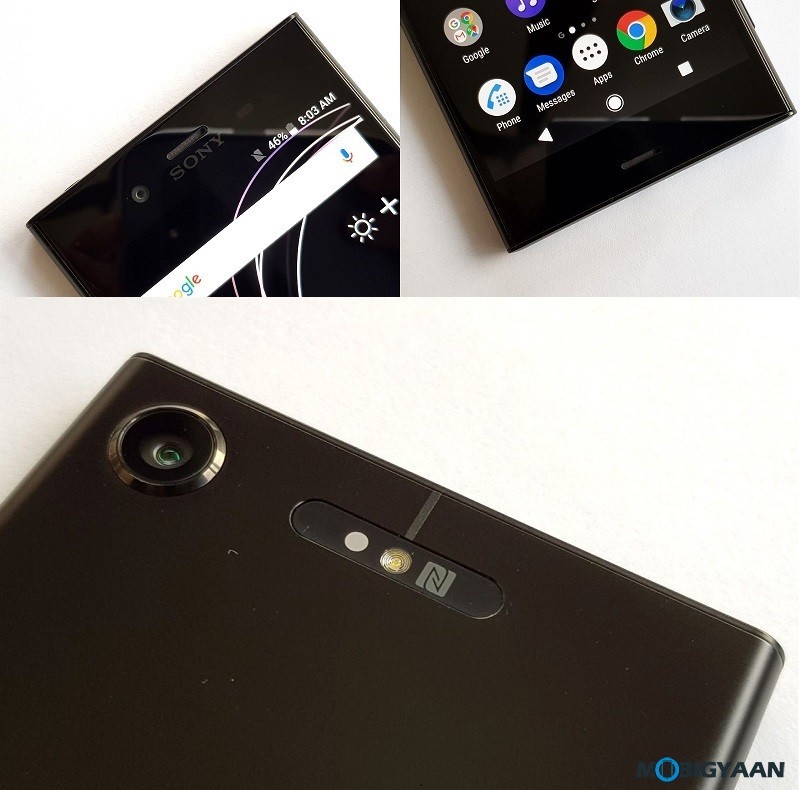 USB Type-C is now widely adopted by manufacturers and Sony is one of them, the Xperia XZ1 comes with a type-C connection with USB version 3.1. The right side has a fingerprint sensor embedded on the power key, the volume keys, and a dedicated camera key are also provided on the same side.
The SIM Tray from Sony is always unusual, removing the SIM1 tray is a little difficult, if you have a long nail. The SIM2 can be used as a microSD slot meaning either two 4G SIM cards work without a microSD or a single SIM with microSD extension.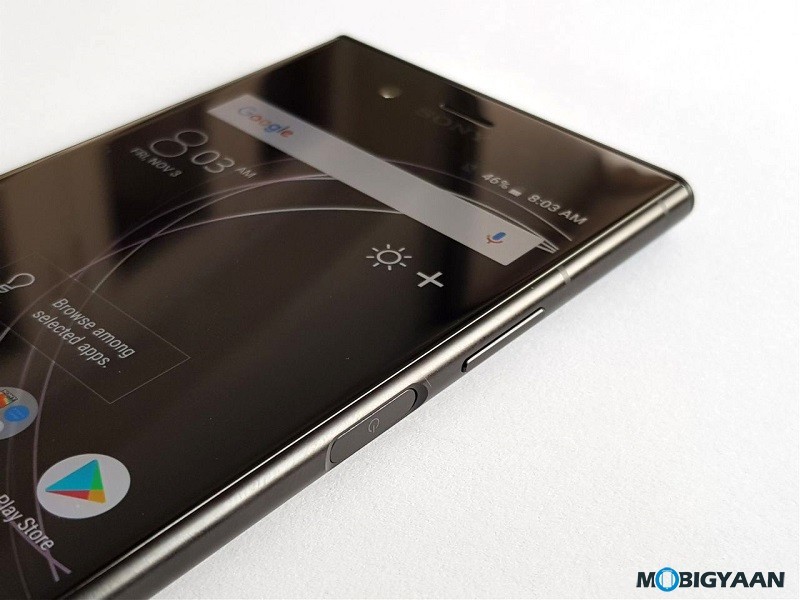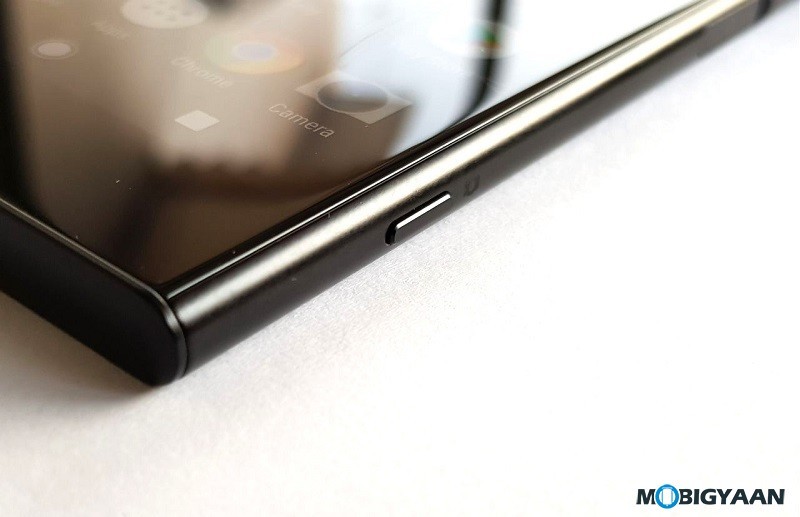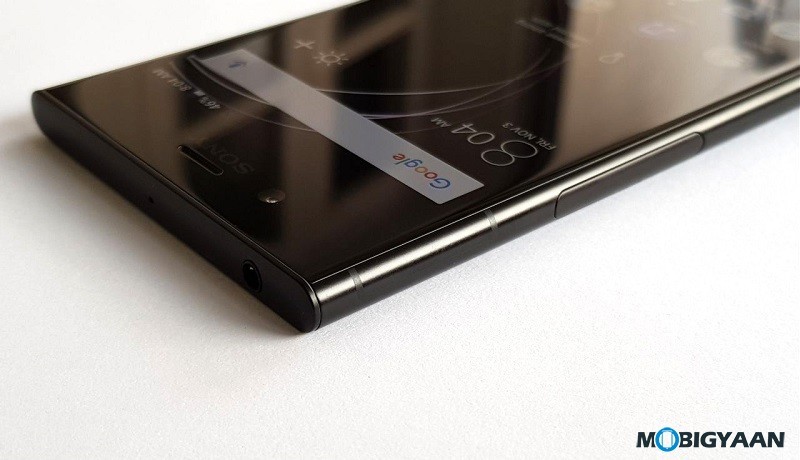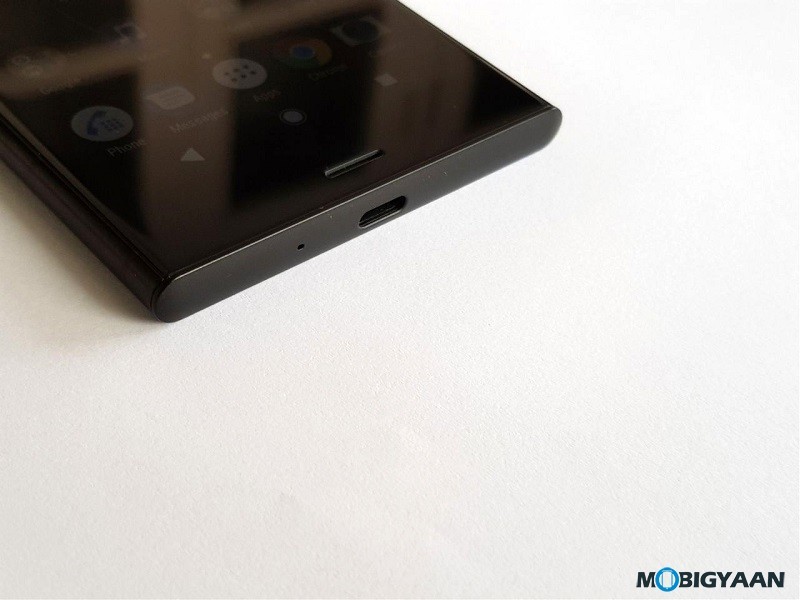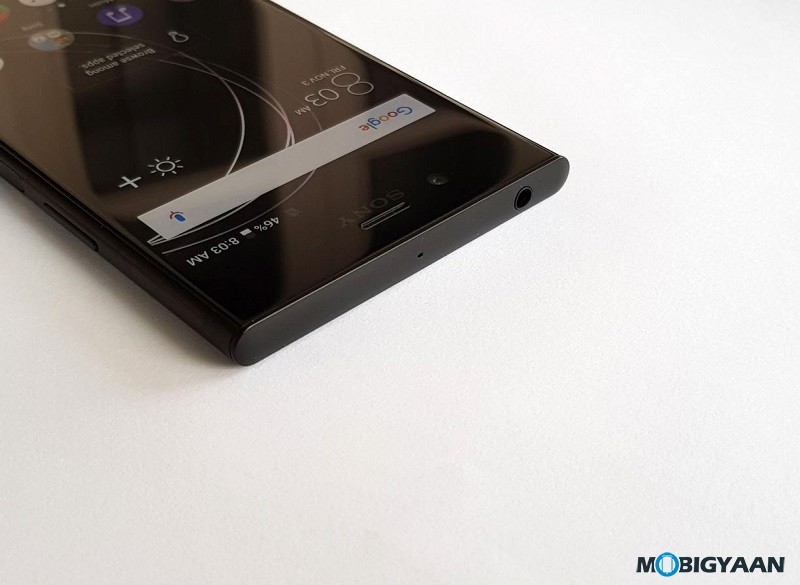 Display
The 5.2-inch size serves well for Full HD displays, however, more pixels are always better. Its HDR support is quite a standout among the crowd. The Xperia XZ1 is ready for the upcoming HDR content, Netflix offers it. The top-of-the-line Sony Xperia XZ Premium equips a 4K HDR display and rivals like Samsung Galaxy S8 and LG G6 uses a QHD+ resolution display, but notice that they own larger size displays too.
The display is bright enough for outdoor conditions. The content is crisp, text appears sharp, color and contrast are well balanced, the overall display quality is very good. And it doesn't end here, the Xperia XZ1 is enriched by the company's native display technologies i.e. X-Reality engine and TRILUMINOS Display. These technologies are able to enhance the images and videos by reducing noise and improving colors and contrast.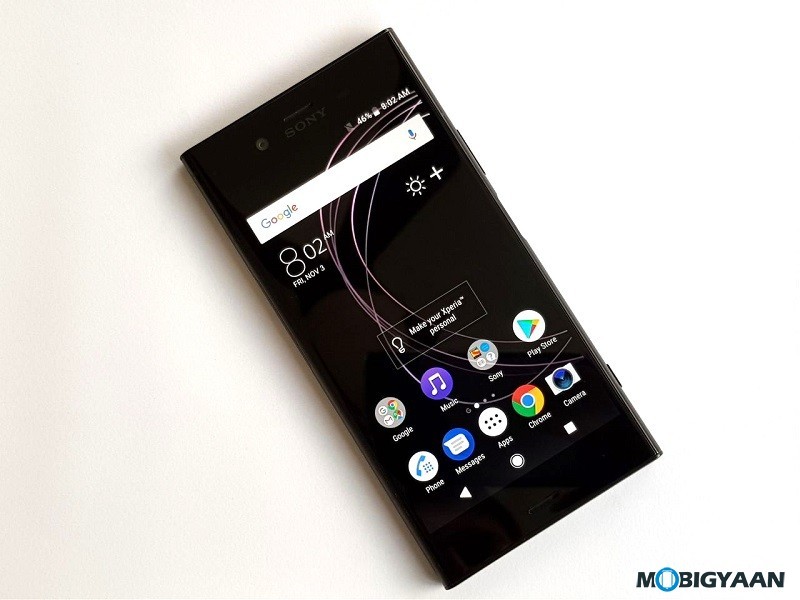 The Xperia XZ1 does offer display enhancements, as you can see in the below images, you can control the White balance and Color gamut in the display settings. It offers Smart backlight control which keeps the display turned on while you are holding the phone in your hands say for viewing images and not touching the screen.
We would love to see Sony to offer a bezel-less type design along with a wide 18:9 aspect ratio. It's been a while Sony hasn't changed the design completely, those large top and bottom bezels are there from the start even though it holds stereo speakers, Sony can slightly work on the design part. The current generation smartphones are already moving to the new full-screen design, Xiaomi Mi MIX 2, Samsung Galaxy S8, Apple iPhone X, and many others, and we don't want Xperias to be left out in the cold because of its old-school look.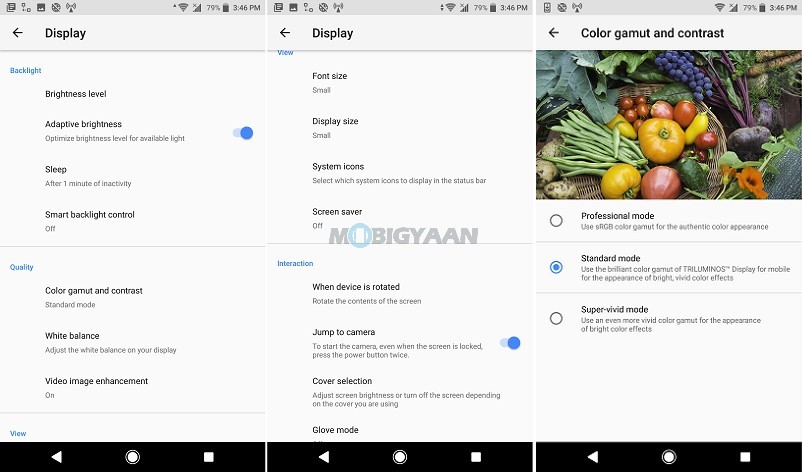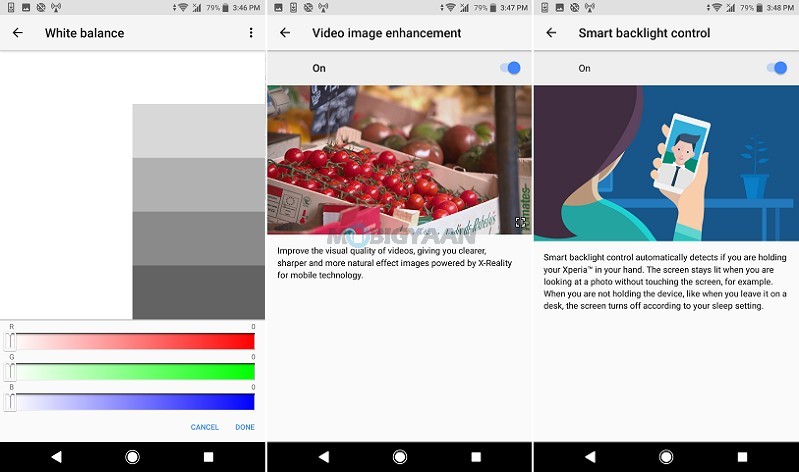 Software & User Interface
The best thing about the phone is it has the latest software running, the Sony Xperia XZ1 runs on Android 8.0 Oreo out of the box with Xperia UI on top. This is one of the few Android smartphones that ship with Android Oreo. It has the security patch dated 1st October 2017. The Xperia XZ1 offers nearly pure Android experience with Google Assistant and all the Oreo features.
There are a handful of apps from Sony and an AVG Protection security suite for Xperia devices. These apps can't be uninstalled, but you can disable them if you want. Not all apps are bloatware, some of them are useful for Sony users.
The interface is quite light and doesn't feel like resource intensive. You can see the app drawer, the UI looks clean and it's filled with Android Oreo goodness. Picture-in-Picture mode, Notification Dots, Notification Snooze, and many features are added to the Android Oreo. Here are the top 18 Android 8.0 Oreo features you should know.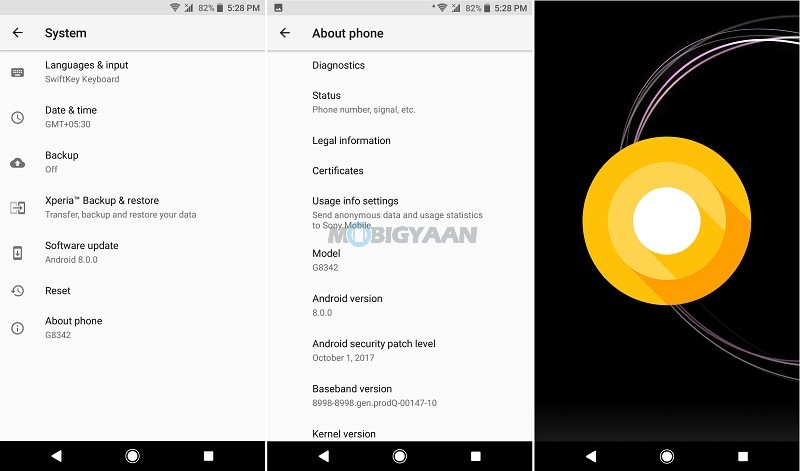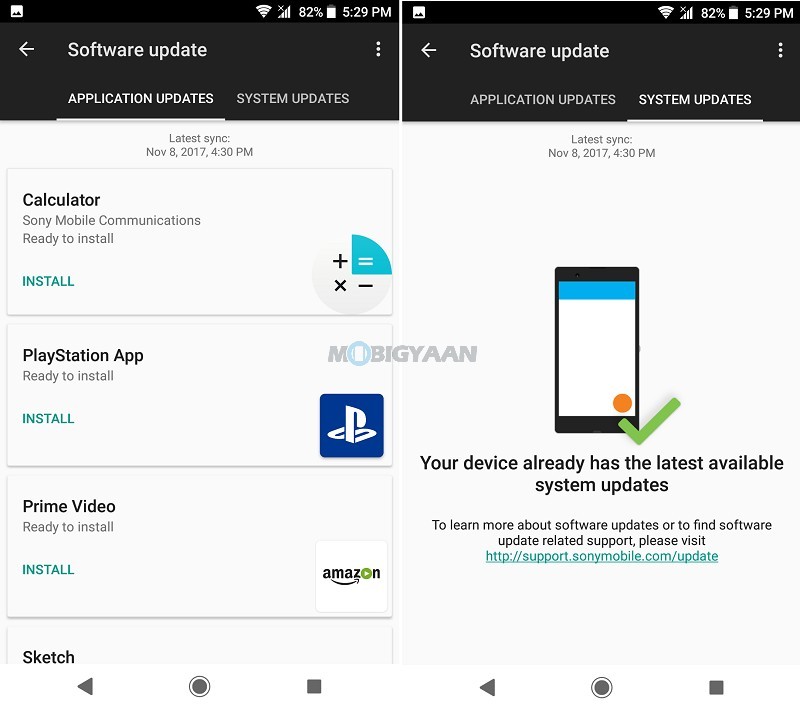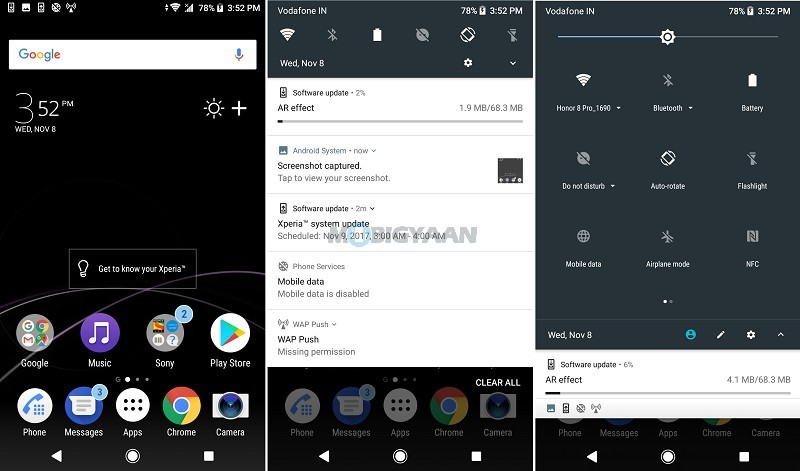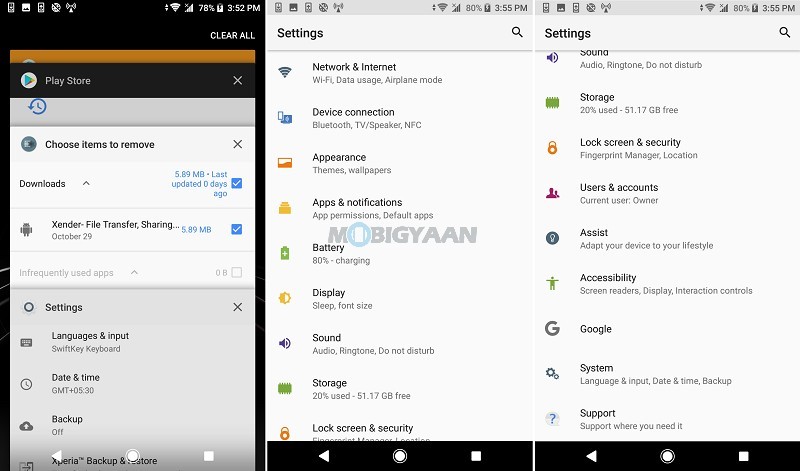 3D Creator App
Sony brought us an innovation, the Xperia XZ1 has an amazing 3D modeling feature. This unique 3D modeling feature creates three-dimensional models by scanning the faces or objects for 3D printing or using in Augmented Reality apps. Sound interesting, but it requires patience to make it. A slight mistake and you will ruin the 3D model, it took many attempts to create a decent model.
With 3D creators, you can create your 3D avatars and print them to keep at your desk or make an edible version of your avatar for birthdays or events. You can also scan objects and put them in places to see how it looks in different situations via AR-based apps. It also can be applied as a wallpaper unless you don't want to look at your 3D face all the time.
Unfortunately, there's nothing much to you can do with your 3D avatar due to its limited applications in the real world, other than using in the AR apps, sharing it on Social Media and printing out your creation via a 3D printer. The Xperia XZ Premium might also receive an update for the 3D creator app.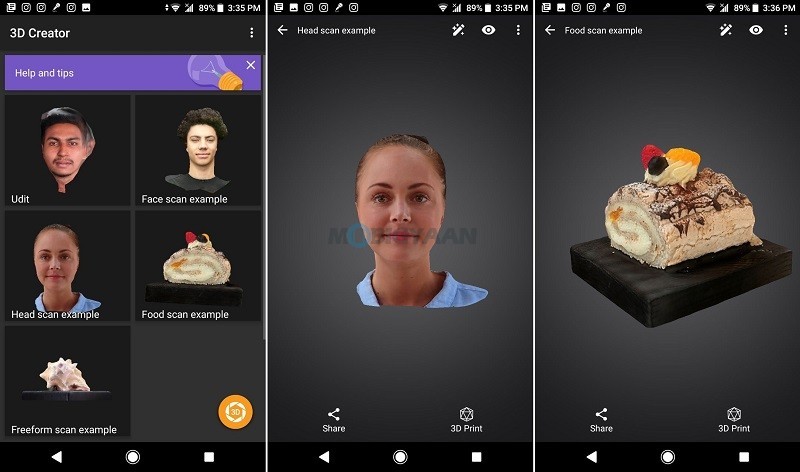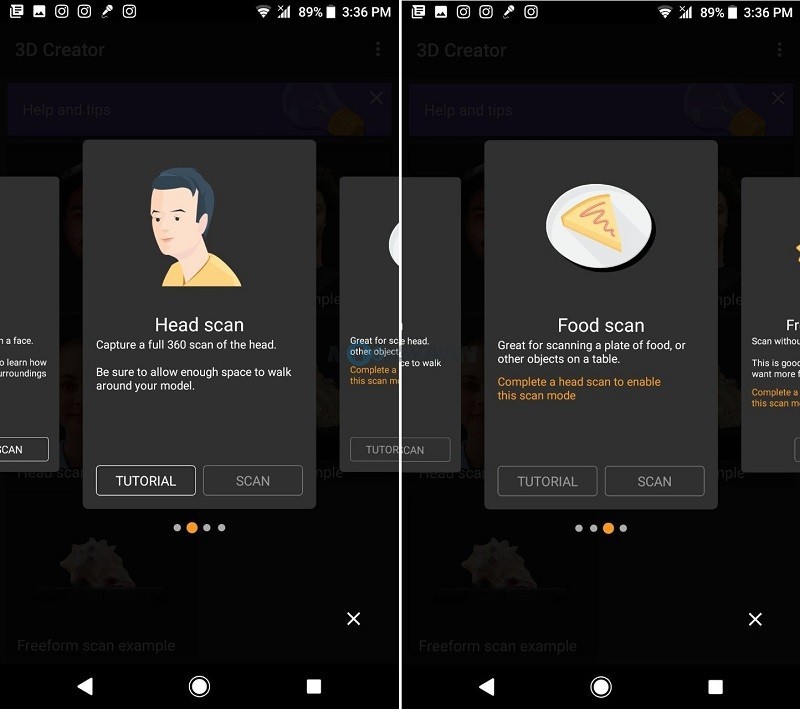 Hardware, Performance & Gaming
As for the internals, the Xperia XZ1 doesn't leave behind in the race, there's a powerful octa-core Qualcomm Snapdragon 835 SoC inside coupled with 4 GB LPDDR4X RAM and a fast 64 GB UFS 2.1 storage that expands via microSD card.
The Xperia XZ1 is a smartphone for hardware enthusiasts, people looking for a performance device will surely admire the Xperia XZ1. Despite the amount of RAM it has (4 GB), it does the job and competes with the top phones including Samsung Galaxy S8 Plus and OnePlus 5.
In most cases, the performance of the Xperia XZ1 could be equivalent to the Xperia XZ Premium, and sometimes even better since it doesn't carry a hefty 4K display that requires more power to push the pixels.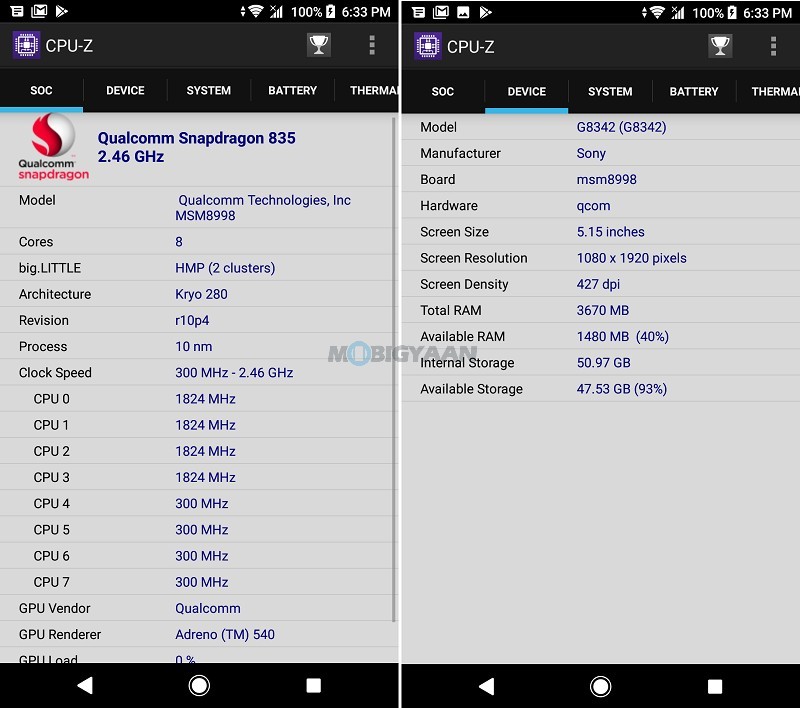 In benchmarks, Xperia XZ1 proved to be really powerful to run almost any application available on the Google Play Store. The performance is among the top smartphones including the Samsung Galaxy S8 and OnePlus 5. The benchmark results are very identical to the Sony Xperia XZ Premium. You can say that this is the compact version of the Xperia XZ Premium.
AnTuTu Benchmark
Geekbench 4
1,825 points (single-core CPU)
6,153 points (multi-core CPU)
7,965 points (GPU)
Quadrant Standard Edition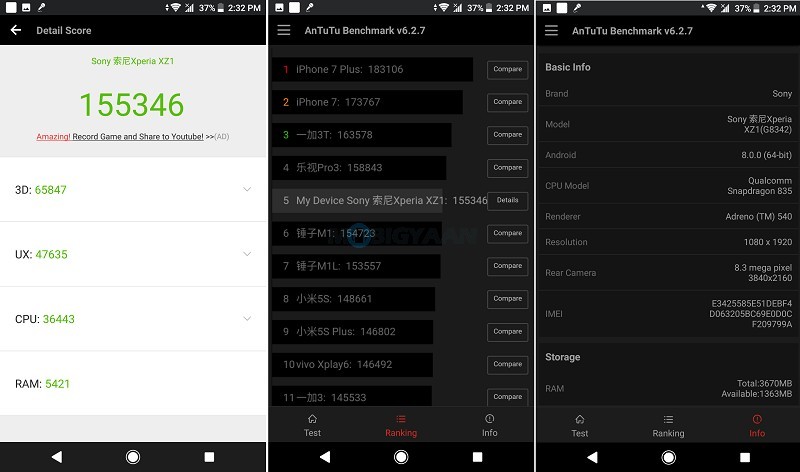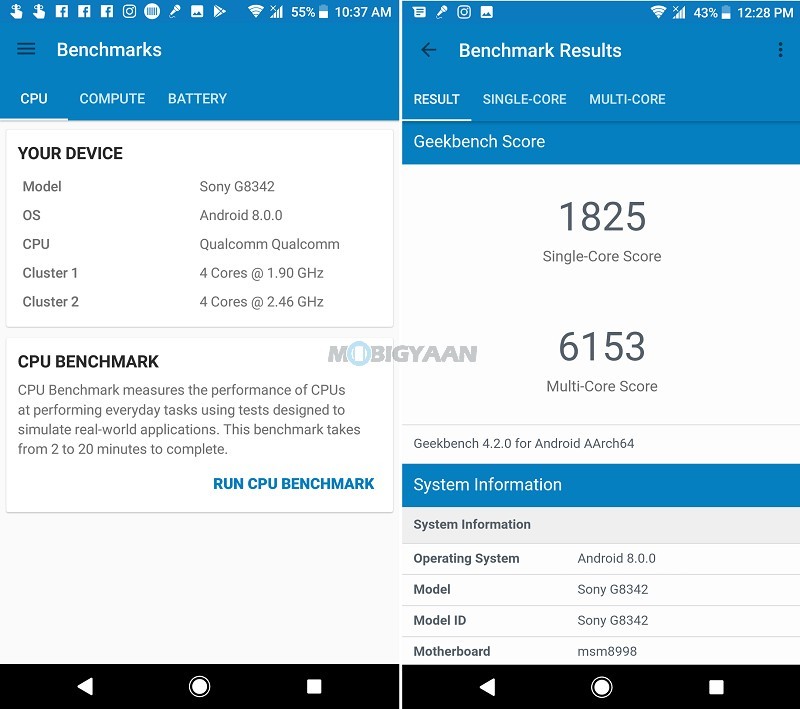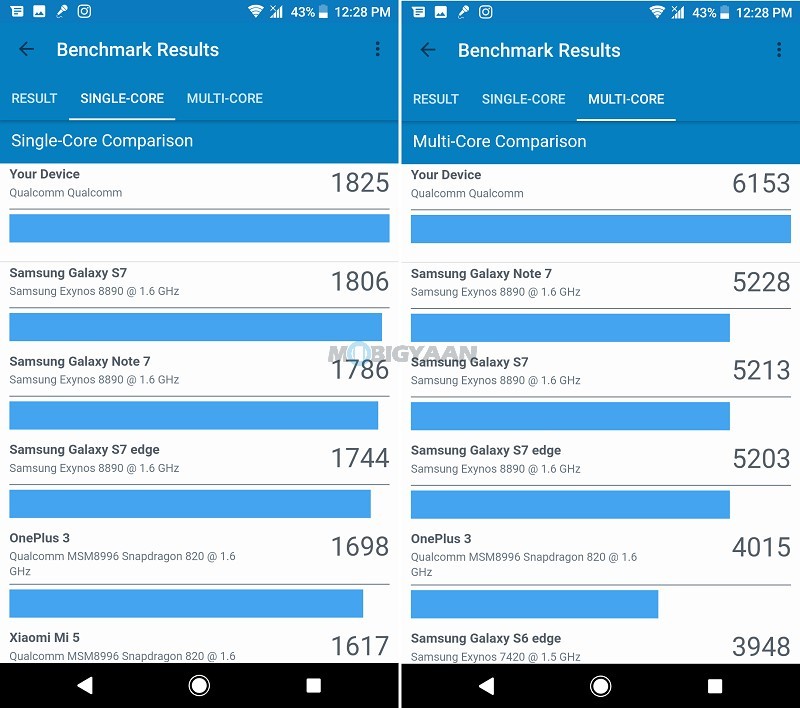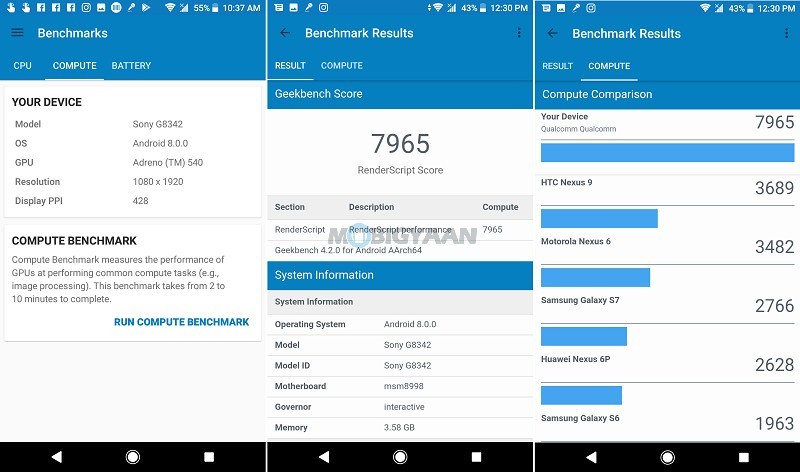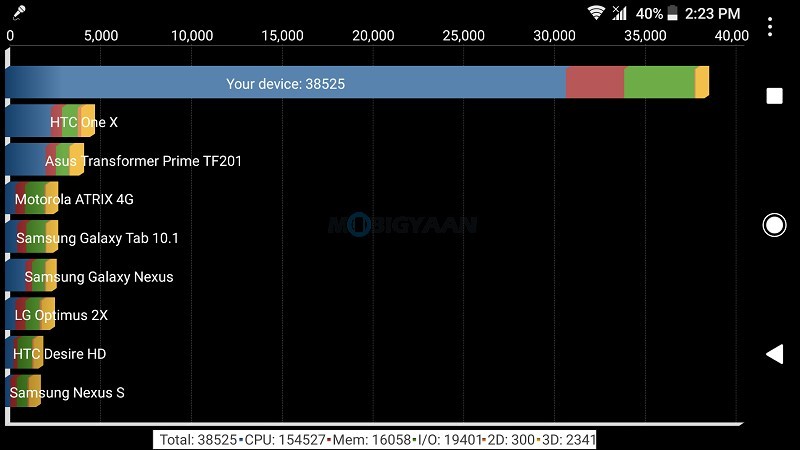 When it comes to Gaming, nothing can beat the Adreno 540. The Sony Xperia XZ1 has enough power to run any games you throw at. It can run graphics intensive games quite well. We found the gaming performance smooth on the Xperia XZ1. Games we tested are Dead Trigger 2, PES 2018, Real Racing 3, MARVEL Contest of Champions, and Sky Force Reload.
The temperatures hit 39 degrees while on gaming and resting at 33 degrees being idle.
Games Tested on Sony Xperia XZ1
Dead Trigger 2
PES 2018 PRO EVOLUTION SOCCER
Real Racing 3
MARVEL Contest of Champions
Sky Force Reload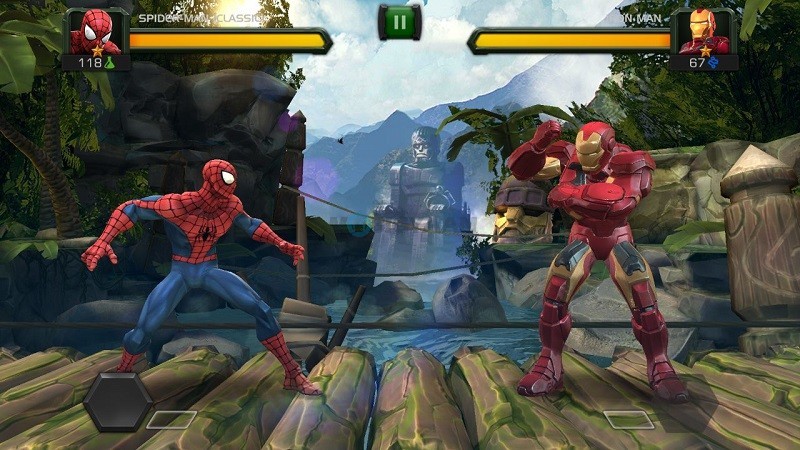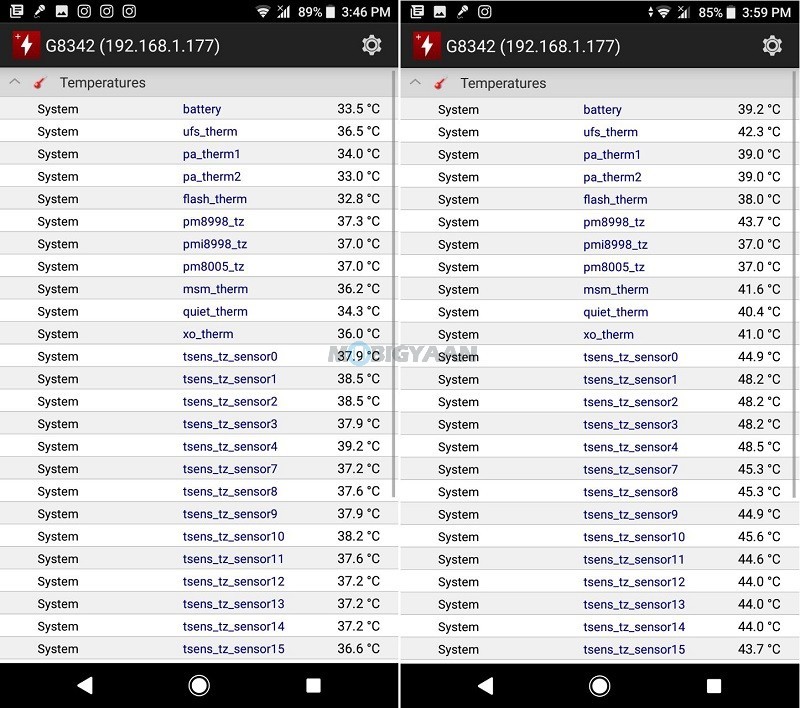 Storage & Memory
Sony Xperia XZ1 comes with a fast 64 GB UFS storage which has better performance than the standard eMMC storage. Sony did improve in the storage area since the release of the Xperia XZ Premium. The storage has almost SSD-like read-write speeds. The performance of the storage is about the Samsung Galaxy S8 level. The storage can be expanded via a microSD card up to 256 GB. For the RAM, you get about 40% free out of 4 GB RAM.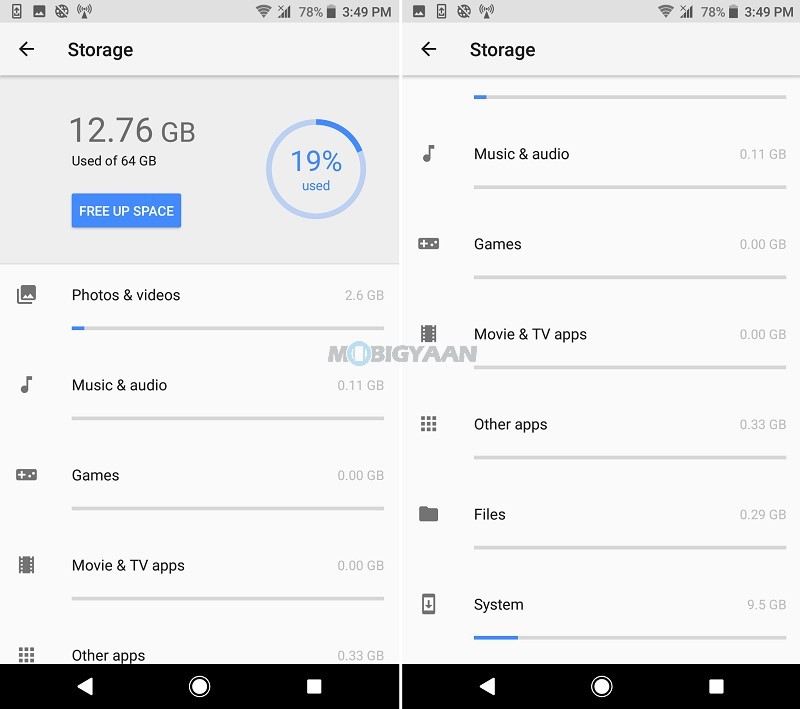 The relative storage benchmarks show that the performance of the internal storage is fast, better than many smartphones in its class.
A1 SD Bench
471.51 MB/s (Read)
209.87 MB/s (Write)
7,632.31 (RAM Copy)
AndroBench
670.28 MB/s (Sequential Read)
202.67 MB/s (Sequential Write)
157.38 MB/s (Random Read)
15.43 MB/s (Random Write)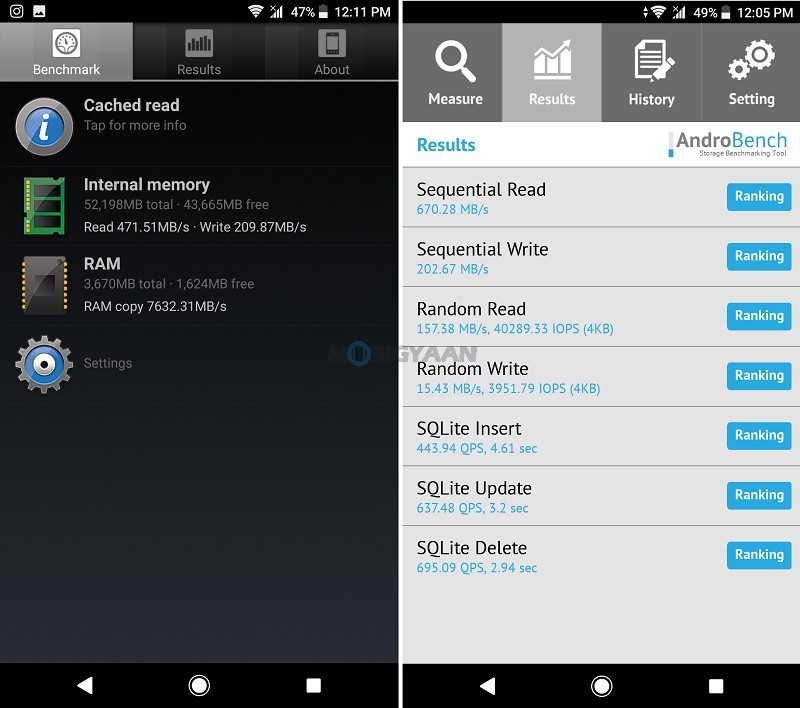 Cameras
Sony also has some cool features under its sleeve. The main camera is a 19 MP f/2.0 Motion Eye camera with a predictive sensor that captures photos before you even snap the photos with the key. You get options to choose from when your original photo came out unfocused or did not look exactly as you'd like. This way you won't miss any shots that you didn't click the right way.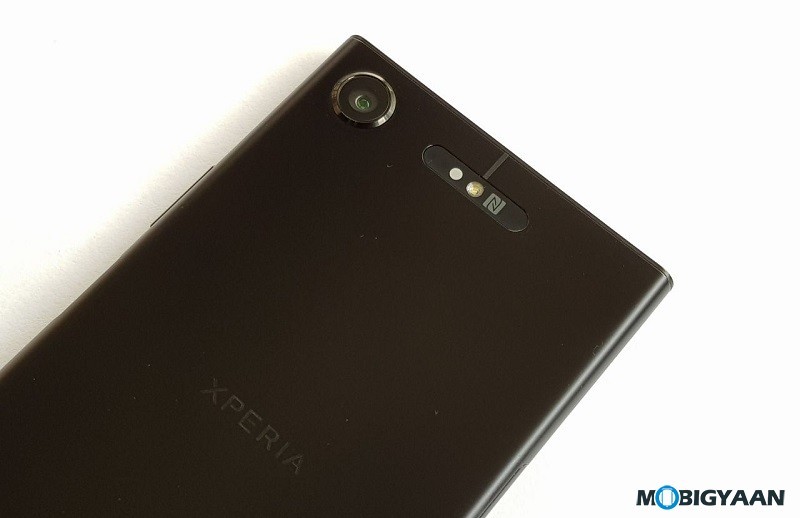 Sony Xperia XZ1 Camera Specifications
Camera: 19 MP f/2.0 Motion Eye camera
Image Processor: BIONZ
Sensor: Sony IMX400 Exmor RS
Optical Image Stabilization (OIS): N/A
Electronic Image Stabilization (EIS): Yes, 5-axis stabilization
Other: Triple Image Sensing Technology, Motion Eye camera
Rear Flash: Single LED
Features: Geo-tagging, Tap to Focus, HDR, Manual Mode, Panorama, 4K Video, Slow Motion (960fps), Burst Shot, AR Effects, Creative Effects, Sound Photo
Video Recording: Up to 4K @30 FPS, 1080p @60FPS, Slow Motion 720p @960 FPS
Front Camera: 13 MP f/2.0, 22 mm wide-angle lens, ISO 6400, SteadyShot
Video Recording: Up to 1080p video @30FPS
Front Flash: N/A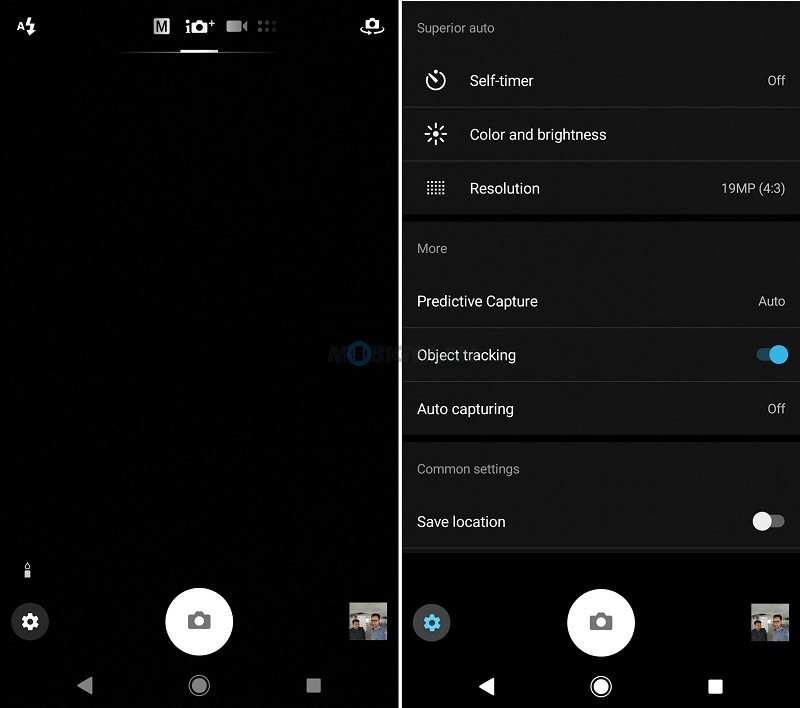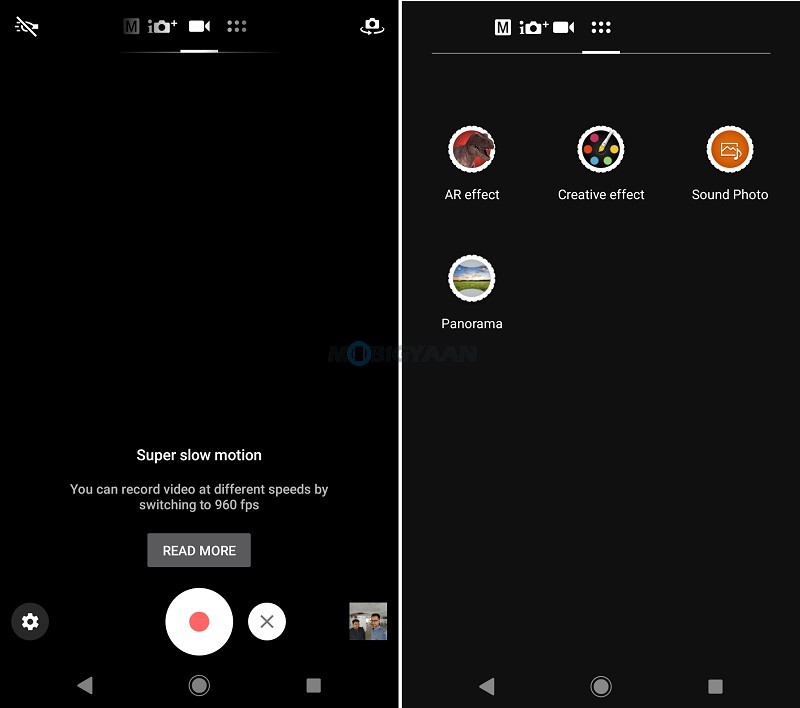 You will miss the bokeh effects that those dual camera smartphones can generate artificially, but Sony still has a great camera that pulls off enough natural bokeh effect. In addition to 3D Creator, we mentioned in the review, the camera also supports AR effect which we saw in the previous Xperia devices. Aside from the rear camera, the front has a 13 MP f/2.0 wide-angle selfie camera for wide selfies.
The camera quality is similar to the Xperia XZs, the shots we took are nonetheless detailed but the camera isn't something enthusiastic. You can rely on the camera, it does capture some nice shots. There's no optical image stabilization which is one of the key components of the camera, rather a mixed image stabilization technology SteadyShot offered by Sony. Check out the samples we took from the Xperia XZ1 camera.
Another feature worth mentioning is the super slow motion video recording which shoots outrageous 960 frames per second footage. Unlike the rivals that capture at 240 frames per second at present including the Apple iPhone X and Samsung Galaxy S8 Plus, the camera captures slow motion videos four times the competition.
The downside? The slow motion capturing requires a huge amount of light, do not even think about shooting in the low light. It's also limited to 1-second capture on 720p resolution, you can't record continuously at 960 fps. But when it's captured well, you will be surprised to see its slow-motion magic.
Sony Xperia XZ1 Camera Samples
Battery Runtime
Despite being small in battery size, the Sony Xperia XZ1 lasts a day on a single charge. We even managed to keep it running 2 days on a single charge on light usage and still some amount of battery percent is left. To get more battery power, Sony has provided STAMINA modes to extend the battery life.
The Sony Xperia XZ1 also has fast charging support. In our tests, it took about 2 hours to fully charge the device. The initial battery charging might be fast, but the overall charging for a mediocre 2,700 mAh battery seems not convincing. Sony bundles a powerful 12V charger.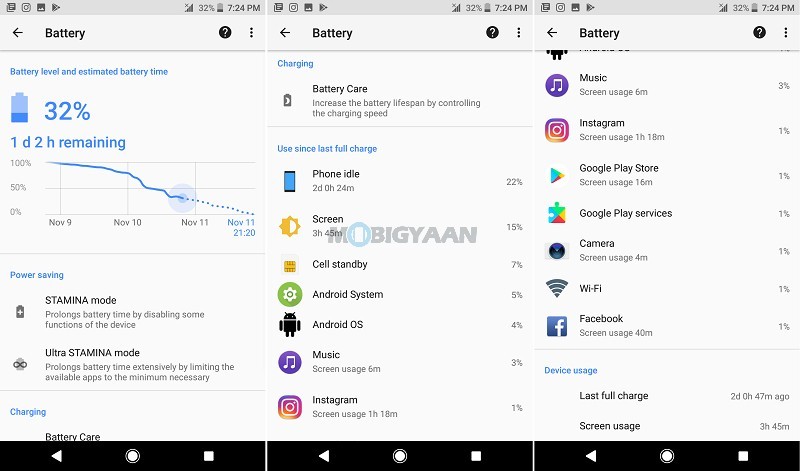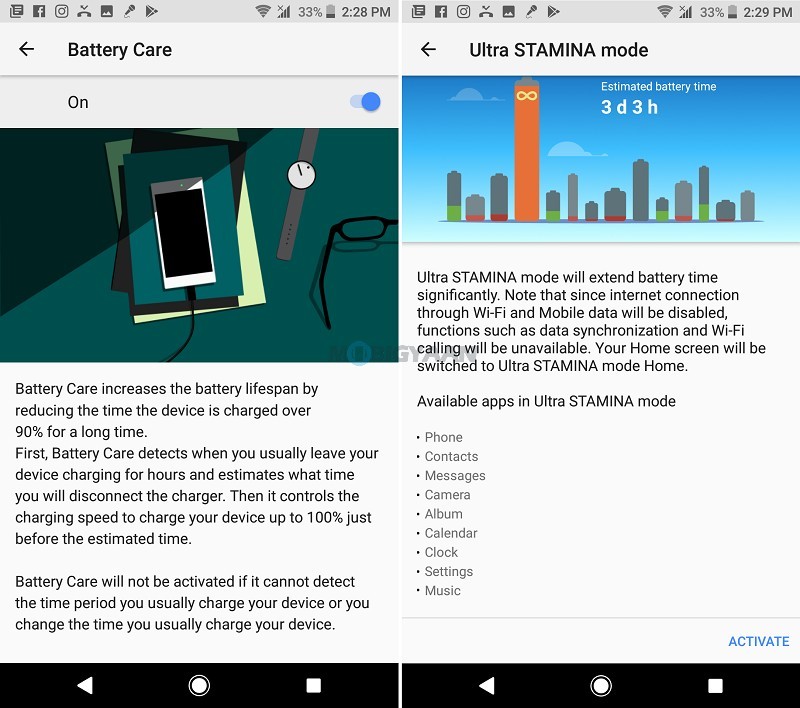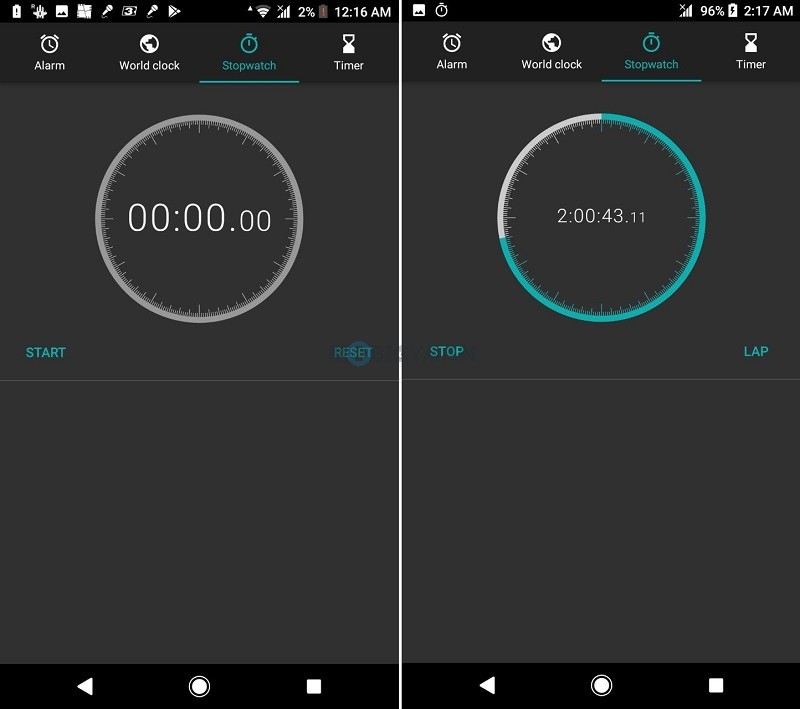 Sony Xperia XZ1 Battery Test Results
[table id=120 responsive=flip /]
Verdict – Best Sony Phone Yet
It looks like Sony has improved a lot in terms of offerings, the overall package is undeniable, it replicates most things from the Xperia XZ Premium itself and the pricing just fits the flagship territory. Sony can still pop-up the bezel-less type design and an 18:9 display aspect ratio in their next generation Xperia smartphones.
The super slow motion and 3D creator are the things no other smartphone can offer. The cameras are good, it offers newer Android Oreo software, and the performance is outstanding. If you had any old Sony Xperia device, the Xperia XZ1 might give you little surprises, it should not disappoint you. Overall, it's the best phone from Sony and will certainly please the brand's fans.
Competitors
Strength
Sleek and Slim Compact Form Factor, Metallic Design
HDR Display
Android 8.0 Oreo out-of-the-box
3D Creator App Seems Interesting
Reliable Camera
Records 960 Frames Per Second Footage
Fast Performer, Lag-Free Experience
Decent Battery Life
USB 3.1 | Bluetooth 5.0 | Gigabit LTE (1 Gbps download)
Waterproof Design (IP65/68 Certified)
Weakness
3D modeling has limited usability
Super Slow Motion is limited to one second