After a lot of competition growing this year, Sony has finally launched its new flagship smartphone Xperia Z5 Dual. It's been a while since we've reviewed a smartphone from Sony, we got their flagship unit for a review. There's already a Xperia Z3+ (also known to be Xperia Z4) around 6 months old with similar specifications and Sony Xperia Z5 Dual resembles too much giving just a small update with the design and an improved camera module. Sony also jumped on the fingerprint scanners bandwagon. As it's targeted at the very top segment, it can burn anything so well when it comes to the camera and sound quality. With that being said, we'll be finding out a lot in this Sony Xperia Z5 Dual review.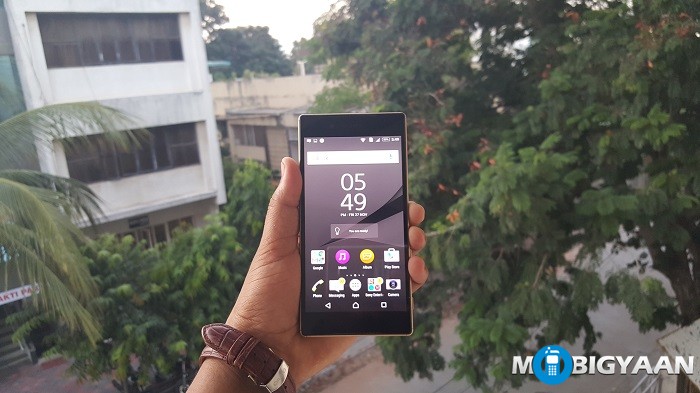 In the box
Let me tell you that we got a demo unit here and generally we don't get all the accessories, however in the retail purchase, you will get the stereo headset and a screen protector.
Sony Xperia Z5
Power Brick
MicroUSB Cable
A Startup Guide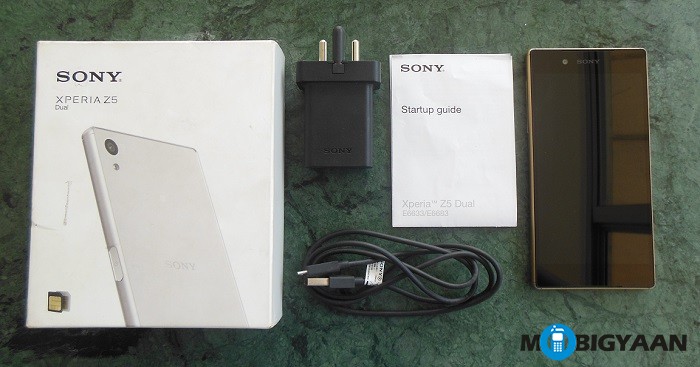 Sony Xperia Z5 Dual Specifications:
Display: 5.2-inch FullHD (1920×1080) Triluminos display, X-Reality Engine, Dynamic Contrast Enhancer,
Main Camera: 23 MP (Sony Exmor RS sensor) with Hybrid Autofocus and wide-angle lens, LED flash
Front Camera: 5.1 MP (Sony Exmor R) with wide-angle lens
Software: Android 5.1 (Lollipop)
Fingerprint Sensor: Yes, on power button
Protection: IP68 certified – dust-resistant and waterproof (1.5 meters and 30 minutes under water)
Processor: 64-bit octa-core Qualcomm Snapdragon 810 (MSM8994), quad-core 2 GHz Cortex-A57, quad-core 1.5 GHz Cortex-A53
GPU: Adreno 430
Memory: 3 GB RAM
Storage: 32 GB internal, expandable up to 200 GB with microSD
Connectivity: WiFi MIMO 802.11 a/b/g/n/ac dual-band, FM Radio, DLNA, aGPS, Bluetooth 4.1, NFC, MHL TV-out, USB host
Sensors: Fingerprint sensor, proximity, ambient light sensor, accelerometer, gyroscope, compass, barometer
Others: Quick Charge 2.0, High-Resolution Audio, PS4 Remote Play
Network: 4G LTE dual-SIM (GSM + GSM), supports nano-SIM cards
Battery: 2900 mAh
Weight: 156.5 grams
Dimensions: 146 mm x 72 mm x 7.3 mm
Design and Ergonomics
The Sony Xperia Z5 and the Xperia Z3+ are almost identical with just a slight change in the dimensions. The 5.2-inch Xperia Z5 weighs around 156.5 grams and 7.3 mm slim. It is dust-resistant and waterproof (IP68 ratings) which you have already seen in the previous Xperia Z series and it turns out that the Xperia Z series remains ahead in terms of dust and water resistant, unlike any other smartphones in the competition.
The design is again a tad angular, but it does feel well in the hands. Because it looks like every other Xperia smartphones, there is hardly any difference to notice though you'll get that premium kind of feeling from Sony. Having a metallic bezel frame and glass design at the back, it's quite slippery on the hands. The front is having a glossy scratch-resistant glass and oleophobic coating. We noticed a few minor scratches on the front glass, nevertheless, Sony gives you a screen protector.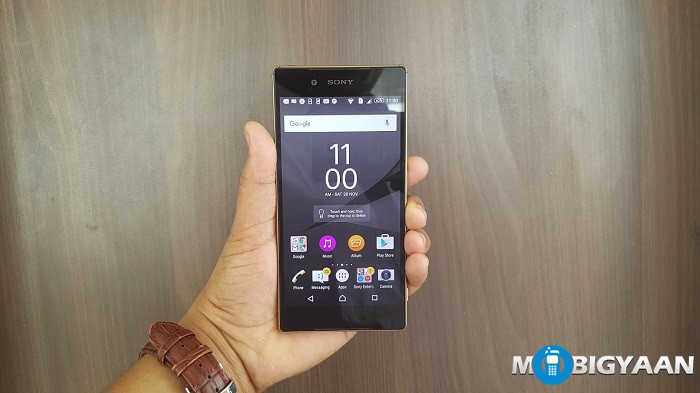 The back uses a matt-finish glass (frosted glass) which doesn't prone to fingerprints and smudges. The 2900 mAh battery is installed firmly, however, isn't removable since the smartphone is a unibody design. The backside buzzes out loud on full volume levels which certainly is not an issue for most of us.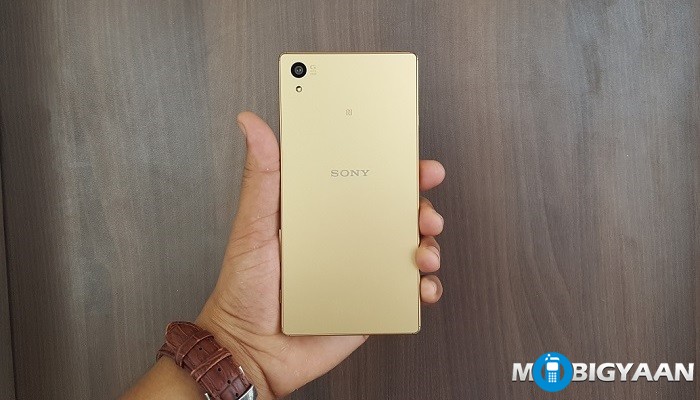 The main camera is of 23 MP, f/2.0 aperture having a Hybrid Autofocus. It uses a 24 mm wide-angle Sony G lens along with an LED flash. The camera module is significantly changed compared to its predecessors.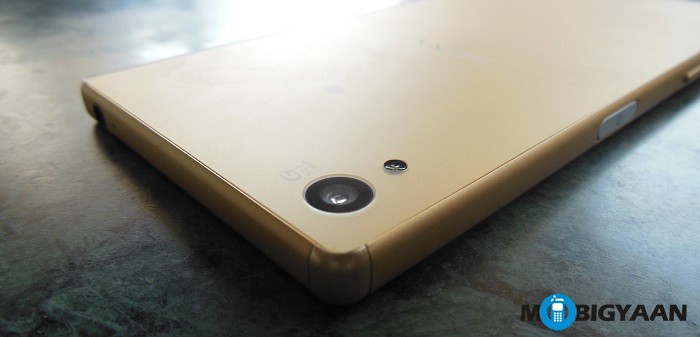 The front side carries a 5.1 MP camera along with a few sensors. Below, it takes a lot of space that doesn't reflect any capacitive touch buttons. There are dual speakers on both the ends on the front. The speakers aren't very loud, but can be a decent as you get a stereo sound effect and much better audio clarity.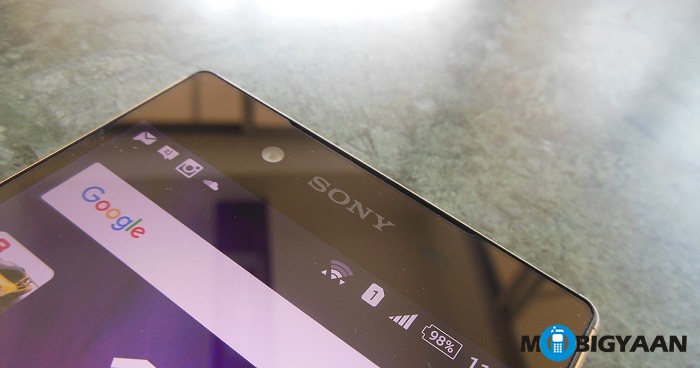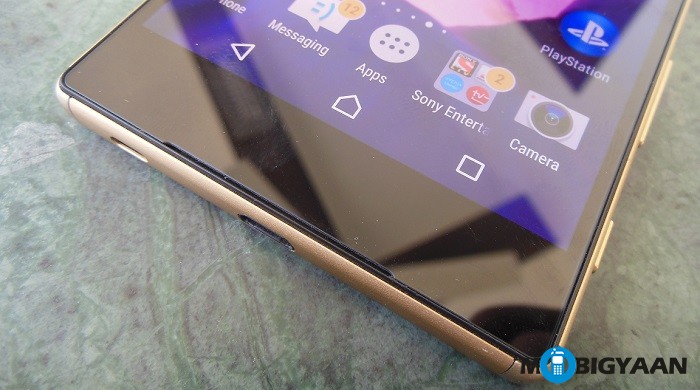 The left doesn't contain any buttons, instead, a weak and fragile dual-SIM tray which isn't quite easily removable, you need to grow a big nail to remove SIM tray else, you will find it burdensome. The SIM module and MicroSD slot, on the other hand, are covered very nicely and fitted clean.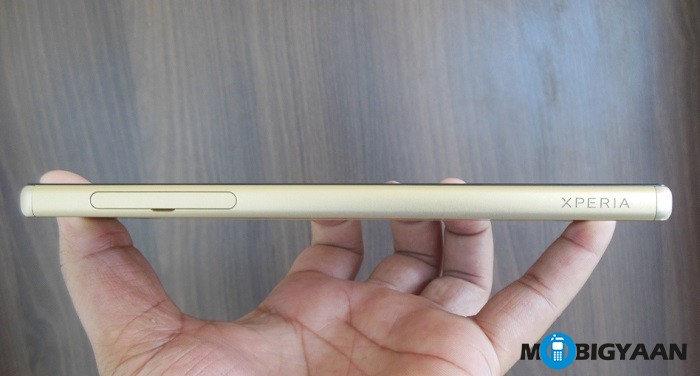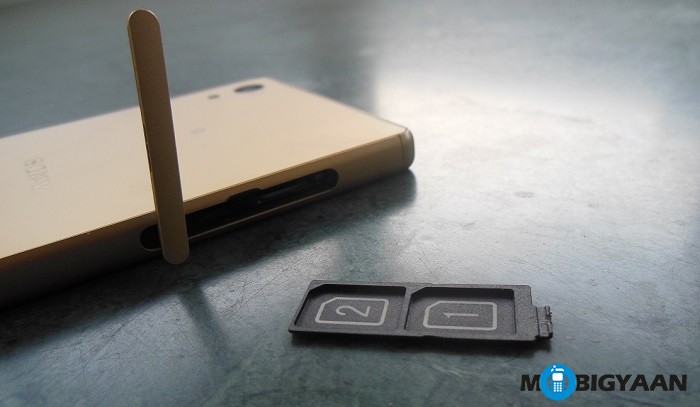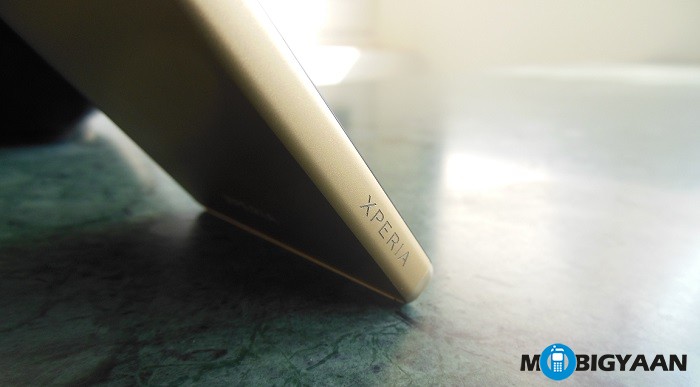 The oval-shaped power button on the right houses a fingerprint sensor embedded in there while the volume rockers are moved near the flimsy camera key. Some users may not be comfortable with the button placements, but it is useful for the camera zooming. Every button is kept on the right-hand side, but not a lot else has changed.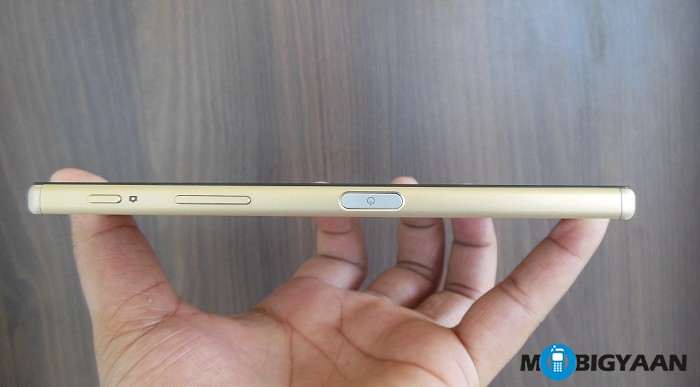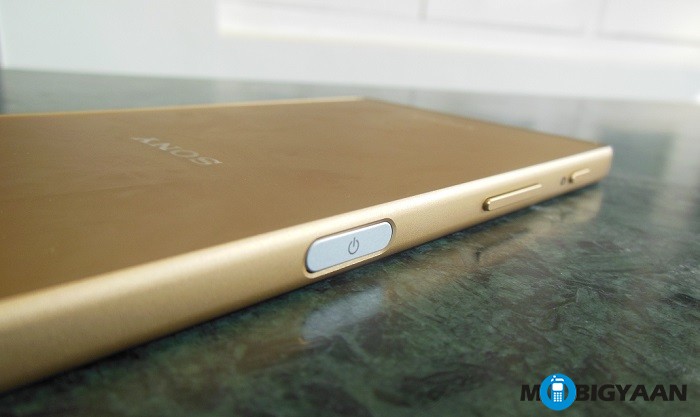 Moving to the top, sports a 3.5 mm audio jack and a microphone. On the bottom, you will find a Micro USB port and a lanyard hole.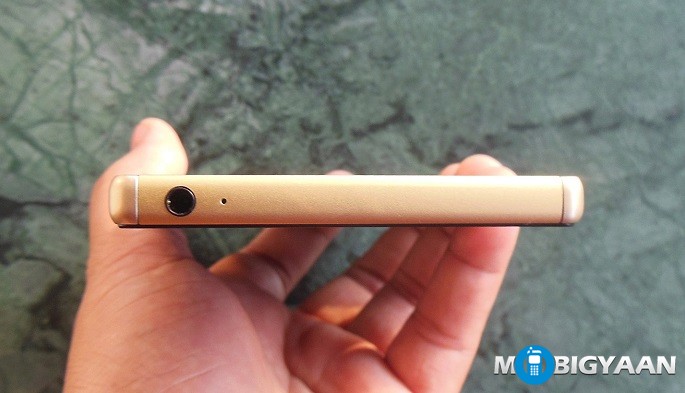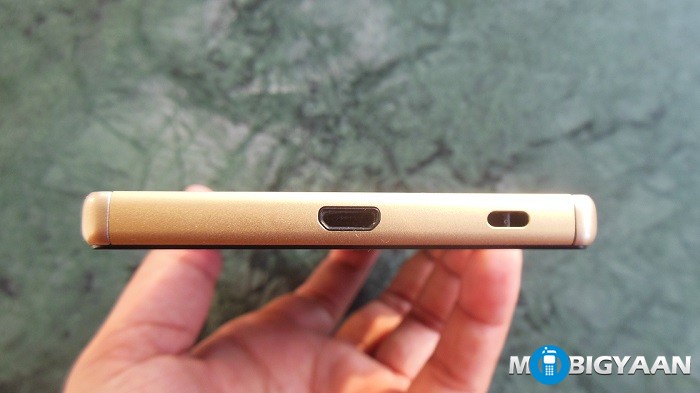 Sony Xperia Z5 Waterproof Test
We have tested Sony Xperia Z5 under fresh water as it comes with an IP68 certification. You don't have to worry if you accidentally spill water on the device or caught in a rain. However,
Sony support page states that:
"The IP rating of your device was achieved in laboratory conditions in standby mode, so you should not use the device underwater, such as taking pictures. Do not use the device to take photos while performing any type of activity underwater, including diving or snorkeling."
We aren't sure about why Sony advertises their Xperia line as a waterproof design and then says not to be used underwater. But for a fact, there might be a reason behind it. For now, keeping your Xperia Z5 in a dry place is recommended.
Note: The videos below is just a quick test to show you if the Xperia Z5 performs after submerged in water. We are not encouraging you to do the same with yours.
Display
The Xperia Z5 has a 5.2-inch FullHD (1920×1080) Triluminos display with 424 ppi pixel density. The display, so far, is familiar from the predecessor Xperia Z3+ and it's just FullHD display which is different than what its rivals have (a 2K display), yet can be helpful to save battery enormously. It features an X-Reality Engine by Sony as well as a Dynamic Contrast Enhancer to make the images look more natural.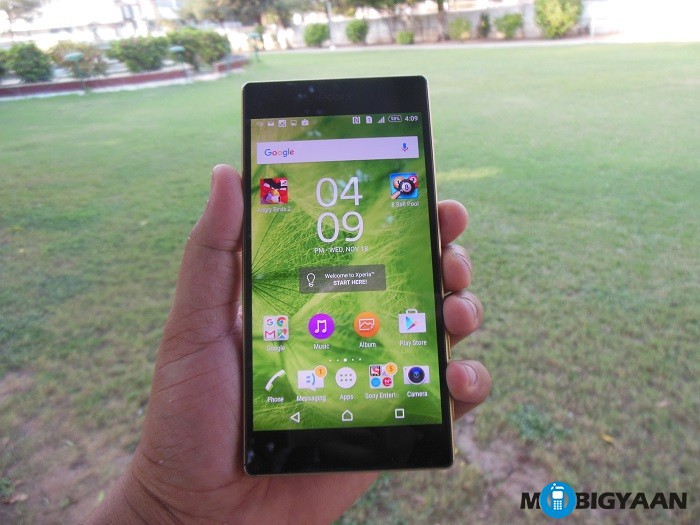 The blacks aren't that great yet the colors are pretty solid and saturated and the display is super bright to use it outdoors. The contrast levels are acceptable but just don't expect anything spectacular as the competitors may offer a little better. You can improve the display quality under the settings by choosing the X-reality engine.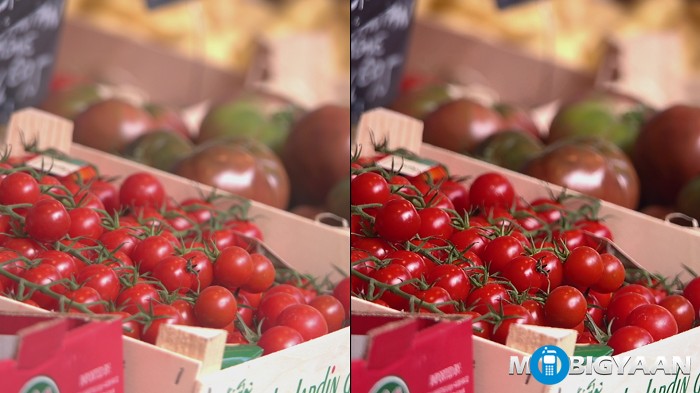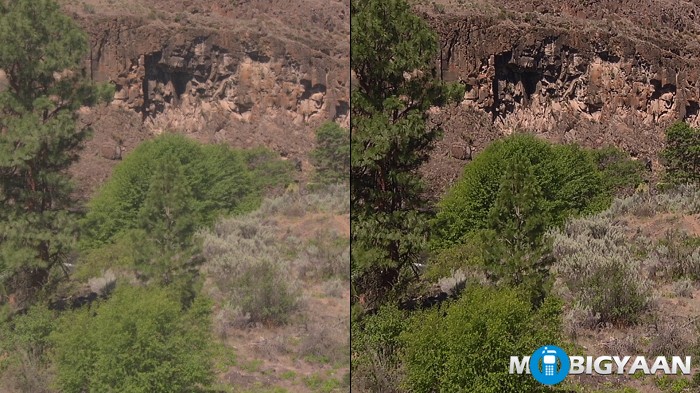 The readability of the display outdoors is quite amazing, the brightness levels, when maxed out, are suitable for using outdoors. The viewing angles are excellent on either side. Sony boasts a brighter display here.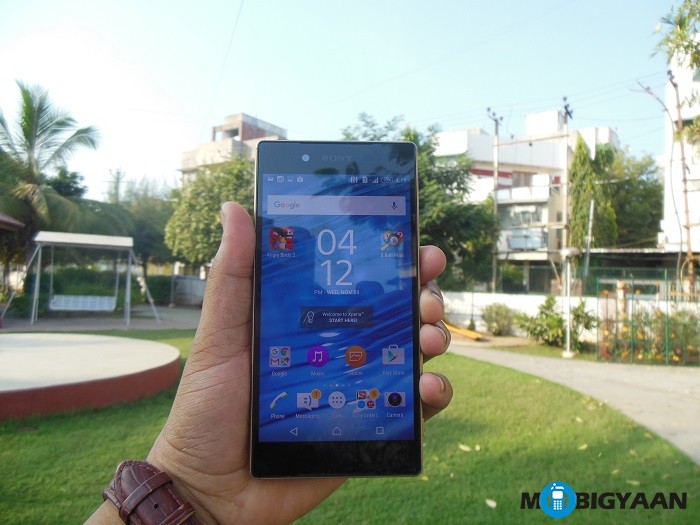 Performance
The Xperia Z5 uses the same SoC from its predecessor, the Xperia Z3+, Snapdragon 810 (MSM8994). It is powered by a 64-bit octa-core processor (2 GHz quad-core Cortex-A57, 1.5 GHz quad-core Cortex-A53) using the big.LITTLE architecture from ARM.
It takes 41 seconds to boot, which is quite an unusual time. The Xperia Z5 uses Adreno 430 GPU for gaming coupled with 3 GB of RAM. The CPU-Z shows that the processor can run all the cores simultaneously as required.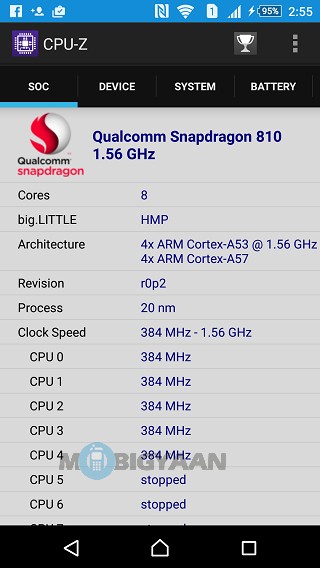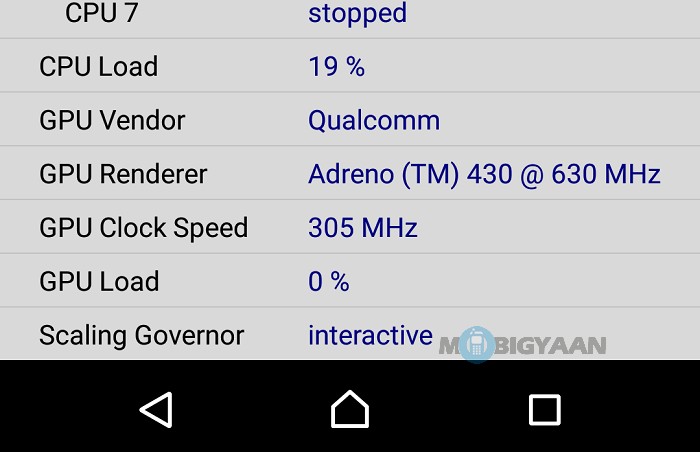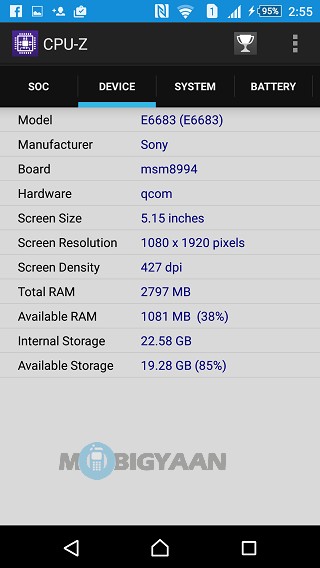 The AnTuTu benchmark scored a whopping 52002 points but remains behind HTC M9 and Samsung Galaxy Note5. The Geekbench 3 scores 1091 in single-core performance and 3632 in multi-core performance are really acceptable from the Snapdragon 810 SoC.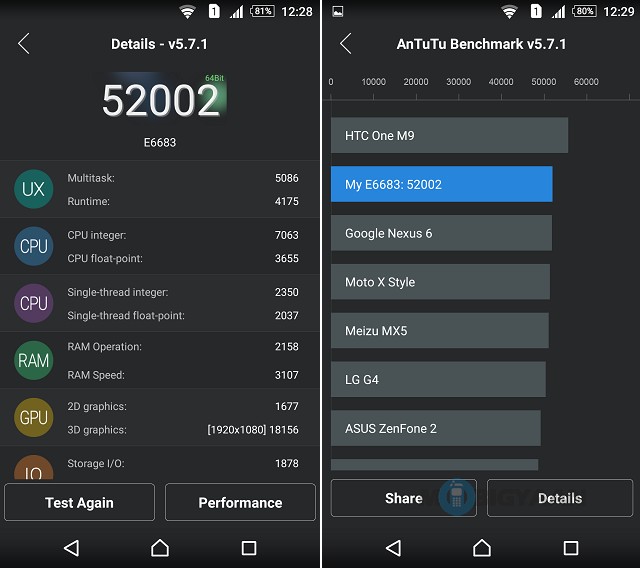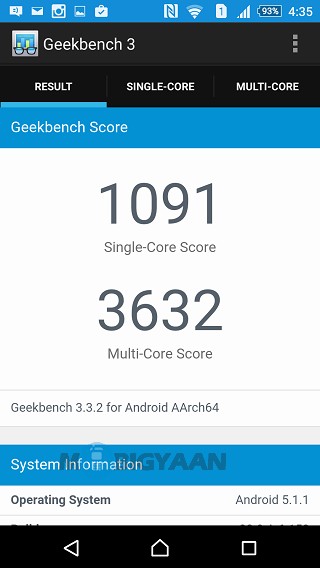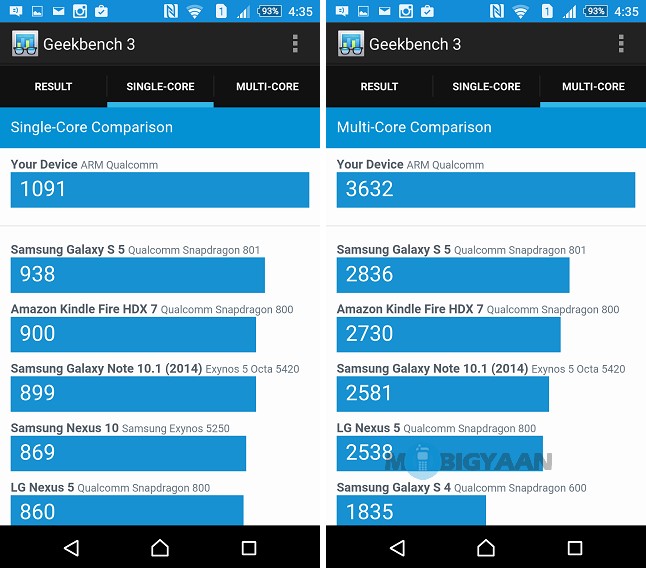 The Micro-USB port 2.0 can be used to transfer the files at good speeds. According to the AndroBench storage benchmark, the sequential read and write tests gave a 259.53 MB/s and 100.05 MB/s respectively. On the other hand, the random read and write tests gave 19.02 MB/s and 14.66 MB/s.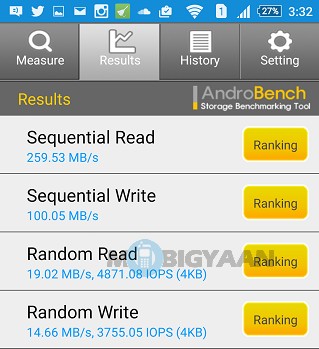 With Adreno 430 GPU combined with the octa-core processor and 3 GB RAM, most of the high-end games are playable on Xperia Z5.
Games Tested and Played on Xperia Z5:
Angry Birds 2
Asphalt 8
Modern Combat 5
Real Football 2015
8 Ball Pool
Thor The Dark World
The performance of gaming is smooth and ran without any big lags, but at times the smartphone tends to heat on load.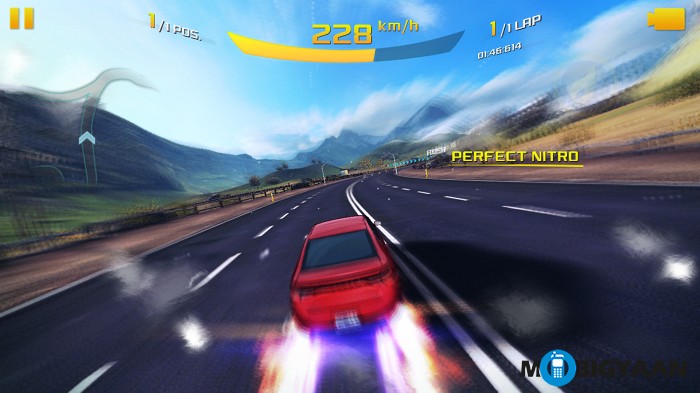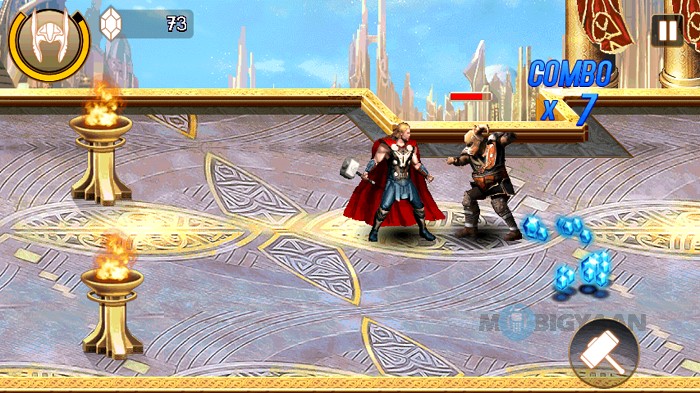 We measured the temperature levels on the Xperia Z5 using HWMonitor Pro. When kept the phone idle, the temperature ran 34.5 degrees but after quit playing games for about 16 minutes, the temperature hit 43.5 degrees which is considered above normal and you will feel the smartphone warmer on the back near the camera. Sometimes it gets hot on the backside and the CPU and GPU throttles. Nevertheless, it can be fixed by software updates.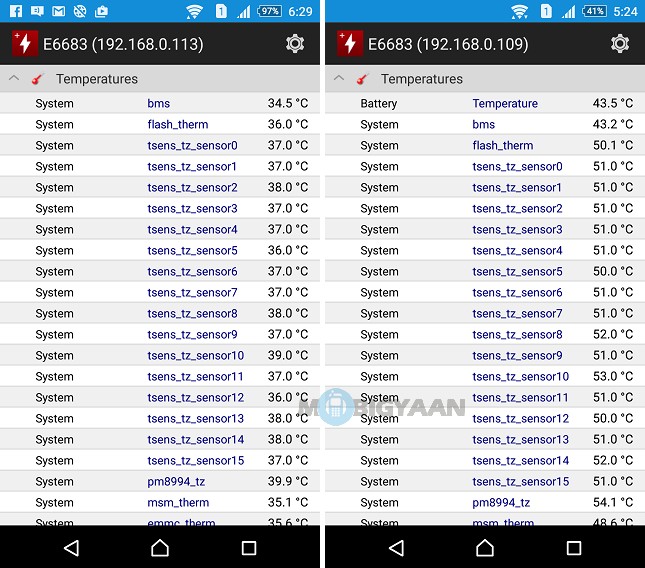 The RAM usage of Xperia Z5 Dual is slightly on the higher end. The system took about 864 MB of RAM just after a reboot and it takes even more than 1 GB after a short usage.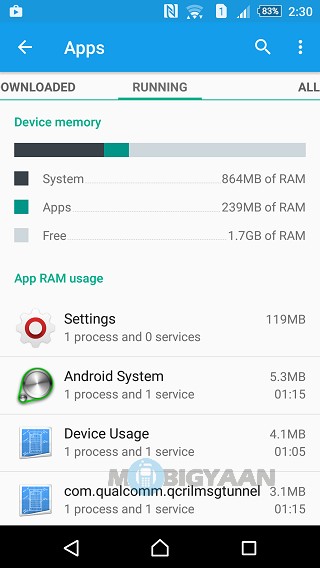 Fingerprint Sensor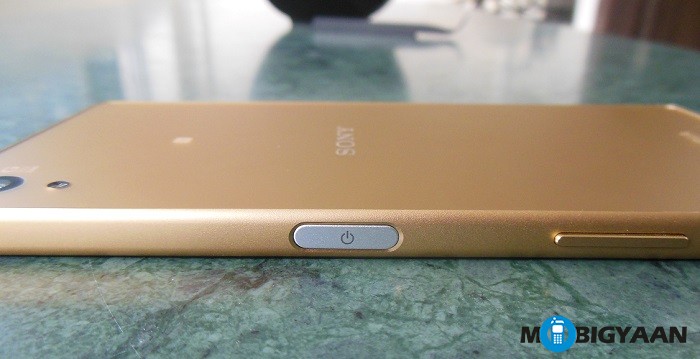 The fingerprint is embedded on the power button on the right-side of the Xperia Z5. The fingerprint sensor is sensitive but not as fast as the what we have seen on the iPhone 6 and on the Honor 7, however, it can unlock the phone under 1 second which is still not bad. With just 19 taps of your finger, the fingerprint setup completes. You can add up to 5 different fingerprints on the device.
It would be great if Sony would give an OTA update that can make purchases with fingerprint on the Play Store, similar to the iPhones 6.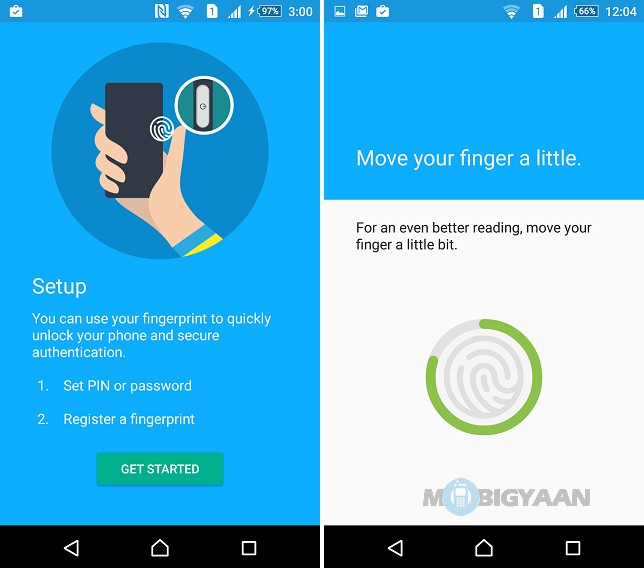 Software and UI
Sony ships the Xperia Z5 Dual with Android 5.1.1 Lollipop with their own custom soft skin Xperia UI. The user interface itself feels stock and it doesn't change all the stuff in the Android. According to Sony, all Xperia Z series will get updated to Android 6.0 Marshmallow soon.
The icons and themes are from Sony and you will on-screen buttons just like you see on stock Android smartphones like the Nexus line and Motorola. The Xperia Z5 comes with bloatware that can be easily removable. A great feature you can try is 'Remote Play' which connects the PlayStation 4 with your Xperia Z5 and you can remotely play the PS4 games.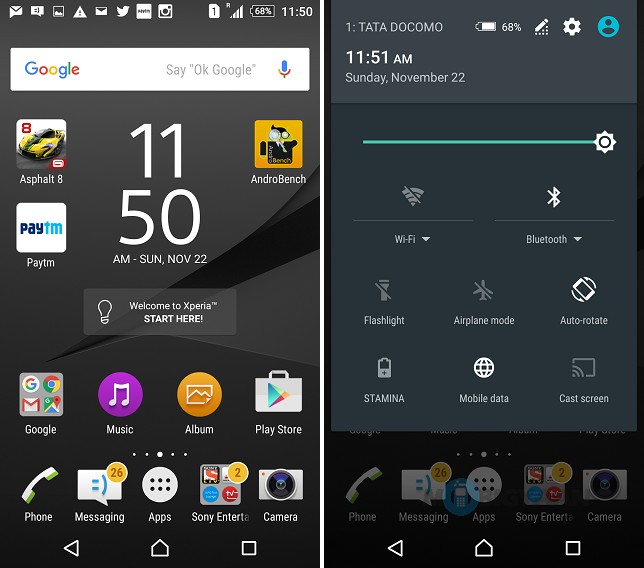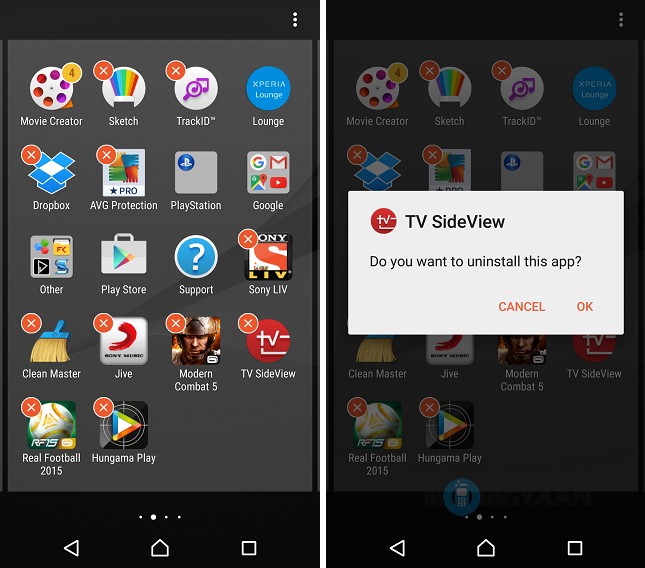 Sony made the stereo speakers hardly visible  to us yet gives excellent sound quality. The volume levels aren't too loud and hence, you won't face any distortions. The sound can be tweaked under the settings using various optimizations provided by the Sony. The sound enhancers (DSEE HX, ClearAudio+ and Dynamic normalizer) will get you the best sound on earpiece/headsets.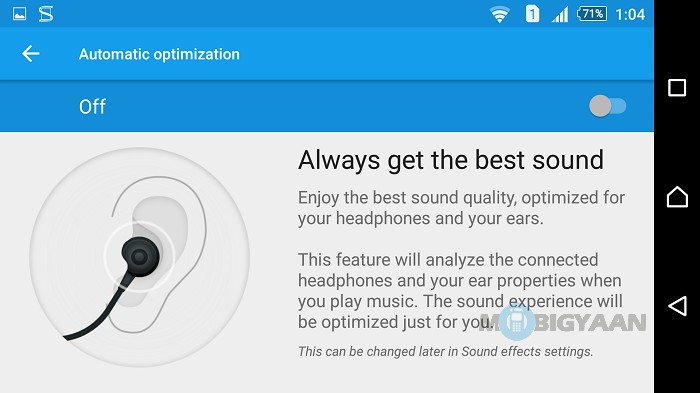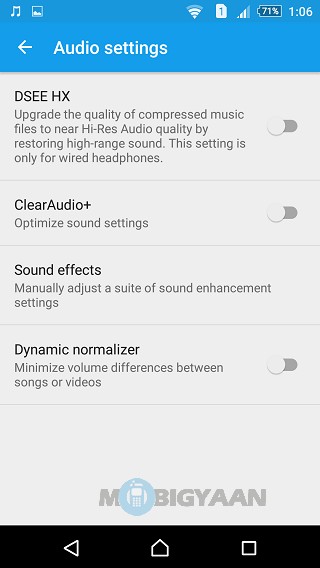 The keyboard style is quite nice and as the display has a 16:9 aspect ratio, it is very comfortable to type with both hands on the landscape. The keyboard does support swipe function.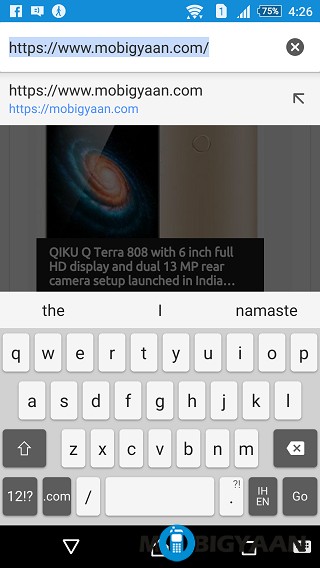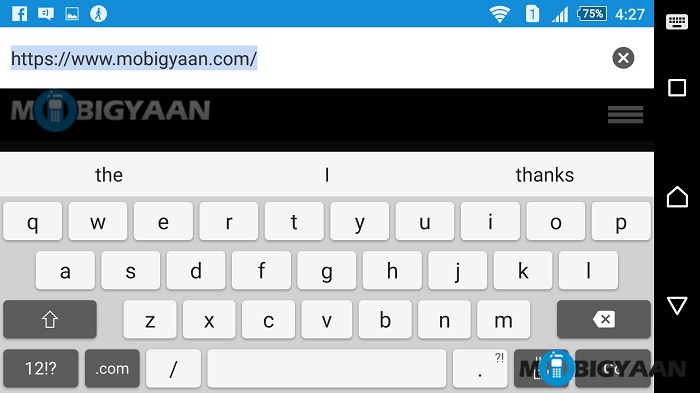 Lifelog is an official health and fitness app from Sony. It shows you the information related to your health and fitness and give you the insights about how active you are. The smartphone also has glove mode feature that helps you to interact with the phone wearing gloves.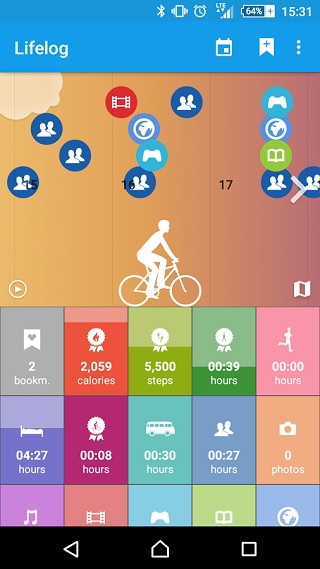 Camera
The Sony Xperia Z5 has a massive 23 MP main camera with f/2.0 aperture (1/2.3″ Sony Exmor RS sensor). It has a Hybrid Autofocus and wide-angle Sony G lens along with a powerful LED flash. Sony promises to bring us an improved camera and after checking the camera performance we were surprisingly amazed, the results were ground-breaking.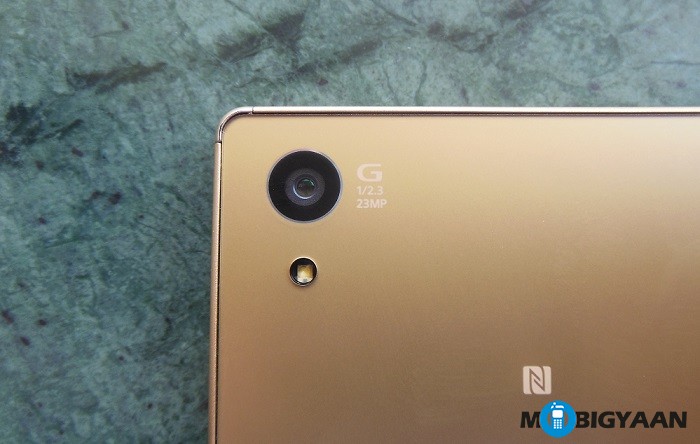 Sony Xperia Z5 Dual Main Camera Specifications: 
Camera: 23 MP, 5520 х 4140 pixels, Hybrid Autofocus (0.03 sec), f/2.0 aperture, LED flash, 24 mm wide angle Sony G lens.
Sensor: 1/2.3″ Sony Exmor RS CMOS sensor, ISO 12800 Photo/3200 Video
Image Processor: BIONZ for image processing
Zoom: 5x Clear Image Zoom
Features: Geo-tagging, tap to focus, face detection, HDR, panorama, Timeshift video, Background defocus, SteadyShot with Intelligent Active Mode.
Video: Max 4K High definition (2160p@30fps), Slow motion 1080p@60fps, 720p@120fps
Camera Key: 2-stage button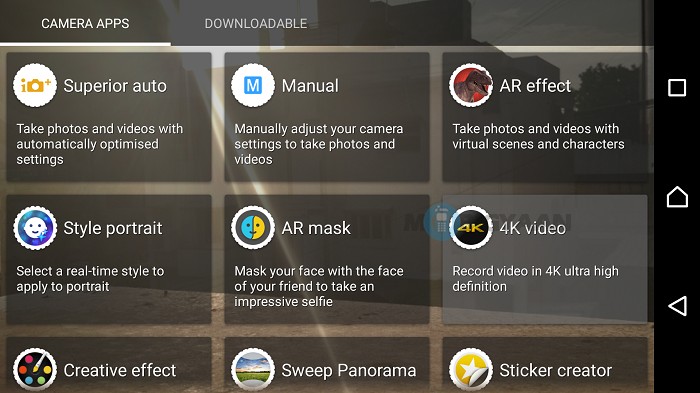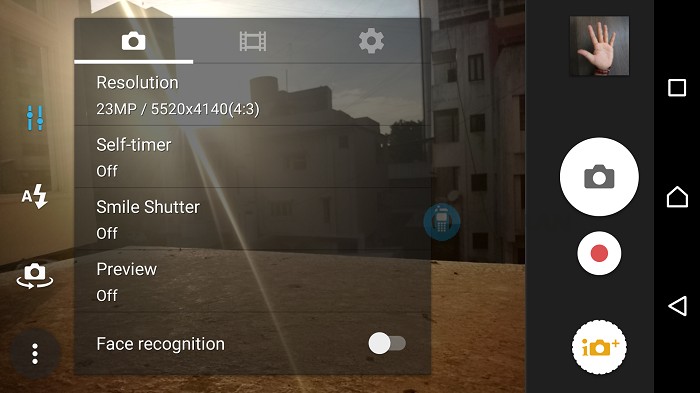 The following shots are taken on 'Superior Auto' mode. The 'Superior auto' mode selects the best mode for capturing the images under any lighting conditions. You get a dedicated 2-stage camera key for capturing the shots and can be used to quickly launch the camera.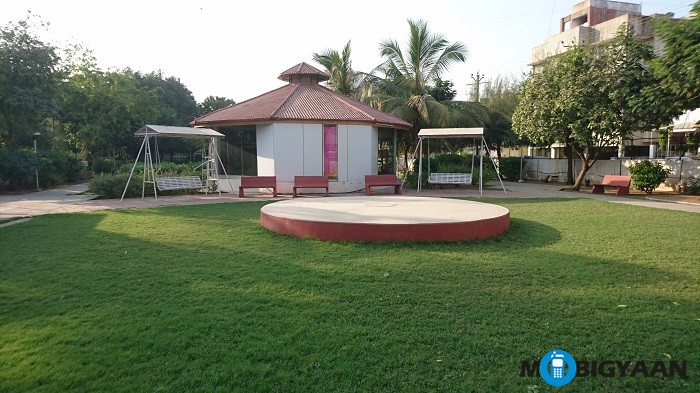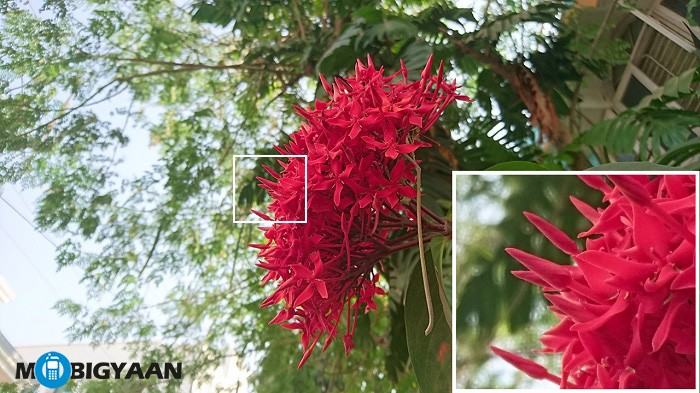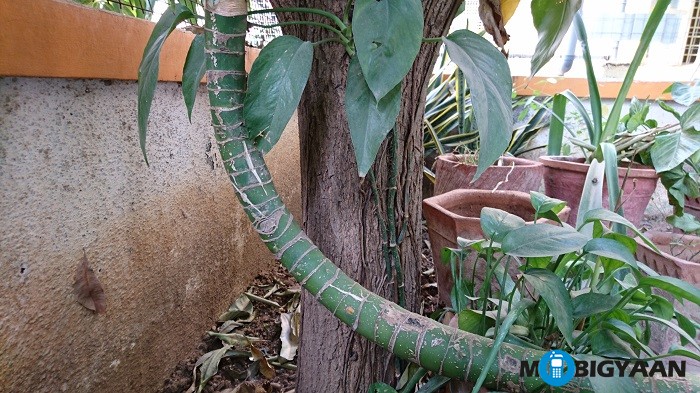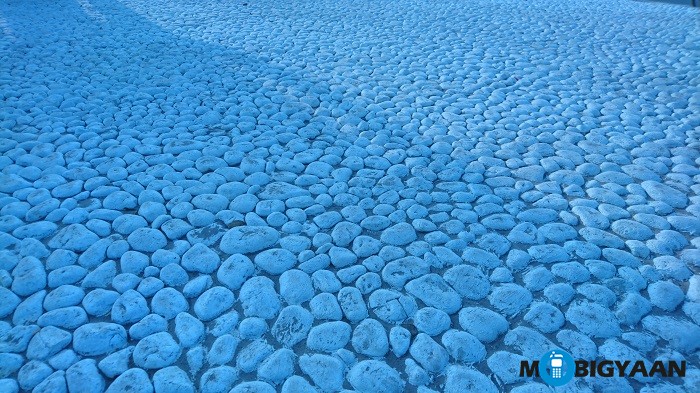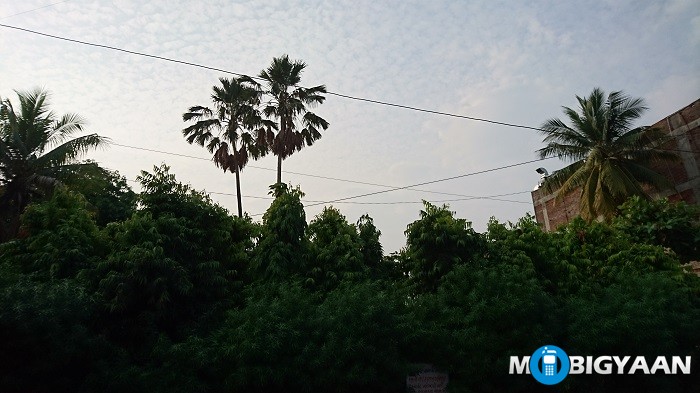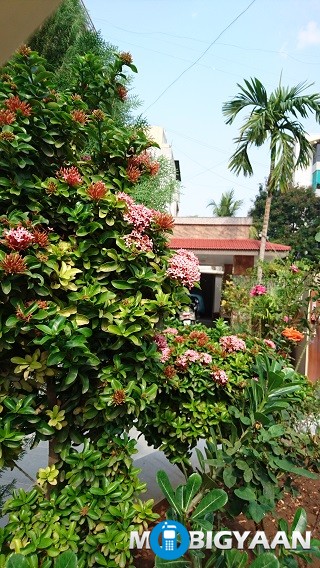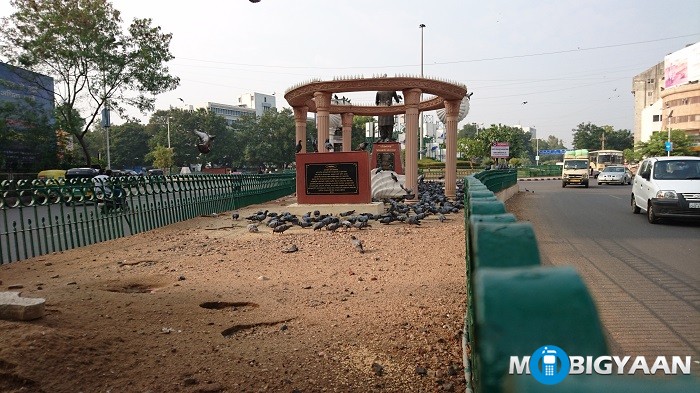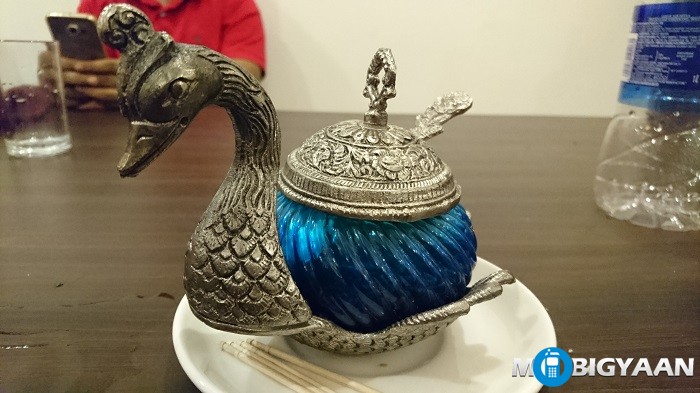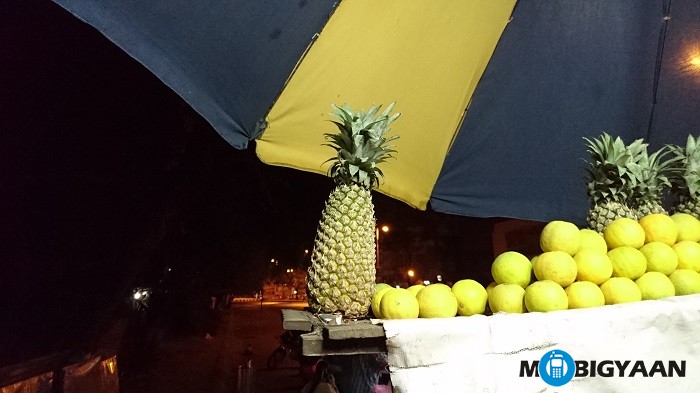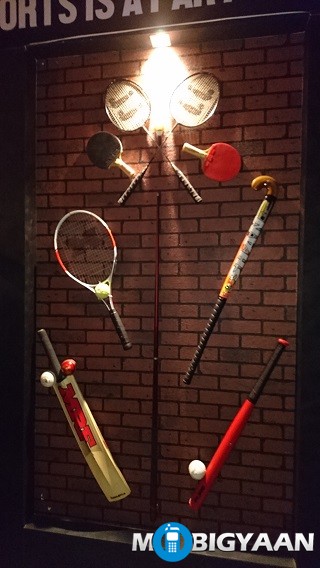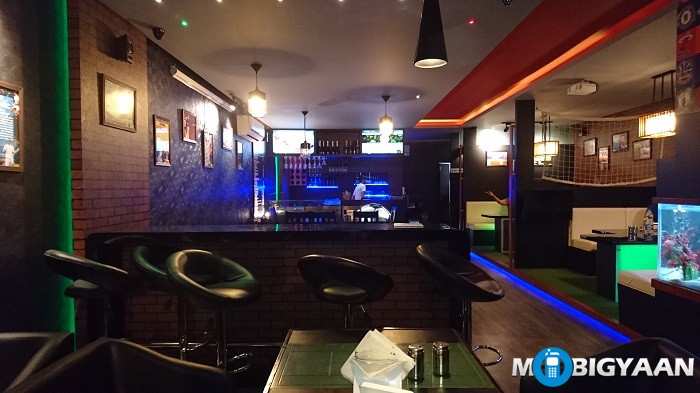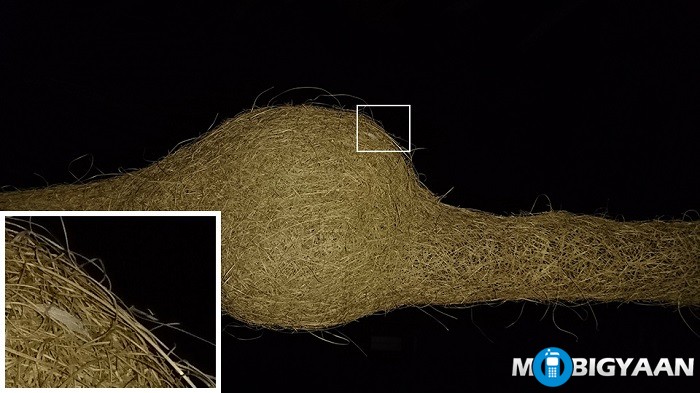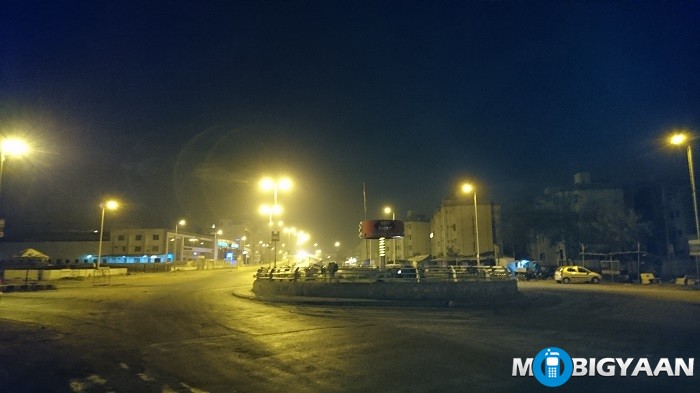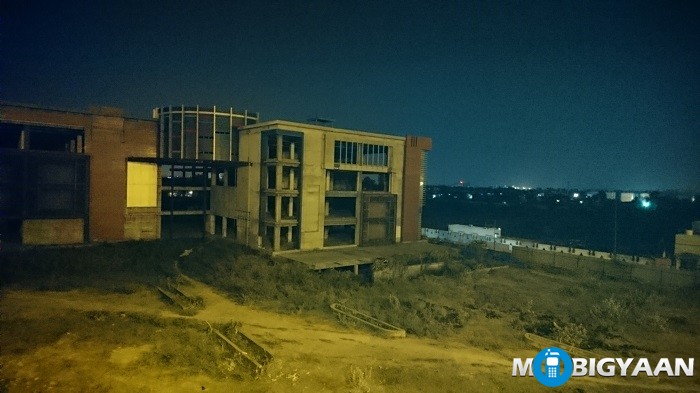 The main camera doesn't feature a hardware OIS, but software OIS should do the job. Sony's image processing engine has done a great job here, the images tend to have good colors and it's supposed to reduce the artifacts and noise. You may have observed the colors are over-saturated and seem to be different still you can tweak the display settings and adjust the white balance and image enhancements. On the other hand, the focus is very fast and accurate. The camera supports a maximum ISO value of 12800 which should help you to capture night shots even better.
The main camera can capture 4K High Definition videos (2160p@30fps) and slow motion videos (1080p@60fps, 720p@120fps). While shooting 4K videos for a longer period, the device heats up and the camera automatically quits. We have also captured a slow motion video to show you a sample.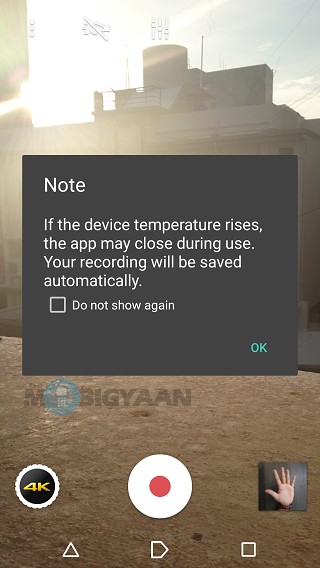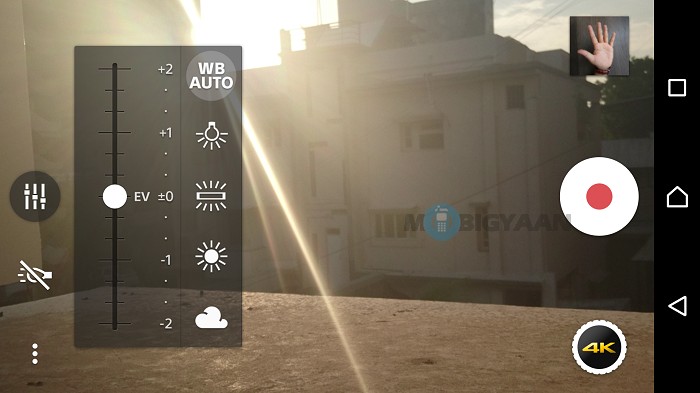 The front uses 5.1 MP camera (Sony Exmor R) with a 25 mm wide angle lens. The videos can be recorded in FullHD resolution. The camera results are good under daylight conditions, but low-light images give noise and aren't very detailed. As a decent performer, the front camera could be made better considering the price.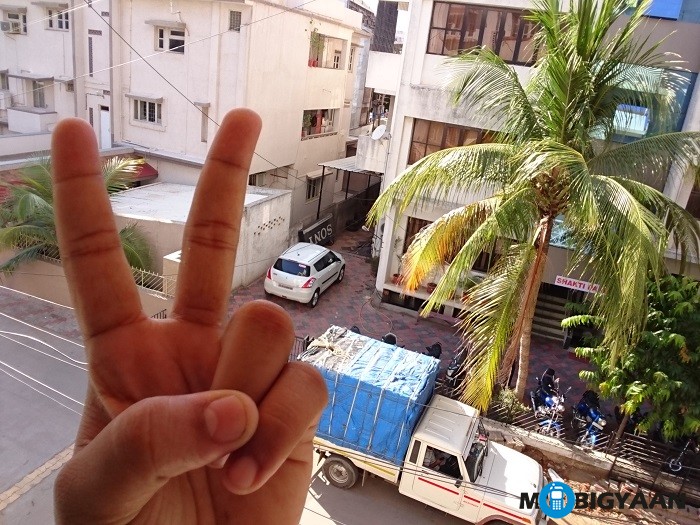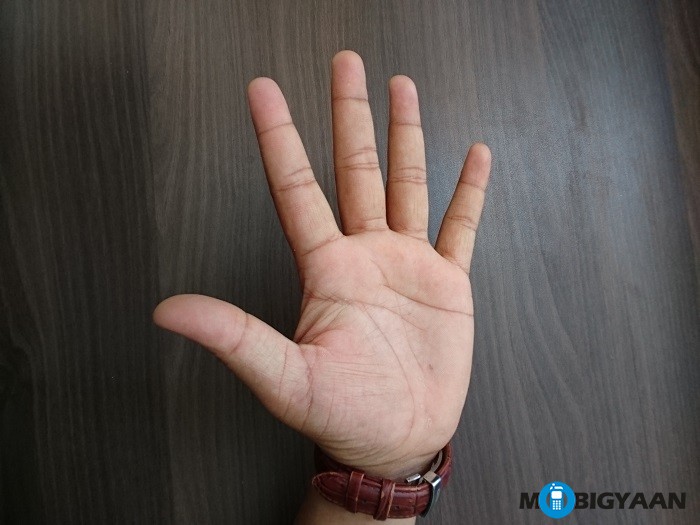 Call Quality and Microphone
At times, we felt that the microphone isn't that best as we had to speak loud, however, the call quality is the best what you get, you can hear the voice loud and clear. The voice clarity is excellent. In noisy places, you will still be able to hear the voice from the speakers.
Storage and Connectivity
The Sony Xperia Z5 Dual has 32 GB built-in storage, but the user gets 20.29 GB to use (22.58 GB if no bloatware). The rest of space is taken away by the Android system and bloatware. Nonetheless, it can be expanded using a MicroSD up to 128 GB.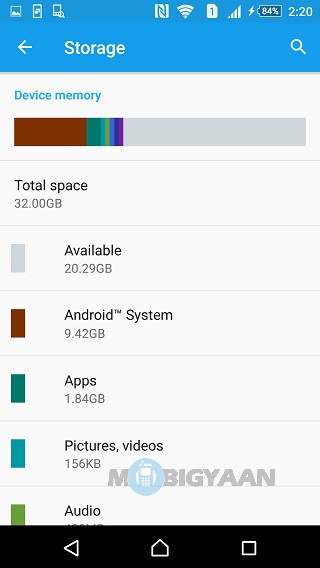 There are plenty of connectivity options in the Xperia Z5 Dual. It supports dual nano-SIM cards which can be accessed by removing the side cover that holds the SIM and tray. Moreover, it Wi-Fi MIMO 802.11 a/b/g/n/ac dual-band, FM Radio, DLNA, aGPS, Bluetooth 4.1, NFC, MHL TV-out, USB host. It also supports USB OTG. We will miss the USB Type-C in Sony Xperia Z5.
Battery Life
The Sony Xperia Z5 packs a large 2900 mAh battery. We found the battery good on standby and give you enough juice to last more than 3 days, but it turns out that the display is the culprit here, the screen on time takes way lot of battery and cannot last a day when used heavily. We tested the battery with 3G data and GPS turned on with maximum brightness and you can see the results are shown below in the image.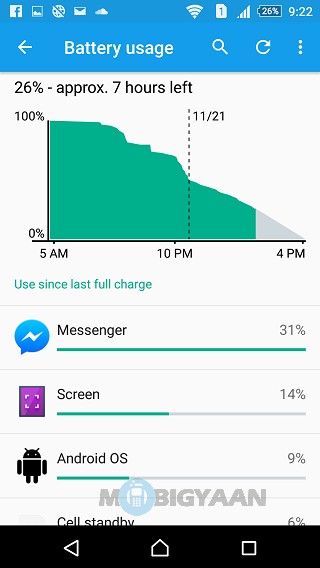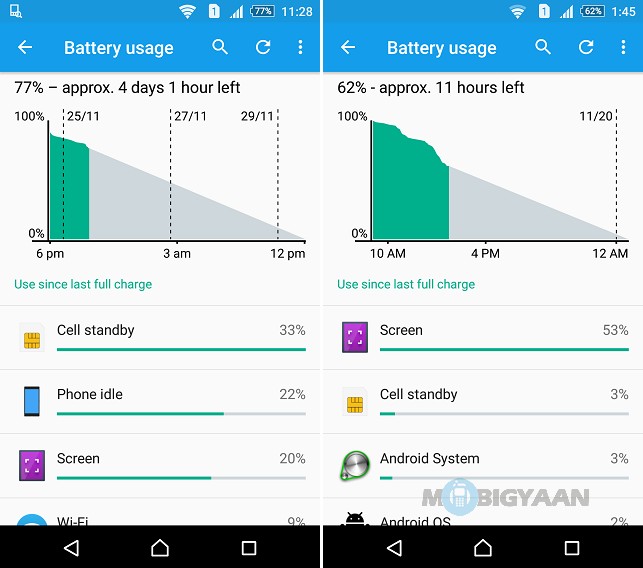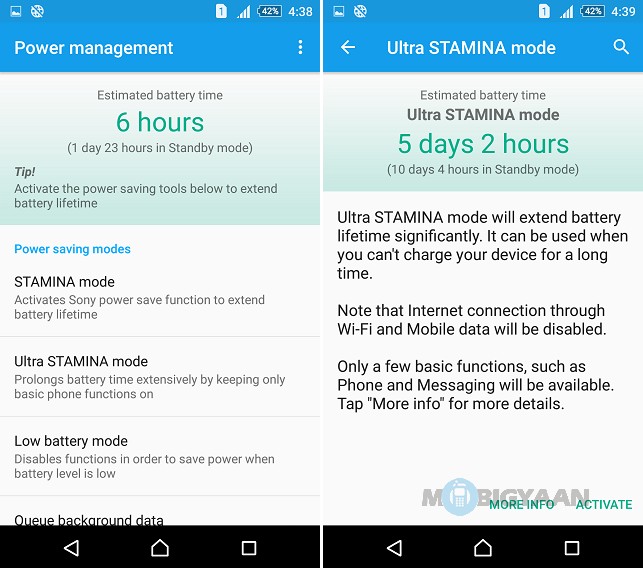 Playing some songs for 1 hour used 2% of the battery while playing a 1080p video on maximum brightness for 15 minutes took away 6% of the battery. The Asphalt 8 took a massive 8% battery in just 16 minutes while Angry Birds 2 and Modern combat 5 took about 5% of the battery under 10 minutes on Auto-brightness. The battery drops heavily on load with maximum brightness and wireless turned on. The STAMINA mode may come in handy and give you ample battery runtime.
| | | | | |
| --- | --- | --- | --- | --- |
| Apps/Games | Battery used | Runtime | Brightness | Wireless |
| Angry Birds 2 | 5% | 10 minutes | Auto | On (Wi-Fi) |
| Asphalt 8 | 8% | 16 minutes | Auto | On (Wi-Fi) |
| Modern Combat 5 | 5% | 10 minutes | Auto | On (Wi-Fi) |
| YouTube | 5% | 10 minutes | Max | On (Wi-Fi) |
| 1080p Video | 6% | 15 minutes | Max | On (Wi-Fi) |
| Music (Offline) | 2% | 1 hour | Auto | On (Wi-Fi) |
Battery Charging Time
In our battery charging test, it took an hour to charge 50% battery and with the same results, you can expect the battery to charge fully in about 2 hours.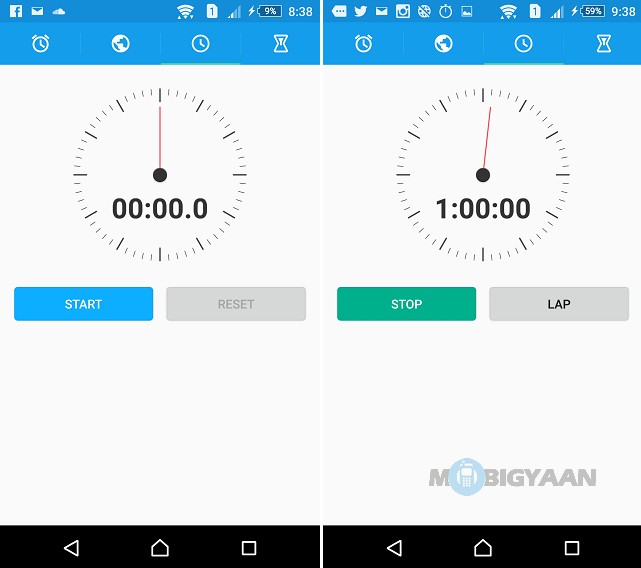 Pricing and Variants
The Sony Xperia Z5 comes in 4 different color variants:
Graphite Black
White
Gold
Green
Since, the Xperia Z5 was launched at a price of ₹52,990, the price has significantly dropped by the online retailers. The price for a dual-SIM variant starts from ₹48,849 for a 32 GB variant.
Sony Xperia Z5 Premium
There is a premium version of the Xperia Z5 available that boasts a 4k display (2160 x 3840 pixels resolution, 801 ppi pixel density). So if you really want a 4K display, Sony's Xperia Z5 Premium is the one you want to look for. The price will be around ₹57,699 on Flipkart.
Verdict
The Sony Xperia Z Dual landed lately in a highly competitive market and the unit jumped to the top of the list in terms of camera, as it is supposed to be the 'smartphone with the best camera in the market' according to the manufacturer. Entertainment is one big plus point on the Xperia Z5 with its brighter display and cutting-edge application and gaming performance along with its modern design. That's what people actually like it in a smartphone, an excellent camera, multimedia experience and a powerful hardware. Also, ensuring the outdoor usability with dust and water proof design when the weather gets worse.
Having said that, people with a budget of ₹50,000, the Xperia Z5 Dual may not be a bang for the buck though the fans may easily attract towards it and considering the price point, Xperia Z5's competitors offer better features. The Xperia can be a good buy if the price could have kept somewhat on the lower side. Since it's from Sony, the brand image matters for some people and they may want to buy one without thinking much about the competition.
Competitors
Samsung Galaxy S6 Edge +
Huawei Nexus 6P
Pros
Elegant Looks
Brighter Display
Dust and Waterproof
Excellent Camera
Fingerprint Scanner
MicroSD Support
Excellent Audio Performance
Dedicated Camera trigger
Good Battery Life
Cons
Heats on Load
Flimsy Buttons
No Wireless Charging
Expensive