A month ago, Telegram rolled out update 4.8.3 for iOS and 4.8.10 for Android that brought in quite a lot of features like replaceable media, fast listening of voice messages, chat previews, and more. Well now, Telegram has rolled out update 4.9 to introduce a new feature called Telegram Passport.
Telegram Passport is a "unified authorization method for services that require personal information". What that means is that Telegram Passport lets you store and share your identification documents like driver license and passport with other services in a secure manner.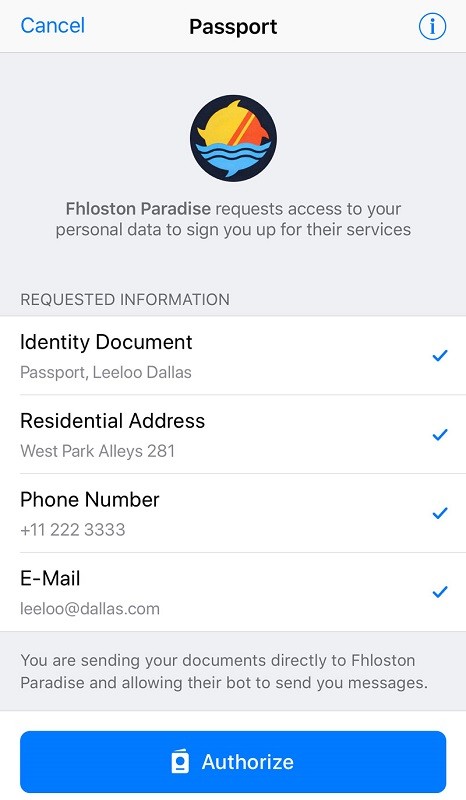 With Telegram Passport, it becomes easier for the users to quickly share such documents with services that require them. This eliminates the need to have to upload the scanned copies of these documents every time you have to share it with a new app or service.
Needless to say, all the documents you share will be stored by Telegram on cloud. However, Telegram has said that all the Telegram Passport data will be moved to a de-centralized cloud soon to avoid single point of failure.
Furthermore, those who are concerned about the safety and security of their data will be glad to know that all their documents are stored in Telegram's cloud using end-to-end encryption, meaning apart from the sender and receiver, no one else can see the data. "To Telegram, this data is just random gibberish, and we have no access to the information you store in your Telegram Passport. When you share data, it goes directly to the recipient." said Telegram in a blog post.
Telegram Passport currently works with ePayments.com but we can expect more services to support Telegram Passport soon. Besides, if you want to see how Telegram Passport works, you can click here to check out the sample created by Telegram.
All the documents that you upload to Telegram Passport can be accessed by heading over to the Settings > Privacy & Security > Telegram Passport on Android, and, Settings > Telegram Passport on iOS. However, do note that you need to be using the latest version of Telegram to be able to use Telegram Passport.
Download Link: Telegram for Android | Telegram for iOS