Last week we told you about the Turing Phone Cadenza. Yes, that phone with unbelievable specs like dual Snapdragon 830 SoC, 12 GB RAM, 60 MP rear camera and more. Well, if you think it was nothing, you might want to take a look at another phone (phablet, to be more precise) that TRI (Turing Robotic Industries) unveiled. Meet the Turing Monolith Chaconne. The specifications of this device are much more insane than the ones we saw on the Turing Phone Cadenza.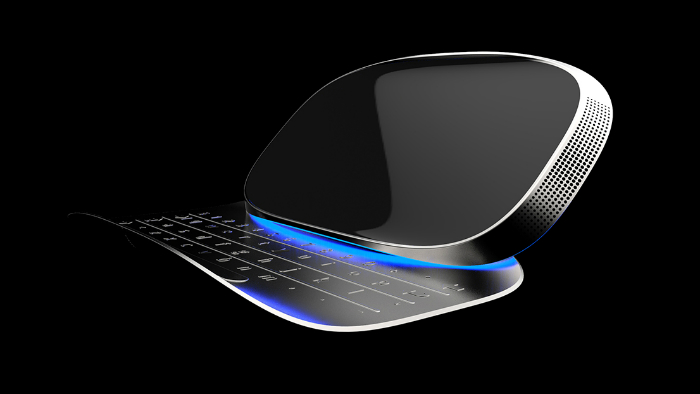 The Turing Monolith Chaconne will come with three Snapdragon 830 SoCs which will be accompanied by a total of 18 GB RAM (3x 6 GB DDR4X). This is a bump from two Snapdragon 830s and 12 GB RAM on Cadenza.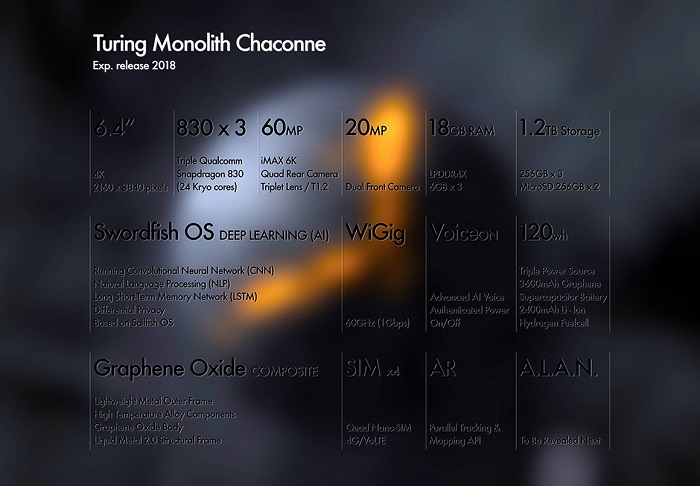 The display, battery and storage also get an upgrade. The Monolith Chaconne will come with 6.4-inch 4K (3840 x 2160 pixels) display, 120 wh battery and 1.2 Terabytes of total storage. What remains same is Swordfish OS, 60 MP iMAX 6K Quad Rear Camera with Triplet Lens/T1.2, 20 MP Dual Front Camera and support for four Nano SIM cards.
The company also said "TRI plans on connecting multiple CPUs via WiGig by implementing an ad-hoc driver to the 60GHz channel via on-board USB3.0. This complicated computing process stores a transient matrix in SSD of CPU(1), then it recomputes and shares the transient matrix with the other SSD of CPU(2) simultaneously. This results in the CPUs sharing their computing power in parallel. Such proprietary technology enables TRI to achieve never-seen-before computing power on a mobile device. So what exactly is this technology intended for? The answer is – Computational Intelligence (CI)."
Well, we really didn't understand what TRI meant by that, but, what we can say is that while the Cadenza was focused on Artificial Intelligence, the Chaconne will have emphasis on Computational Intelligence (CI).
TRI also has R&D and Production facility set up in Salo, Finland and are looking for "misfits and rebels" to be a part of their team.
TRI will be revealing something called A.L.A.N. later on and expects to release the Monolith Chaconne in 2018. While we do know that the specs of both the Turing Phone Cadenza and Turing Monolith Chaconne are unbelievable and out of the world, we would still like to know which one would you choose.
In the meantime you decide which device you would like to go for if it ever makes it to the real world, we have shared some images below of Turing Monolith Chaconne for you to take a look at.