Our smartphones have become an indispensable part of our life. Some of the credit goes to the sheer amount of apps available on the Play Store as well. There's an app for almost everything you can think of. Even websites and blogs have an app of their own nowadays, because yes, reading content on a website is too mainstream.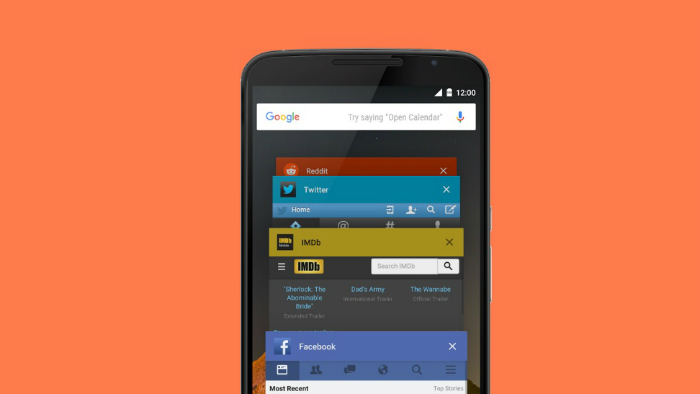 Agreed, some websites don't have apps of their own so we have to resort to third-party apps (like having to use Relay for Reddit before Reddit's official app arrived). Hence, we have to access them through Chrome or some other browser on our smartphone. Sometimes, we also avoid installing and using certain apps on our smartphones because they are resource hogs, like the Facebook app.
If you are one of those who use a mobile version of a website because its official app uses too much resources, or, there isn't any app at all, you are in for a treat today. Wouldn't it be cool if you were able to turn website into lite app? Agreed, you can add a shortcut of the website on homescreen, but again, it's just another tab in the browser. With these lite apps, you can do more. These lite apps can be as good as the native apps. Read on.
How to turn website into lite app
Step 1: Download the 'Hermit' app from Google Play Store.
Step 2: Open the Hermit app and tap on the floating '+' button located at the bottom-right of the app screen. After doing so, you will be taken to a screen with a list of apps and services. You can either tap on the ones listed to create their lite app or enter the website's URL into the address provided.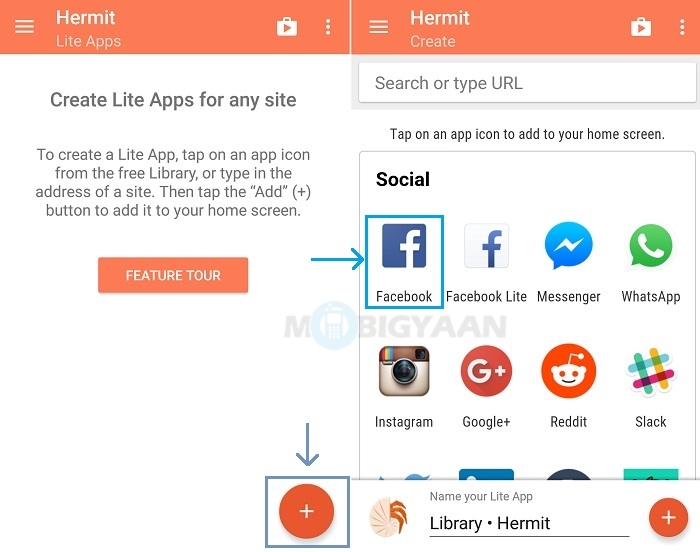 We decided to create a lite app of Facebook so we tapped on the Facebook icon.
Step 3: The Facebook login page will then open. It's advisable to give a name to the Lite app you are creating. While it does have a default name, we suggest using a custom one.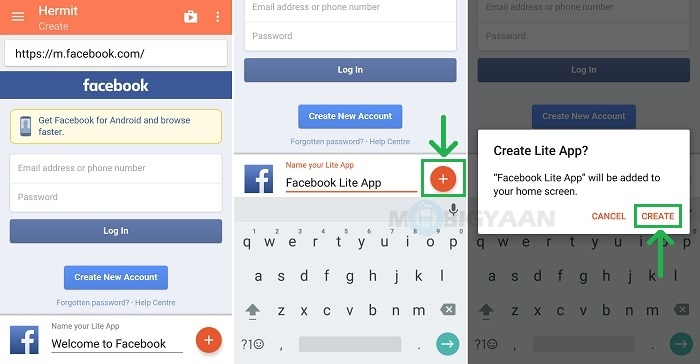 You can type in a new name in the 'Name your Lite App' section and then tap on the '+' button. You will then be asked whether you want to create this lite app or not. Tap on 'Create' to create the lite app.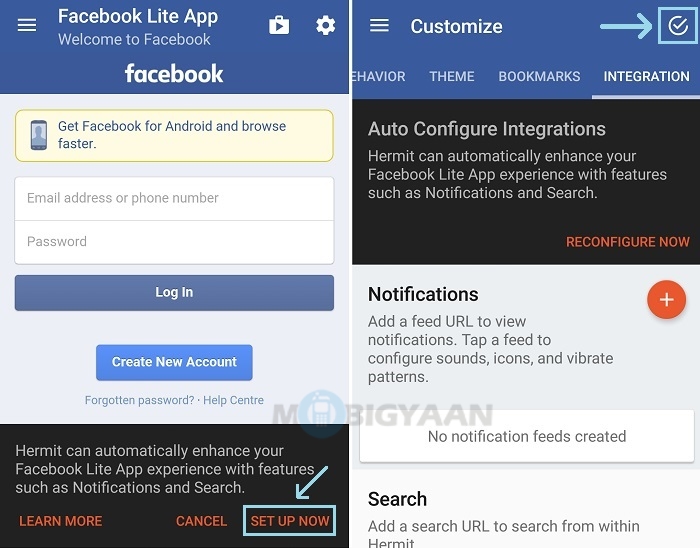 You will be asked if you want to auto configure the app. Tap on 'Set Up Now' to auto configure. You will be taken to the Integration tab. Make any changes if you want and then tap on the 'tick mark' located at the top-right corner of the screen. That's it, you have your lite app ready for use. The lite app shortcut will also be created on your homescreen for quick access.
Step 4: Now enter your Facebook user credentials and login. Though you will be logged in to the lite version of Facebook, you will still have all the features accessible. You will be able to read and reply to the messages as well.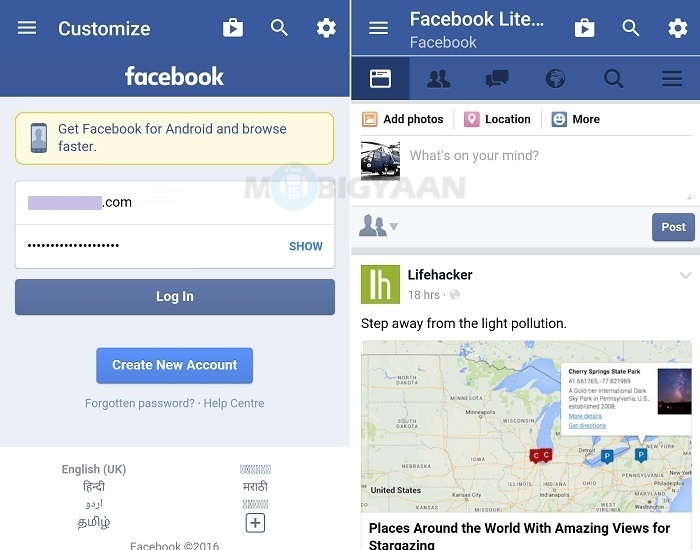 Step 5: You can customize your lite app as well. Tap on the 'gear icon' located at the top-right corner of the lite app and you will see some options sliding from the right side. Tap on the 'Customize' option.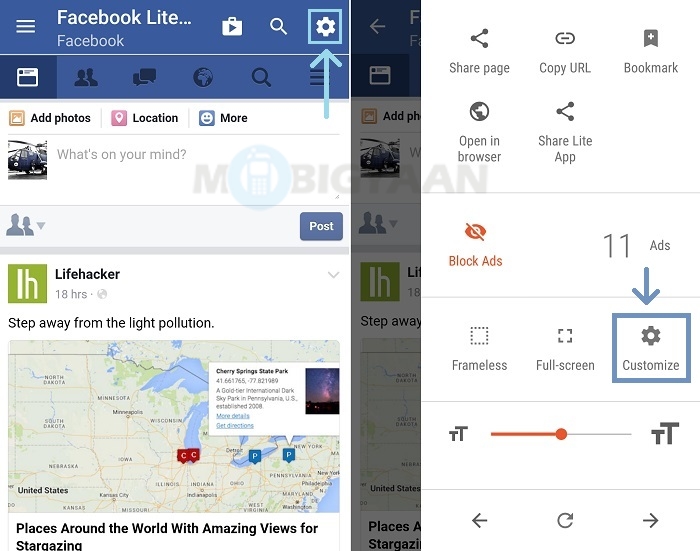 You have some quick settings accessible as well on the pane that slides from the right side. You can change the text size, make the app full-screen and frameless to get native app like experience, and, block ads as well.
In the Customize menu, you will be presented with four tabs – Behavior, Theme, Bookmarks and Integration.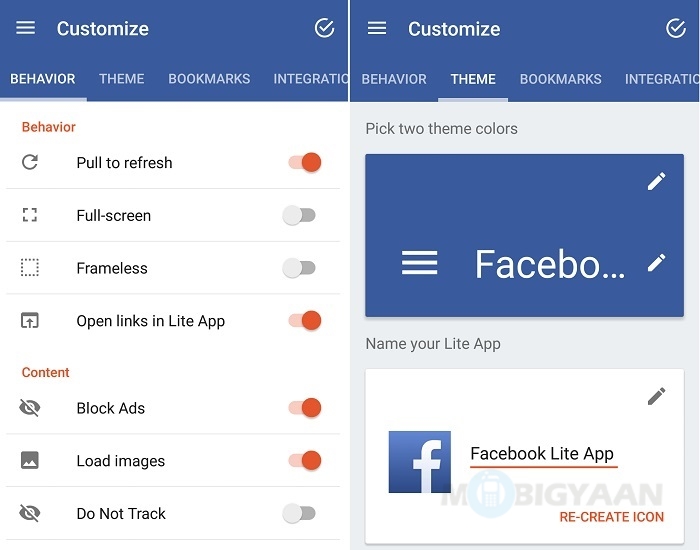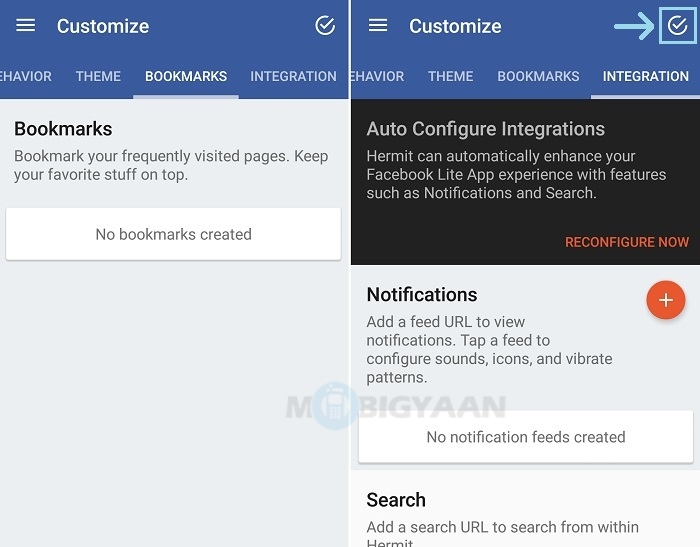 You can change the settings to your liking in these tabs and then tap on the 'tick mark' icon located at the top-right corner to save the changes.
You can see all the lite apps created by you on the homescreen of Hermit app. You can tap on 'three horizontal lines' to enter app settings.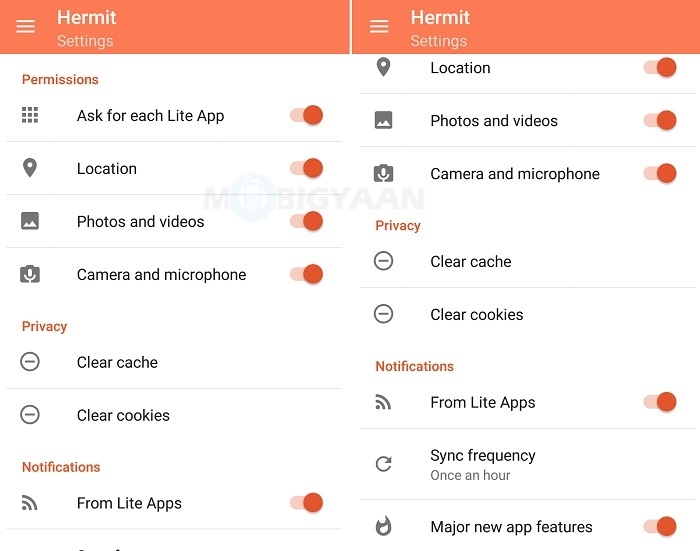 You can change the app permissions, clear cache and cookies, and, set sync frequency from the settings menu.
The free version of Hermit app lets you create up to 2 lite apps. If you want to create more apps, you need to buy the Premium version. Also, you get to use the Premium version free for the first three days i.e., you can create more than 2 lite apps for the first three days. If you are a student, you don't need to pay for the Premium version as the developer has made it free for the students around the world. If you are a student, click here for more details. Also, check out the app description on the Play Store to know why this is better than using Chrome.
Now that you know how to turn website into lite app, we hope you won't be worrying about Facebook's official app draining your smartphone battery, or, the unavailability of official app of your favorite website.
Check out our 'How-To Guides' section for more.