Twitter Lite Android app for users on slower Internet connections is now available in 24 more countries
Back in April this year, social media giant Twitter launched Twitter Lite – a web-based lightweight version of Twitter's app. Then in September, the company launched its Twitter Lite app, which until now, was only available in Philippines as the company was testing it with users and gathering feedback. Now, Twitter has announced that its Twitter Lite app is available in 24 more countries.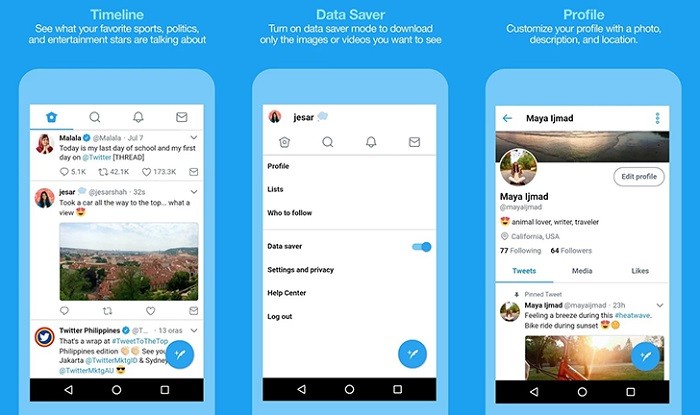 The Twitter Lite app is now available in Algeria, Bangladesh, Bolivia, Brazil, Chile, Colombia, Costa Rica, Ecuador, Egypt, Israel, Kazakhstan, Mexico, Malaysia, Nigeria, Nepal, Panama, Peru, Serbia, El Salvador, South Africa, Thailand, Tunisia, Tanzania, and Venezuela.
As the name suggests, the Twitter Lite app is the lightweight version of the main Twitter app, and, it's meant for users who are on slow Internet connections and are having old, less powerful Android devices. The Twitter Lite app not only loads content quickly on 2G and 3G connections, but, also hogs less resources of your smartphone and only takes up 3 MB of install size on it.
Moreover, it also comes with offline support as well as data saver mode which lets you download only the images and videos that you are interested in seeing.
Having said that, even if this is the lightweight version of Twitter's main app, it doesn't miss out on important features like Timeline, Explore, Messages and Notifications. If you are someone who doesn't have access to reliable Internet, then this Twitter Lite app is worth giving a try.
Also, in case the Twitter Lite app for Android is unavailable in your country, you can still access the web-based version of Twitter Lite by heading over to mobile.twitter.com from the web browser installed on your smartphone or tablet.
Download Link: Twitter Lite for Android