Yesterday we saw some leaks which gave us a glimpse at the redesigned Nexus Launcher which is expected to feature on this year's Nexus smartphones. Now today, we are looking at another leak which reveals a new feature that might make its way on this year's Nexus smartphones.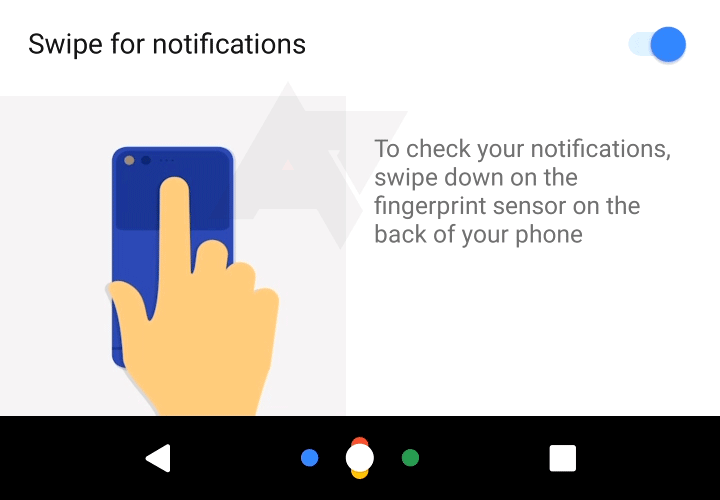 According to the new information received by Android Police, Google is planning to introduce a new feature on this year's Nexus smartphones. This new feature will let users open the notification shade by making use of the fingerprint scanner on the device.
The user will simply have to swipe down his finger on the fingerprint scanner to open the shade. Well, this will be useful to those who have small hands and find it very difficult to hold the device with one hand and pull down the notification shade.
The GIF image shown above is sourced from one of the Nexus smartphones that will be launched this year. What you are looking at is the Settings page which also shows a toggle button that can be used to disable this fingerprint scanner gesture.
You can also see the redesigned navigation buttons that we first came across in June. However, the home button is said to work improperly at times. According to Android Police's sources, we will actually see these new navigation buttons making their way to the upcoming Nexus devices.
Talking about the fingerprint scanner gesture, as of now, there's no information whether it will only be seen on the upcoming Nexus smartphones or will also be shipped to Nexus 5X and Nexus 6P.
One more thing to notice in the GIF image shown above is the Nexus smartphone. This Nexus smartphone looks similar to the renders we saw in July, and, is the rumored "Electric Blue" variant of HTC made Nexus Sailfish and Nexus Marlin.
Also, in case if you were busy playing Pokemon Go or editing photos using Prisma, Android 7.0 Nougat is expected to release this month and hence, we expect Google to provide more details about this year's Nexus smartphones when they release Android 7.0 Nougat.