India is a country where a lot of people travel through bikes. To make their journey safer, smartphone manufacturers are adding bike mode features, Samsung Galaxy J3 being the first phone in India to offer S-bike mode. The latest release of the Vivo is the V9 that also comes with a Motorbike mode that allows you to ride safely on roads.
Here's how Vivo V9 Motorbike Mode works
Unlike the Galaxy J3 which comes with an NFC tag, the Vivo V9 offers an option to enable the Motorbike Mode from the Control Center. When the Motorbike Mode is enabled, all the incoming calls throughout the journey will be rejected until you turn it off. All the notifications are muted too for an uninterrupted ride.
If you can't find the Motorbike option in the Control Center, just add a shortcut by editing the Control Center. Tap the three dots at the last when in Control Center to edit. Alternately, just visit the Settings -> Motorbike Mode and enable the sider.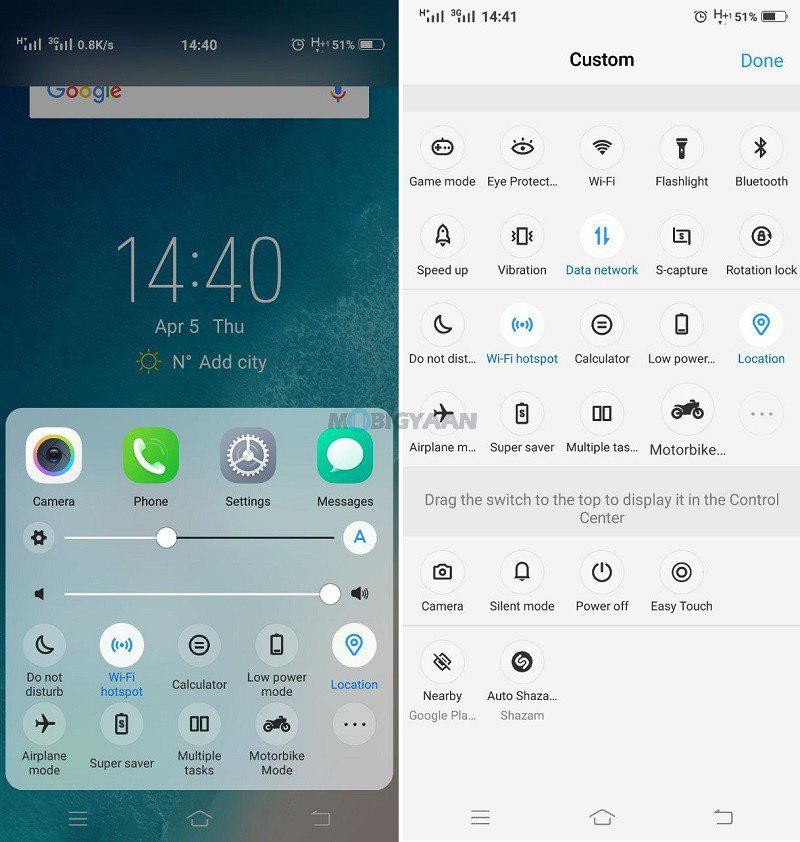 The Motorbike Mode will reject the incoming calls during riding with an option to send an SMS to the caller for rejection. It will also let you choose the numbers inside the settings that you do not want to reject.
To answer the calls, you have to stop your vehicle since it uses the location services to track the motion. Incoming calls will not get through when you are riding at 10 km/h or higher speeds. This is an optional feature that can to be disabled if not needed.
If there are repeated calls, you can turn On the 'Allow repeated calls' in the Vivo V9 Motorbike Mode settings to allow the second incoming call from the same caller within three minutes after the first call is rejected.
The Motorbike Mode allows you to send an automatic SMS to the ones who got their calls rejected. Turn On the 'Allow auto respond with SMS'. When enabled, the rejected callers will receive an SMS saying "Hello, I am riding a motorbike. Get back to you soon". Below you can change the language to send the SMS in the preferred language.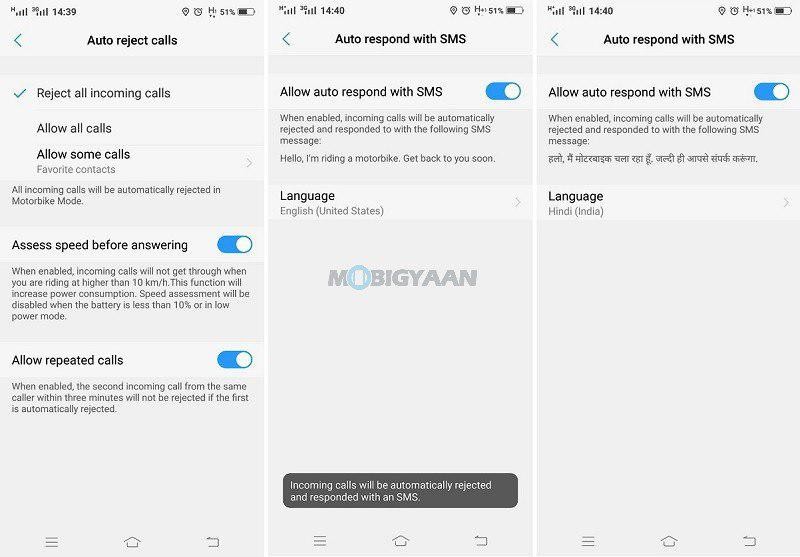 The Motorbike mode enables you to handle incoming calls in a safer way while riding. This feature will allow you to stop bothering about the phone calls, messages, and other important notifications and focus on the driving.
Also, check our Vivo V9 hands-on and first impressions. Vivo V9 is a selfie smartphone with 24 MP front camera, featuring a FullView display supported by a notch at the top. It is also a dual-camera phone with two cameras at the back (16 MP + 5 MP). Do you like the phone?