A couple of days ago, Facebook-owned Instagram released a 'Data Download Tool' that allows its users to download a copy of their data which consists of photos, videos, comments, likes, profile info, and more. Well now, another Facebook-owned app – WhatsApp – is also allowing its users to download their data.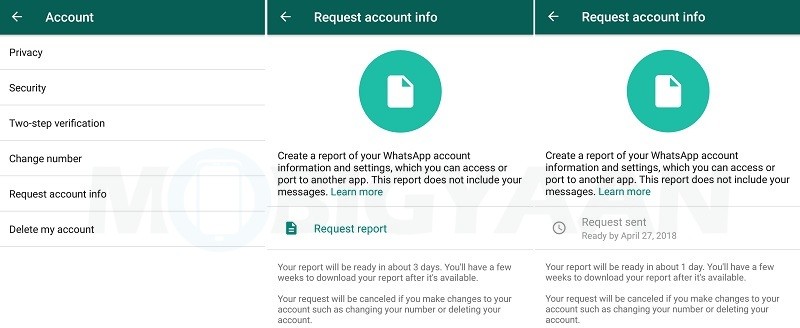 WhatsApp, with its update 2.18.128 for beta users on Android, has released a new feature called 'Request account info' that allows its users to download a report of their account information and settings such as profile photo and group names.
To download this report, head over to Settings > Account > Request account info, and then tap on 'Request report'. This will send WhatsApp a request to allow you to download your account information. WhatsApp says that it can take up to three days for the report to be download-ready, and once it's available for download, users have a "few weeks" to download their report (generally a month).
That said, once the request is sent, WhatsApp will show you the date till when your report will be ready for download. And, once the report is ready, you will get a notification on your phone saying "Your account info is ready to download". Besides, the 'Request account info' section will also show you how much time you have to download your report before it's deleted from WhatsApp's servers.
Once your report is ready, you can tap on the 'Download report' option in the 'Request account info' section. It will be a ZIP file that will include HTML file for easy viewing, and a JSON file if you want to port to another app. Well, that's the whole point of releasing this tool, so that users can port out to other apps easily along with their data.
Having said that, while this report will contain information like your phone number, WhatsApp contacts, profile photo, group names, and more, it does not include your WhatsApp messages, because they are end-to-end encrypted and cannot be viewed by even WhatsApp (at least that's what they keep saying).
Lastly, and most importantly, it's also worth noting that once you send a request to download your account information report, it cannot be cancelled. But, it will get cancelled if you delete your account or change your number while the request is pending.
Like we already said, this feature is currently only available to Android users, that too for those who are on beta version 2.18.128. Hence, if you are a non-beta Android user or an iPhone user, all you can do right now is wait.
I too sent a request to WhatsApp to download my account information, and, it was ready after one hour and two minutes with a file size of 23 Kb.