WhatsApp Beta version 2.16.118 for Android lets you quote messages while replying
WhatsApp after the acquisition by Facebook has been rolling out features that are already offered by its competitors. WhatsApp for Android got the document sharing option back in March and we also saw the video call feature going live in beta version last month. Now, WhatsApp for Android app is letting you quote messages while replying. Something which is already present on Telegram.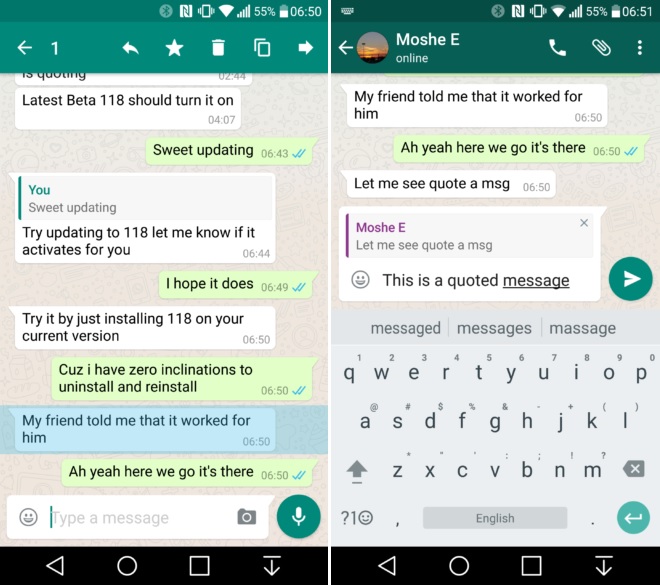 This feature has been spotted on WhatsApp's beta version 2.16.118 for Android. If you are on an older version of the app, you can see a quoted message but can't actually quote one. Besides quoting text based messages, you can also quote messages containing media, say a photo or video.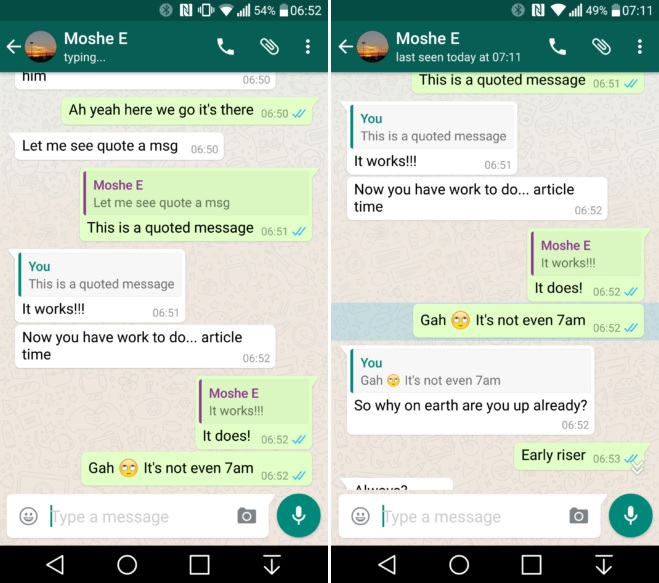 To quote a message while replying, you need to long press the message you want to quote. Doing so will show you a reply option along with the option to star, delete, copy or forward the message. Tap on the reply option and you will see a preview of the quoted message above the text box. Now just type your reply with quoted message and send it. Your reply will be shown along with the quoted message.
This works for media messages and in personal and group conversation as well. The quoted messages will be color coded which is really helpful in group conversations. Also, WhatsApp will scroll up to the quoted message when tapped on it. This can be really useful in group conversations.
If you want to try out this feature, you need to have version 2.16.118 of WhatsApp on your Android. You can either get it by signing up on the Play Store Beta or by downloading the apk file directly from APK Mirror.