Last week, we told you that WhatsApp was going to introduce verified accounts for businesses soon. Well, the company has just announced that it's building new tools for small and large companies, which includes verified accounts as well.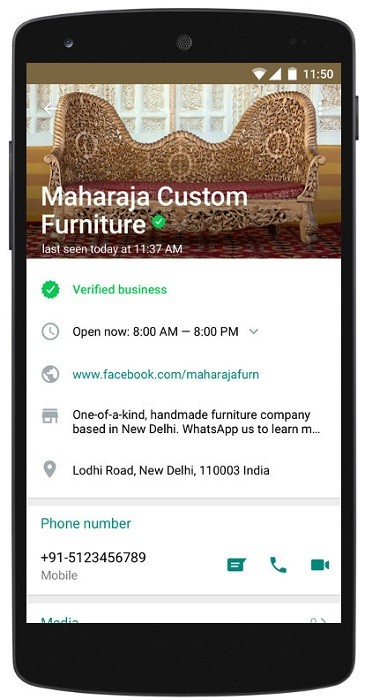 The company has announced its WhatsApp Business app which is meant for small companies. However, WhatsApp is also working on an enterprise solution for companies that operate at a very large scale, like airlines, e-commerce sites and banks.
"WhatsApp has simplified communication for people around the world. Now, we want to apply this same approach to bringing businesses onto WhatsApp in ways that create value for people. We're looking forward to making it possible for people to connect with businesses in a fast and personal way, and giving businesses the tools to make that easier to do." said Matt Idema, Chief Operating Officer, WhatsApp.
"We want to put a basic foundation in place to allow people to message businesses and for them to get the responses that they want. We do intend on charging businesses in the future." said Idema in an interview with The Wall Street Journal.
While the WhatsApp Business app is free for small companies, the enterprise solution for larger companies might be paid as WhatsApp does have some monetization plans for future. After all, the app is free to use, but they need to come up with ways to make revenue out of it.
Moreover, WhatsApp has also started rolling out verified profiles for businesses which will make it easier for people to communicate with businesses on WhatsApp as the customers would no longer have to worry about the authenticity of the account they are being contacted from.
The verified business accounts will appear with a green badge right next to their name with a white colored tick mark inside it. Upon opening the verified business profile, you will be able to see details of a business like its working hours, links to social media channels, addresses and more.
Right now, all of these business services, including verified profiles, are being tested with a small number of companies as a part of pilot program in order to gather more feedback and get things right. However, we will know more from WhatsApp once these tools and services are made available widely.