Last weekend, we told you about Facebook-owned WhatsApp testing a new feature that would let you make group calls directly from a group chat. Well now, WhatsApp has started testing a new feature that would make listening to voice messages a bit more easier.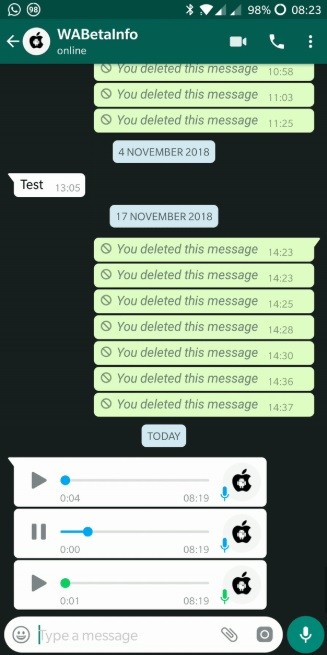 According to a report by WABetaInfo, WhatsApp has started testing a new feature that would play consecutive voice messages automatically. Right now, you have to manually play consecutive voice messages by tapping on the 'Play' button, but, with this new feature, you only have to hit the 'Play' button for the first voice message, and the next consecutive voice messages will play automatically.
Needless to say, this feature will only work when you have two or more voice messages lined up together one after another in a chat. You can click here to see how this feature works.
Having said that, WhatsApp will play two different tones when a voice message ends. The first tone indicates that a voice message has been played entirely and there's another voice message ready to be played. And, the second tone is played when all the consecutive messages are played and there are no more voice messages to play.
This new feature has been added in beta version 2.18.362 for Android, but, even if you are currently using this same version of the app, you may not be able to use this feature as it's activated remotely from the server.
In another news, the group call button that was added for iOS users on beta channel is now available for Android users with beta version 2.18.363 of the app.
We hope both these features are rolled out to all the users through stable channel soon.