Facebook-owned popular messaging app WhatsApp rolled out a new feature last week that allows the users to notify their contacts about change of their number. However, this feature was only rolled out to Android users with a beta update. Well now, WhatsApp has rolled out yet another beta update for Android that brings in locked audio recording feature to the app.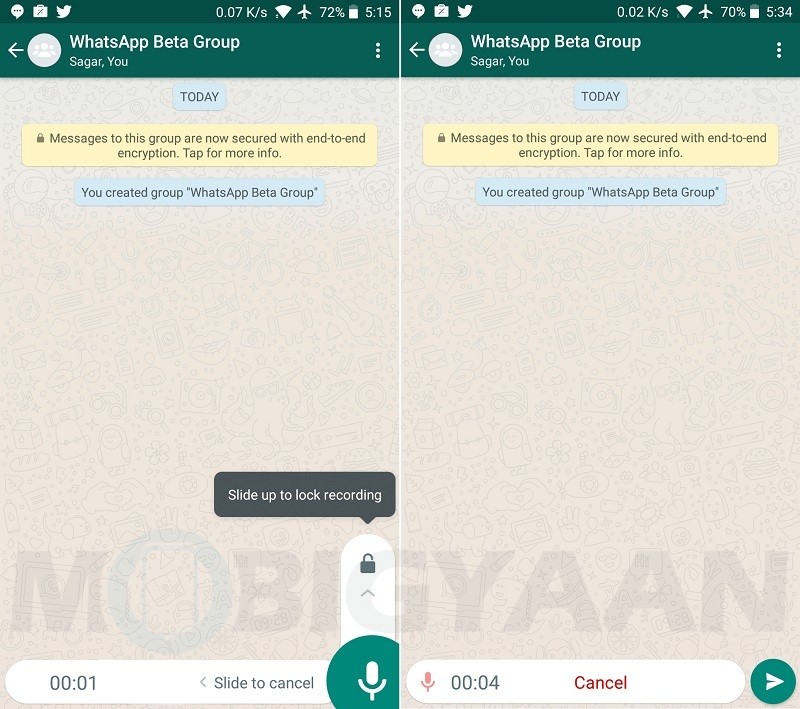 This feature has been rolled out with beta update 2.18.102 for Android. It was being tested for quite some time now, and it has finally made it to the app with a beta update. For those clueless about what we are talking, this locked audio recording feature improves the existing audio recording (voice messaging) feature that has been around for years now.
Until now, whenever you had to send a voice message in a one-to-one chat or group chat, you had to keep the audio recording button (the one with mic icon) pressed while the message was being recorded. And, once the message is recorded, you can release the button to send it.
Well, this resulted in one hand of yours equipped with holding the phone keeping that audio recording button pressed. Certainly something that multi-taskers would hate. But, with locked audio recordings, you don't necessarily have to keep that audio recording button pressed while you record the message.
With locked audio recording, whenever you long press the audio recording button, you will see a lock icon popping up after a second. Once this lock icon appears, you can slide your finger up to lock it. This eliminates the need to keep that audio recording button pressed at all time while recording the message.
Once you lock audio recording, you can put your phone on a table and keep recording the message so that your hands are free to do something else. That said, once you have done recording the message, you can tap on the send button to send that voice message in the chat. Moreover, you can also tap on 'Cancel' to cancel the audio recording.
Having said that, it's worth noting that you cannot exit the chat or type any message in the chat during locked audio recordings. If you go back, the audio recording will be cancelled automatically. You can click here to check out a video that shows how locked audio recording works.
Well, like we already said, this feature is currently only available to beta users, however, we expect WhatsApp to roll it out to non-beta users soon.
What do you think about this locked audio recording feature? Do you think it's useful?