Last year in November, Facebook-owned WhatsApp rolled out Picture-in-Picture (PiP) mode support for YouTube for iPhone users. This allowed iPhone users to watch YouTube videos right inside WhatsApp in a floating window without having to leave the app. Well now, with the latest update, WhatsApp has extended the Picture-in-Picture mode integration for Facebook and Instagram as well.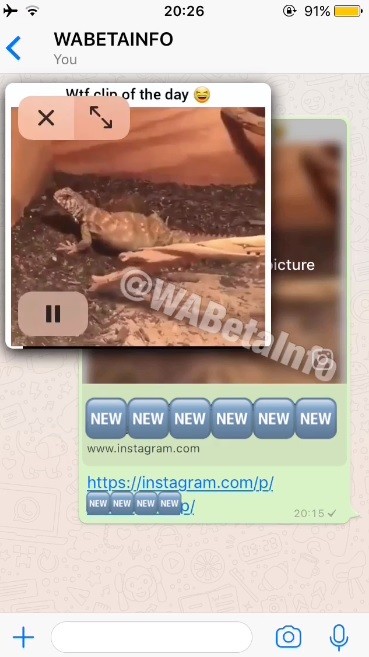 With update version 2.18.51 for iPhone, WhatsApp has rolled out Picture-in-Picture mode support for Facebook and Instagram. This allows iPhone users to watch Facebook and Instagram videos right inside the app. The video is played in a floating window that allows the users to navigate to another chat while continuing to watch the video.
The floating window also has controls for play and pause, and, there also is a button inside the window that allows the users to watch the video in full-screen if they wish to.
That said, apart from rolling out PiP support for Facebook and Instagram, WhatsApp has also rolled out the 'Restrict Group' feature that lets the original admin (creator of the group) decide who can change group info like group's name, icon and description. This can be done by heading over to 'Group Settings' under the 'Group Info' section. The admin can either allow everyone in the group to change group info, or can only allow the group admins to do so. This feature was rolled out to Android beta users last week and should roll-out to non-beta users soon.
The changelog of WhatsApp update 2.18.51 for iPhone also mentions the 'Dismiss as Admin' feature, however, this feature was already rolled out to Android and iPhone users last month with update 2.18.116 and 2.18.41 respectively.
If you are an iPhone user, make sure you are using the latest version of WhatsApp to get all the features mentioned above.
Download Link: WhatsApp for Android | WhatsApp for iPhone