In the past few days we have seen references to the ongoing testing of Windows Phone 8 OS in a leaked Nokia advertising poster and then the browsers of the OS appeared in Hitlinks' browser details.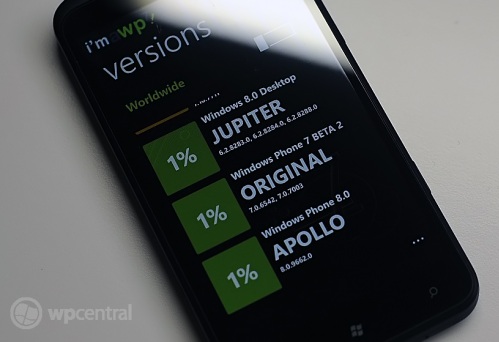 Today thanks to the app "I'm a WP7" we are getting to know that Microsoft is indeed testing the OS internally. 

Someone who is testing the OS somewhere underground was too kind (or dumb) enough to install the I'm a WP7 app over the device which has now gone on to record the version Windows Phone 8 "Apollo" build 8.0.9662.0 in the device statistics sections. 
 
Now we may say that this information could easily be faked, but then Scott Peterson, the developer of the app has confirmed that,
 
"It's (WP8) running from an Emulator, doesn't appear to be spoofed, is using the default Emulator location, and the Time Zone Offset lines up with Pacific Coast…"
 
So again this interesting leak from stats goes on to confirm that the Windows Phone 8 will be called the Windows Phone 8 on arrival and is currently code-named 'Apollo' as we have been hearing since ever. The WP8 is said to unveiled this summer and arrive in Q4, 2012 and bring in features like dual-core processor support, higher display resolutions, NFC and much more.