Xiaomi is expected to launch the Mi Max 3 next month, however, before launching the Mi Max 3, Xiaomi will be launching its tablet device, called Mi Pad 4. The Mi Pad 4 is successor to the Mi Pad 3 that was launched last year in April.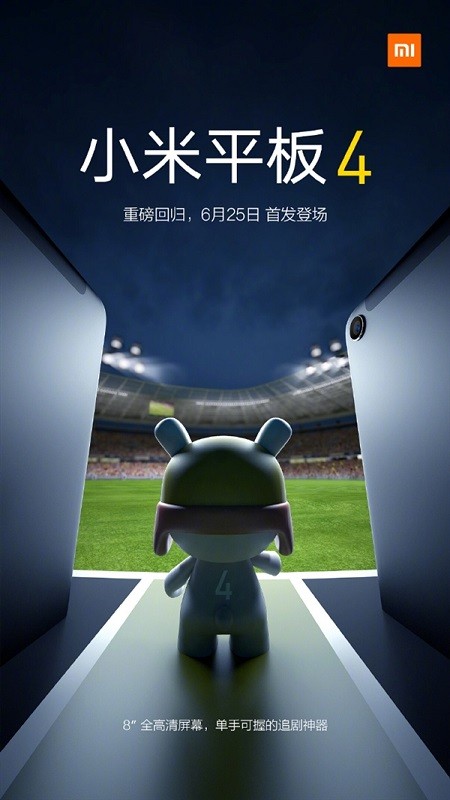 Xiaomi has announced that it will be launching the Mi Pad 4 next week on June 25. The announcement was made by Xiaomi on Chinese social network Weibo where the company shared a poster (shown above) that has a Mi Bunny with the number '4' written behind on its back.
https://www.facebook.com/1202253/posts/10108231730961973/
The poster also shows the back side of a tablet on the left and right side along with a camera. Well, it's safe to say that this device is nothing but the Mi Pad 4. Having said that, Donovan Sung – Spokesperson at Xiaomi – also shared the same poster on his Facebook account while also hinting at the Mi Pad 4 sporting an 8-inch full screen display. Well, this means the display will have aspect ratio of 18:9 and the bezels will be smaller than before.
Alongside the Mi Pad 4, Xiaomi will also be announcing the Redmi 6 Pro on June 25 which will come with Snapdragon 625 SoC, AI-based features, a display with 19:9 aspect ratio, and, a 4000 mAh battery.
We expect to hear more about these devices before they go official on June 25 as Xiaomi, like many other smartphone companies, has a habit of teasing features of its upcoming devices.